Get Ready To Drive The Prettiest Cars Of 2022. Dive In To Forget Chassis Altogether And Run These Classies!
When it comes to car exteriors, it's nearly impossible not to obsess over the finer details. But while they're designed to
please our lizard brains – all desire, lust and jealousy; it's worth remembering that sometimes the most killer automotive beauty lies within. When you think of luxury, you think of comfort, grandness, and convenience. Luxury cars have a different aura about them. A luxury car is incomplete without a luxurious interior. The fabric used while designing the interior should be of high quality whereas stitching should be polished and sharp. It should exude an aura of refined sophistication and suaveness. Finally, a classy cabin instantly brings up the luxury quotient of a car. So, for this month, let's have a look at the best car interiors of 2022 which will definitely elevate your driving experience. Read Out!
1. POLESTAR 2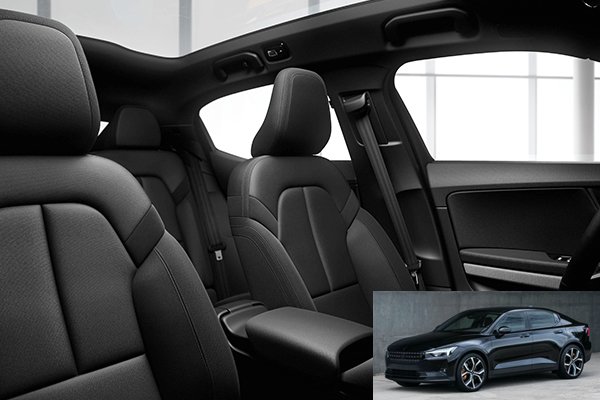 There are plenty of reasons why Swedish design is so universally loved. The Polestar 2's interior isn't laden with complicated switchgear or chintzy details. It's a chill space that allows driver and car to link up without stress. Polestar's interior design proves that interior the use of recyclable and recycled materials, can lead to a sexy, sustainable motoring. No, it's not fake leather. WeaveTech is a 100% vegan material that doesn't pretend to be something it isn't. The lightweight, durable fabric brings a crisp, modern elegance to the whole interior.
Polestar 2's operating system comes with a range of Google apps and services, specifically developed to be part of the car's systems. This deep integration unlocks endless possibilities to enhance the driving experience. Best of all, these apps keep getting better via regular updates. Change the climate control settings or the volume of the audio system just by asking for it. Google Assistant communicates with the Polestar 2's systems, so you can talk to the car to control its smart features. Send messages, search for a destination, request your favourite tunes, all by voice.
Polestar 2 also has an elevated sitting experience. The driver seat and front passenger seat are heated with a three-level touch control as standard. To cut a long story short, here are all the facts, figures and features organized in one practical overview.
2. EVERRATI ALL-ELECTRIC PORSCHE 911 (964) SIGNATURE
While Everrati's electrified take on this Porsche 911 964 has some petrol purists in a tizzy – the customised interior is nothing short of a banger. Everrati's team has swapped out dials to show charge levels, while '90s-infused houndstooth inserts for the seats and door cards are a low-key nod to the upholstery made famous by classic 911s. There's a gentle retro-refresh in it too, with a blend of vintage styling and a dash of modernity to keep it feeling 2022.
Everrati's 911 looks like a 964 with mild modernisation. There's no noise and where there was once a manual gearbox, now lies a simple forward/reverse gearstick. The dials, of a traditional Porsche five-gauge setup, look familiar, but on closer inspection are all geared towards the car's electric leanings. It has developed a noise synthesiser to add some drama. This sounds like a futuristic internal combustion engine and is pretty cool.
Its steering is smooth, and retains the magic Porsche feel. Its brakes offer regen, so you can get a bit of energy back after telling a passenger "Watch this" before burying the throttle and vanishing over a hill. When you want to use them as actual brakes, the pedal feels good, but there's no ABS to save you if you overdo it. In fact, the lack of noise means you can have a chat with the person next to you or see how much wind noise the car can make with suitable gusto applied to the throttle. With this, you're getting a wonderful drive, a futureproof, brilliantly engineered by 911.
3. DS 9
The DS 9 got its name from the drop-dead gorgeous '50s Citroen DS – the greatest Franco car of all time, by the way – you'd hope its interior wasn't a generic lump of shiny surfaces and squeaky plastics. The whole interior has been designed with lots of attention to each detail, characterised by French expertise. It is adorned with the most beautiful of leathers, Rubis Red Nappa leather, which covers the entire dashboard and the iconic watchstrap seat upholstery.
They have also created Pearl Stitching, a particularly elegant finish that recreates the shape of a pearl, to enhance the leathers and interiors. Positioned majestically on the dashboard, the B.R.M R180 time piece, designed in partnership with B.R.M Chronographes, appears when the vehicle starts. Combining technology with elegant design, it automatically sets itself to the right time according to the season and journey.
DS 9 stands out with modern lines marrying grace and dynamism giving the car a highly distinctive design. The Lounge armrest in the rear helps overall comfort; upholstered in Nappa leather, it provides storage, offers USB ports and allows you to operate the massage controls for the rear seats. It also has a lighting mode which gets activated automatically at any time, when the wipers are activated. The power of the modules is increased to enable the driver to see the white lines on the road more easily. The intensity of the main beam is reduced in order to improve the driver's vision, taking into account possible reflections from the wet road.
4. BMW M4 COMPETITION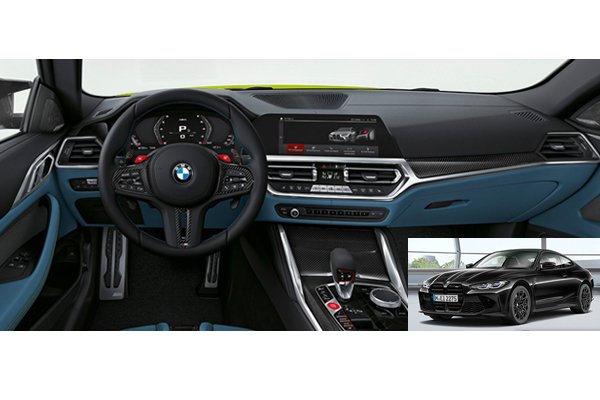 BMW's M Series boasts half a century of racing heritage, so it's no surprise the new M4 Competition's interior is bolshy. Where others make a virtue of minimalist layout, the M4 goes large on lightweight materials, brash highlights and gives all the race car cues. It harks back to that M racing lineage: the muscular but lightweight carbon fibre, the acid-bright controls that you just can't miss. In other words, perfect for your best Max-in-Monte-Carlo impression.
M4 has high levels of comfort, luxury, and daily usability—and a reasonably roomy rear seat. Power and grip are two areas where the BMW M4 shines. This standard comes with rear-wheel drive, a six-speed manual transmission, and a fiery 473-hp twin-turbo inline-six engine; M4 Competition models have 503 horsepower. The M4 is a special automobile with lots of power, tons of torque, and an available manual transmission reminding us of what made M cars so damn good.
There are a number of good reasons to spend on the M4 Competition, including the extra horsepower and torque as well as the availability of all-wheel drive. However, we'd choose the regular M4 for one really good reason–it's the only one that offers a satisfying manual transmission. The M Performance floor mats add an individual athletic touch to the footwell, giving the car a whole more dynamic appearance. This design is rounded out by a leather look surrounding with decorative stitching in the contrast colours and a band in the M colours.
5. MERCEDES EQS SUV
Mercedes-Benz's S-Class has been the 'best car in the world' for 50 years. It midwifed such now-taken-for-granted technologies as ABS, cruise control, pre-tensioning seatbelts, airbags, ESP and the electrically-adjustable steering column. If you want a window into the future, this is where you look, and that's doubly true of the EQS. While the S-Class remains a hybrid or pure internal combustion car, Mercedes' miles-long model list is now topped by the EQS – a showcase for all its innovations, not least its fully-electric powertrain.
And now some bright spark has had an idea: People are choosing tall SUVs over slinkier saloons. It's not the most exciting car in the world to behold or drive. But it is at the absolute cutting edge of EV tech, safety, comfort, connectivity and user experience. It is spacious for up to seven, the flexible cabin adapts to accommodate your ever-changing life. The multiple screens in a 56-inch span of high-tech glass is cherry on the cake. "Zero-layer" tech uses Artificial Intelligence to bring features and commands to the surface as you need them. The Navigation with Electric Intelligence helps planning a route to optimize range and speed recharging.
Charging leadership is a big way the EQS aims to set the standard for all EVs. 'Mercedes me Charge' helps simplifying locating, using and paying for charging on all major networks. Purchasing or leasing a new EQS includes complimentary 30-minute sessions, DC charges for two years.