The Moment Has Come And The Whirling Sound Of Sports Beauty Is About To Blow Your Mind. So, Ladies and Gentlemen, Fasten Up Your Seatbelts Because This Is Going To Be A Hell Of Ride.
In the ever-evolving landscape of automotive excellence, luxury car manufacturers consistently endeavour to redefine opulence and exclusivity. The synergy of design, engineering prowess, and innovative technology has given birth to two remarkable automotive marvels that have recently graced the world stage. Let us embark on a journey through the corridors of luxury, as we unveil the latest gems that have emerged from the lap of automotive luxury.
1. FERRARI SF90
Behold the 2023 Ferrari SF90, an automotive masterpiece that transcends the boundaries of innovation and elegance, embodying the pinnacle of performance and luxury. The SF90's design is a symphony of aerodynamic artistry and sculpted precision, a seamless fusion of form and function that commands attention from every angle. With sinuous lines and bold contours, the SF90's presence is commanding, radiating a sense of purpose and power. Its low-slung profile and aggressive stance hint at its racing heritage, while the aerodynamic elements seamlessly integrate into the design, enhancing both aesthetics and performance.
Step into the opulent interior, where craftsmanship and technology converge in perfect harmony. Sumptuous materials envelop the cabin, creating an ambience of refined opulence. The driver-centric cockpit houses a futuristic infotainment system, delivering an immersive experience that complements the thrill of driving.
Beneath the exquisite body lies a hybrid powertrain that defies convention, combining a turbocharged V8 engine with electric motors to produce awe-inspiring power. The result is a symphony of horsepower and torque that propels the SF90 to unprecedented speeds while offering an electric-only mode for serene city cruising.
2. AUDI R8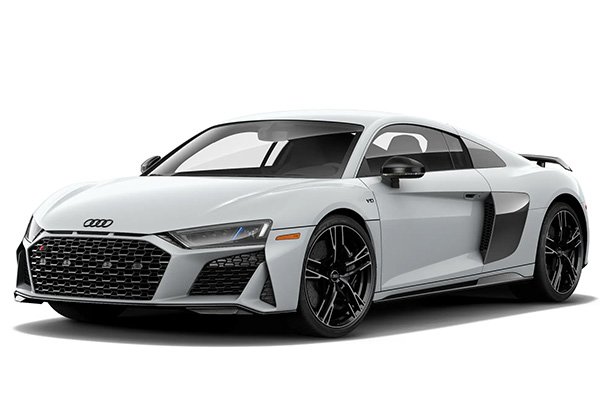 Introducing the pinnacle of automotive mastery, the 2023 Audi R8 sports car embodies a symphony of power and elegance, redefining the very essence of high-performance luxury. Meticulously crafted to captivate both heart and mind, this automotive marvel seamlessly fuses cutting-edge technology with an iconic design lineage.
Beneath the sleek contours lies a ferocious heart—a thundering V10 engine that propels the R8 to astonishing speeds, producing an exhilarating orchestra of horsepower. The aerodynamic prowess of its silhouette harnesses the wind, ensuring
an effortless dance of grace and velocity.
Within the opulent cabin, every detail is an embodiment of refined opulence. Plush, hand-stitched leather envelops the interior, complemented by an innovative infotainment system that seamlessly melds driver connectivity with intuitive control.
The fusion of driver-centric ergonomics and opulent materials creates an ambience that indulges the senses. With an advanced chassis that embraces the curves of the road, the R8 achieves a harmonious blend of agility and stability, setting new benchmarks in precision handling. Dynamic driving modes allow enthusiasts to tailor the experience to their desires, invoking a visceral connection between man and machine. Innovative, exhilarating, and timelessly elegant, the 2023 Audi R8 stands as an automotive masterpiece, a true testament to the relentless pursuit of excellence and an embodiment of the future of sports car engineering.
3. PORSCHE 911 TURBO S
Step into an automotive masterpiece that is the 2023 Porsche 911 Turbo S, a symphony of design opulence harmonized with unbridled performance. This embodiment of engineering prowess pushes the boundaries of visual allure and dynamic excellence. The 911 Turbo S unveils an enigmatic aura through its captivating design language. Its sleek profile, sculpted with a precision akin to a fine sculpture, propels the classic 911 silhouette into the future. Sculpted lines and a widened body not only command attention but also optimize aerodynamics, ensuring a seamless union of aesthetics and function.
Venture inside the sanctuary of luxury and innovation, where craftsmanship and technology dance in elegant synchrony. Premium materials cocoon the interior, while a seamlessly integrated infotainment centre beckons with a sophisticated allure.
The cockpit is a shrine to ergonomic ingenuity, where every touchpoint is thoughtfully placed, epitomizing the marriage of comfort and control.
4. MASERATI MC20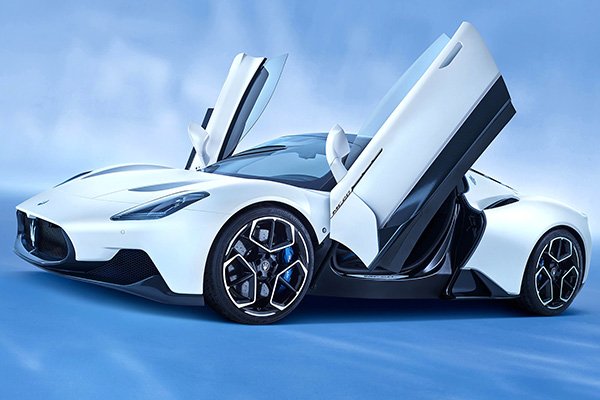 Introducing the 2023 Maserati MC20, an exquisite masterpiece that redefines the essence of performance and luxury. With an aura of restrained elegance, the MC20's design exudes a captivating blend of Italian sophistication and aerodynamic prowess.
Its sleek contours are a marriage of form and function, sculpted to effortlessly slice through the air while leaving a trail of admiration in its wake. The MC20's distinctive silhouette is a harmonious symphony of fluid lines, seamlessly transitioning from front to rear, culminating in an artful convergence of beauty and power.
Slide into the opulent interior, where sumptuous craftsmanship embraces technology with finesse. Premium materials envelop the cabin, offering a tactile experience that resonates with elegance. The driver-centric cockpit is a testment to ergonomic mastery, housing an intuitive infotainment system that enhances both connectivity and driving pleasure. Beneath
the hood lies the heart of a thoroughbred racer – a meticulously crafted V6 engine, engineered to deliver breathtaking power
and precision. The MC20's rear-wheel drive configuration amplifies the driving experience, translating raw power into unparalleled exhilaration on the open road.
The 2023 Maserati MC20 isn't merely a car; it's a symphony of design, luxury, and performance, a true embodiment of Maserati's legacy of excellence. As you take the wheel, you embark on a journey where every detail has been meticulously curated to evoke emotion, making every drive an unforgettable performance of its own.
5. BMW Z4-M40I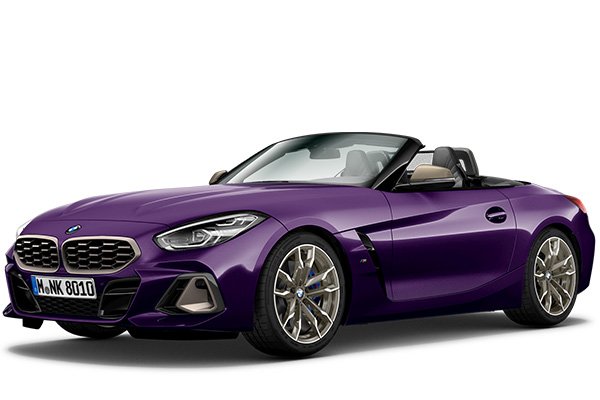 Elegance and exhilaration converge in the 2023 BMW Z4 M40i, a transcendent expression of driving pleasure that encapsulates the essence of sportiness and sophistication. At first glance, the Z4 M40i's design beckons with a captivating
aura, blending graceful athleticism with a touch of daring flair.
Its sweeping lines and chiselled contours create an alluring silhouette, evoking a sense of motion even at rest. The roadster's
long hood and short overhangs harken back to classic sports car proportions, while modern accents and aerodynamic enhancements ensure a harmonious fusion of form and function.
Step into the meticulously crafted interior, where opulence and innovation intertwine seamlessly. High-quality materials envelop the cabin, while a driver-focused cockpit caters to every need. Advanced technology harmonizes with refined aesthetics, enhancing both connectivity and driving engagement.
In the 2023 BMW Z4 M40i, every element is a testament to meticulous engineering and unwavering commitment to performance. From the harmonious design language to the exhilarating driving dynamics, this roadster beckons you to experience the open road with an unparalleled sense of style and flair, where each curve becomes a canvas for your driving prowess.
6. LEXUS LC500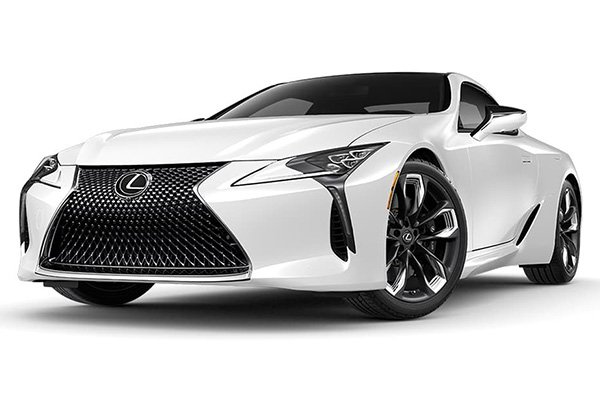 Unveiling the 2023 Lexus LC500 – an automotive masterpiece that artfully converges luxury and performance, rewriting the rules of exhilaration and refinement. Crafted with an aura of avant-garde elegance, the LC500's design is a dance of bold lines and graceful curves, sculpted to mesmerize onlookers and defy conventional norms.
The exterior presents an orchestrated fusion of fluidity and strength, where every contour is a brushstroke of meticulous intention. The iconic spindle grille takes centre stage, flanked by jewel-like lighting, leaving an indelible impression. As day
turns to night, the LC500 illuminates the road with an enchanting radiance, showcasing its presence as a true nocturnal marvel.
Venture into the cabin, where opulence meets innovation in a seamless embrace. Premium materials envelop the interior, inviting you to explore a realm of sensory indulgence. The cockpit is an ergonomic masterpiece, ensuring every control falls intuitively to hand, while advanced technology gracefully orchestrates your driving experience.
Underneath its sculpted body, an untamed V8 engine roars to life, a mechanical symphony of power and precision. The LC500's rear-wheel drive configuration channels this raw force, summoning a symphony of adrenaline on every twist and turn. In the 2023 Lexus LC500, luxury isn't just experienced; it's encountered at every touchpoint. From its captivating design language to its meticulously crafted interior, and from the visceral power of its engine to the artful harmony of its driving dynamics, the LC500 stands as a testament to the fusion of craftsmanship and innovation, a timeless ode to the pursuit of automotive excellence.
7. MERCEDES SL55
Embark on an unparalleled journey with the 2023 Mercedes-Benz SL55, a true automotive masterpiece that unites lavish luxury with an exhilarating performance, setting the stage for an extraordinary odyssey on the open road. Its design is a captivating fusion of iconic heritage and state-of-the-art innovation, a manifestation of Mercedes-Benz's unswerving pursuit of
automotive excellence.
Prepare to be entranced by the SL55's exterior, where sculpted lines and a sleek profile demand attention. The commanding grille and meticulously crafted LED headlights exude an aura of grace, while the retractable hardtop seamlessly metamorphoses the driving experience, cocooning you in an intimate connection with the elements. Step into the meticulously curated interior, where a symphony of luxurious materials awaits your touch. The cockpit envelops you in refined comfort, while the expansive display offers a glimpse into a realm of seamless connectivity and entertainment. Here, every moment behind the wheel transforms into a symphony of sophistication and engagement.
Elevate your driving encounter with the 2023 Mercedes-Benz SL55, a harmonious fusion of luxury and performance that promises to redefine your perception of automotive elegance. From its captivating design to its sumptuous interior, and from its heart-pounding powertrain to its dynamic prowess, the SL55 beckons you to indulge in a symphony of refined exhilaration that leaves an indelible mark on your soul.