There are countless options when it comes to eyeglasses. Let's take a look at how Chanel performed with the butterfly eyeglasses.
Who doesn't like to browse around the optical stores when it is time to choose new eyeglasses? Well, the choices are infinite and so are the options These days stylish and attractive glasses are even more popular than contact lenses. But the first rule of choosing the correct frame is to pick something that you love and that will make you feel confident. When it comes to choosing eyeglasses, longevity and comfort are also of utmost importance since glasses are something that stay on your face all day long. When searching for some great eyeglasses, we came across Chanel's butterfly eyeglasses. Let's see if they have the longevity and comfort we're currently on the lookout for.
Chanel's Butterfly Eyeglasses
The frames look beautiful, no doubt. But the string attached to the glasses is what is putting us off of them. The design seems a little grandmother-appropriate, rather than for women of younger ages. The glasses come in four colour variations and the lens is 54mm wide. If your face is on the smaller side, you should steer clear of these, these are more suitable for those with fuller faces. The string is made up of calfskin and metal. There is another drawback here, if you are habitual of wearing your hair open, you might want to be a bit careful. The string's design will cause your hair to get tangled up in it, and then break.
The frames come with sample lenses. You'll need to get them fitted with prescription lenses. And honestly speaking, there is nothing fancy about the frames – they look simple and plain, with the string providing much of the design element. Which seems a little mismatched due to the utter bareness of the frames. And let's face it, who in today's time prefers to wear spectacles with strings? Everyone knows how to keep track of their eyeglasses now, there really is no need to get such designs. That being said, you could gift a pair to your grandmother if you were so inclined, she actually might appreciate these!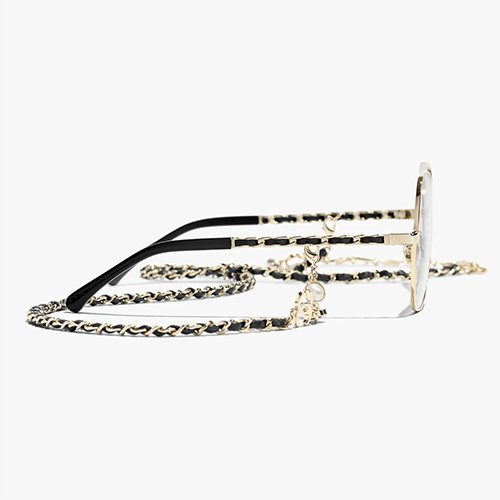 he design seems a little grandmother-appropriate, rather than for women of younger ages.
These days, Chanel has also been subject to some bad customer reviews. Some people reported missing essential pouches in their orders. The possibility of your glasses arriving without the necessary protection is very high so we'd recommend being careful of this.