With our lives moving faster than ever, it is crucial to keep track of time. Here is how to do that in style. Read on and choose your favourite timepiece.
Watches are not just to tell time, they're also there to make a style statement powerful enough to make everyone envious. So, functionality is not the only criterion when it comes to choosing a watch, attractiveness is an equally important factor. A certain flair and a little extra bling never go amiss when it comes to choosing watches. Your timepiece serves double duty – as an accessory as well as telling time. Make sure you choose the best one available out there. We know that finding the perfect watch can even be impossible sometimes, but it becomes a little simpler when you have help. That is what we're here to provide you with – help in choosing the best watch for you and one that is suited to your style and tastes. On that thought, here is a list of watches with outstanding craftsmanship, design, and superior quality, that will serve as the ultimate way to adorn your wrist. Go ahead, choose your favourite.
1. LOUIS VUITTON: TAMBOUR STREET DIVER
The Tambour Street Diver from Louis Vuitton
Starting off the list, we have Louis Vuitton – the luxury label everyone wants a piece of! Instantly recognizable from its logo, the brand is an expert when it comes to style. So, it is not shocking that their watches are a perfect example of exquisite craftsmanship and artistry. The result of this combination is always a perfect luxury accessory that is more than capable of telling the time; that too in perfect style. This time, the result of this combination is the Gold Edition of the Tambour Street Diver. Bringing the precious touch of 18-karat pink gold to a sporty and feminine dive watch perfectly, the watch is elegant and stylish and serves as the ideal accessory for any outfit.
The watch has a rubber strap with a stainless steel Ardillon buckle and the glossy, white lacquered dial is engraved with the famous Monogram motif that helps distinguish the brand from others in the market. This Swiss-made watch is water resistant upto 100 m and features a quartz movement. The watch has 18-karat pink gold lugs and crown and is a must-have if you like elegant, sophisticated timepieces.
2. AUDEMARS PIGUET: ROYAL OAK OFFSHORE MUSIC EDITION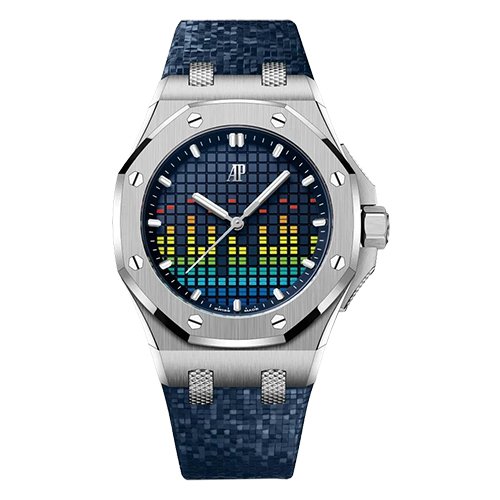 Royal Oak Offshore Music Edition from Audemars Piguet
We are positive that this brand needs no introduction. One of the most renowned high-end watch companies in the whole world, Audemars Piguet offers a sense of exclusivity to its wearers while also demonstrating true creativity and artistry. The brand delivers impeccable finishes, intricate motifs, and engravings that are so eye-catching, that one can keep staring at them. The watch model that put the brand on the map was its Royal Oak model which was introduced in 1972. This time, the brand has come up with a new addition to the Royal Oak line with this Music Edition line that has two white gold models in 37mm and 43mm that feature a blue aventurine dial that depicts a musical VU meter.
The watch comes with an interchangeable rubber strap that matches the respective dial colour and three additional rubber straps in yellow, green as well as turquoise. A Tapisserie dial that reproduces the motifs of an equaliser with knurled-textured studs characterises the watch. Pulsing with colours, the watch is limited to 500 pieces per model and is a tribute to the world of music and is water resistant up to 100 m. So for all the music buffs, this is the choice for you!
3. PATEK PHILLIPPE: 7121/200G – COMPLICATIONS
7121/200G – Complications from Patek Phillippe
An unparalleled approach to design and the level of seriousness the brand accords to its creative freedom is what has allowed Patek Phillippe to maintain its unique identity. As the last family-owned independent watch manufacturer in Geneva, the continuity of ownership also plays a part in the brand's unique identity. The decades of knowledge and horological understanding make their timepieces a must-have for everyone out there. The watch that we have picked out today is the 7121/200G Complications featuring a blue sunburst dial set with 132 diamonds and gold-applied Breguet numerals.
The case is white gold and the watch has an alligator leather strap that is hand-stitched and has a prong buckle. The moon-phase indication has remained a classic since 2013 and looks elegant in this blue dial displaying stand-out additions like stars. The watch diameter is 33mm and has a manually wound mechanical movement. The watch is also water-resistant up to 30 m. The watch is akin to poetry and will enjoy pride of place on your wrist. So, if the night-sky motif is your favourite, this watch is the one for you.