Has anyone ever told you that "Your makeup is only as good as the tools you use." Well, if they haven't, we are here to tell you about it and that here are the 7 essential brushes your makeup kit needs to have.
It's a huge world out there, yes, we are talking with respect to makeup. And if we were to tell you that the actual amount of makeup brushes you need to achieve every kind of makeup look is 21, we're sure you'd start making a lot of noise about it. But don't worry, that is a detailed guide for another day. For today however, we are going to be focusing on the 7 essential makeup brushes every beginner needs to own to create at least the most basic looks flawlessly. Use this as a guide to the essentials when it comes to brushes and take stock of the brushes you own.
We're going to go ahead and list them down for you:
1. A blending sponge
2. Bronzer and blush brush
3. Highlighter brush
4. Flat eyeshadow brush
5. Eyebrow brush
6. Contour brush
7. Fluffy powder brush
Scroll ahead for the best brushes we could get our hands on and how to use them.
1. Blending Sponge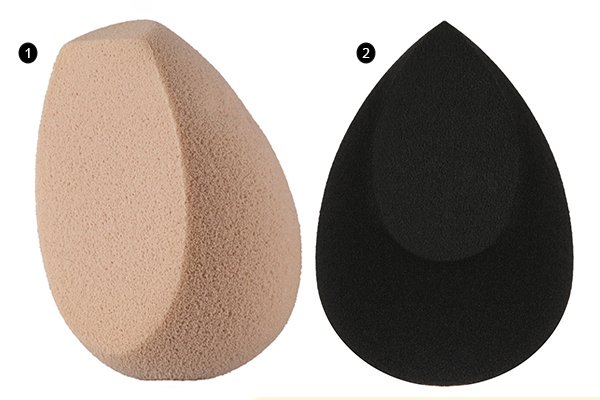 1. FENTY BEAUTY, Precision Makeup Sponge 100, approx.
Rs. 1,300
2. HUDA BEAUTY, Basic B Sponge, approx. Rs. 1,380
The first item we're tackling is the blending sponge. Technically not a brush, it is an essential item when it comes to acing your base. The ever-present debate between makeup enthusiasts about what to use for applying foundations will probably never reach a consensus, but that just means you're free to use whatever you're comfortable with. Sponges have a rounded, smooth shape which means they don't leave behind any weird lines or cause trapping of stray bristles in your makeup. And since you dampen sponges before using, the damp surface helps give a seamless and sheer finish to even the heavy full-coverage foundations, concealers, or cream blushes, providing a natural-looking finish. As for how to use it, the trick here is to saturate it with running water, wring out the excess water and then squeeze it a couple more times in a clean towel. This means your blended won't soak up your foundations and help blend your makeup smoothly. The broad side of the sponge should be used to stamp and stipple cream formulas across the face while the tip is meant for the crevices around the nose and eyes.
2. Bronzer and Blush Brush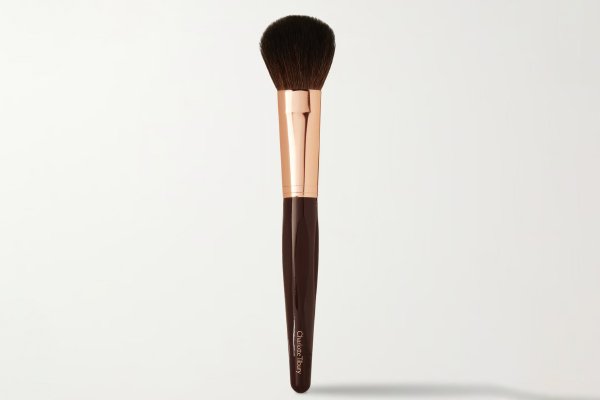 CHARLOTTE TILBURY, Bronzer and Blusher Brush, approx.
Rs. 3,260
Now, powder brushes are pretty similar to each other that you could use one to apply a variety of products. But the word of caution here is that you need to clean them after every use. What you need to do here, is find a bronzer and/or blush brush (get 2 different brushes only if you don't clean your brushes regularly) that has long, fluffy bristles and a dome shape so it can easily and evenly diffuse the powder pigments like blush and bronzer. Key is to get a really fluffy brush because the fluffier your brush is, the less product will get picked up which is imperative if you only want a little wash of colour. How you use the brush is even more important here; for bronzers, you should make a loose sweep in a '3' pattern which will start from your forehead, cut across your cheekbones and then move back out and down till your jawline. For applying blushes, swirl it on the apples of your cheeks and blend it up until your cheekbones.
3. Highlighter Brush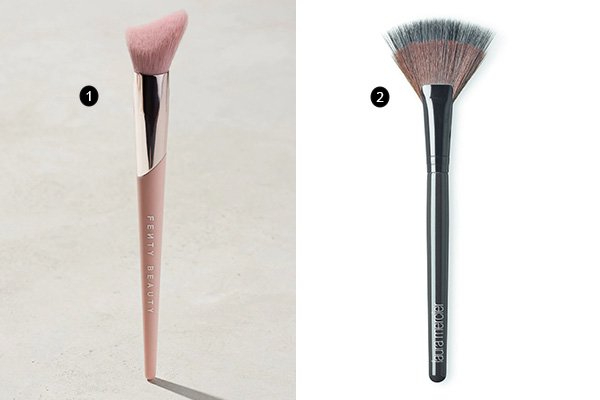 1. FENTY BEAUTY, Cheek-Hugging Highlight Brush 120, approx. Rs. 3,650
2. LAURA MERCIER, Fan Powder Brush, approx. Rs. 3,280

Your highlighter brush's shape depends upon the level of glow you wish to achieve. A tapered long brush or fan brush with long bristles gives a diffused effect and a brush with short, dense bristles will make any highlighter look extremely bright and opaque. Now on to the usage, swirl the brush over a powder highlighter tapping off the excess and then lightly sweep and blend it on areas that light naturally hits on your face. These areas would be top of your cheekbones, brow bone, Cupid's bow and anywhere else you feel the need to highlight.
4. Flat Eyeshadow Brush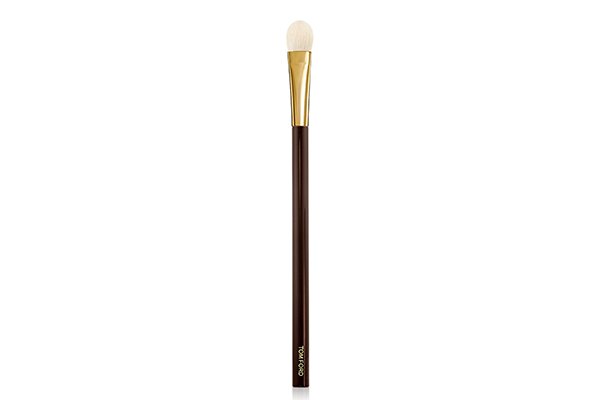 TOM FORD, Eye Shadow Brush, approx. Rs. 6,260
The key to achieving opaque and even layers of colour over your eyelids is using a flat eyeshadow brush. These brushes are flat, with a rounded tip, and are dense which means the brush can pick up a good amount of powder or cream which helps give a concentrated colour on the lids. We're now going to spell out its usage, rub the brush over the product, then pat the eyeshadow onto your eyelids. Gently swirl the brush around the edges and blend it out. To get really sharp cut-creases, mist a little setting spray on the brush as this will deepen the opacity of any powder pigment and gives the brush good hold over glittery eyeshadows.
5. Eyebrow Brush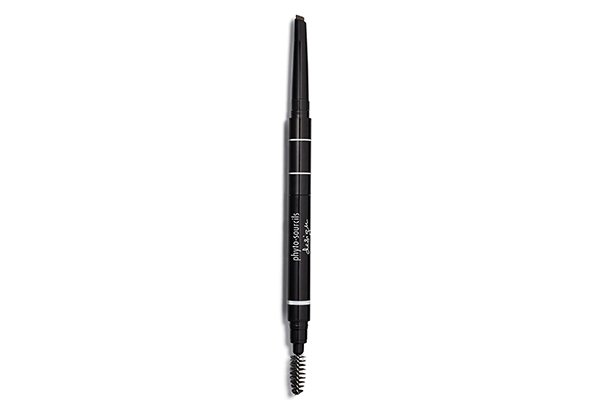 SISLEY, Phyto-Sourcils Design Eyebrow Pencil, approx. Rs. 6,990
Get a dual-ended eyebrow brush that has a spoolie brush on one side and a flat, blunt, and angled bristled brush on the other. This does 2 jobs in one brush which makes things simpler. Shape your brows using the spoolie side and then flip over and use the flat brush to fill in any sparse brows with an eyebrow powder to achieve a fuller look. If you've accidentally filled them in with excess product, use the spoolie brush to comb it through the brows and remove some of it. Another use is to comb, de-clump your lashes but make sure you clean the spoolie thoroughly before doing that.
6. Contour Brush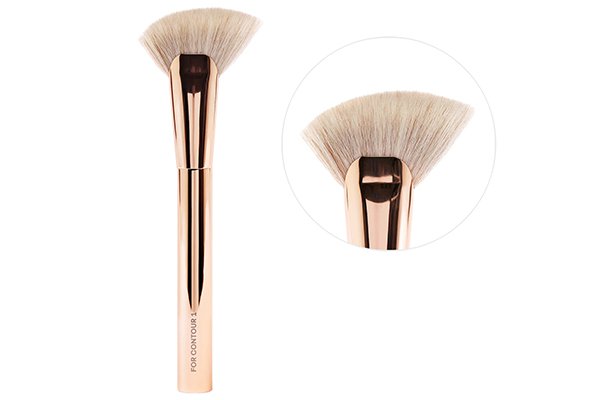 PATRICK TA, Major Sculpt Contour Brush, Rs. 2,850
The contour brush is something that usually confuses people. This is understandable because it takes on a different appearance across brands and brushes. Some brushes feature sharp-cut bristles that are placed straight across while others take on an "S" shape that will hug the shape of your cheekbones. If you want a more versatile brush, then the slanted contour brush is the one to get. It makes it easier to contour your face according to your face shape as it blends the contour powder cleanly and precisely beneath the cheekbones, jawline and forehead. If you're looking for a brush to help you achieve a sharper sculpt, then get one with blunt bristles and a sharper edge. For subtle shades, brushes with a softer slanted shape are the ones to pick. The usage is pretty simple, simply swirl it into your contour powder, tapping off the excess and gently gliding it back and forth below your cheekbones in order to emphasize your face's natural contours. For a chiselled look, reload it and swirl the brush under your jawline and along your hairline.
7. Fluffy Powder Brush
WESTMAN ATELIER, Powder Brush, approx. Rs. 10,500
A fluffy powder brush is essential to help set your makeup at the end. A fluffy brush helps dust the product evenly over the skin and gives light, diffused application. The brush is essential because you will need one for using all-over face products like setting powder on the skin. The usage here is very easy, simple tap the brush onto the powder, dust the excess off and use rounded motions applying gentle pressure to apply it all over the face.