If You Are Looking For A Classy Timepiece To Suit Your Wrist The Best, You've Reached The Right Stop. Here Are Some Of
The Splendid Watches Which Were Donned By Your Favourite Women. So, Go On And Pick The One You Like The Most.
Women and shopping are two inseparable souls. Spending some bucks on sophisticated accessories to match and uplift your sense of style is always a good idea. And when we speak about accessories, contemporary and vintage timepieces are always a good choice to invest in. To help you with some of the modern-day exemplars, we've listed the finest watches adorned by your favourite women from different sectors. So, let's dive deep into the world of quintessential timepieces for you to pick your favourite.
1. RIHANNA – JACOB & CO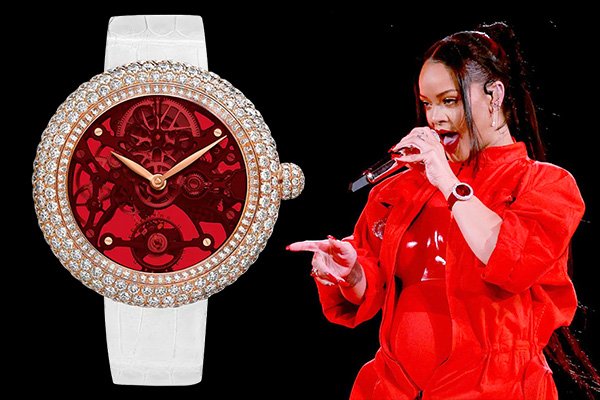 Creativity has been the hidden motive of the watchmaker's brand since the beginning. The founder, Jacob Arabo has been creating stunning and cutting-edge goods since his early days in jewellery and timepieces. The variety of products offered by Jacob & Co. exemplifies the company's unquenchable desire to create incredible works that have never been seen before. Making way to getting the name bigger and better, the brand embellished the wrist of one of the greatest icons in the music world, Rihanna.
The halftime superstar, beauty businesswoman, billionaire and the OG of sassy music, Riri made a great comeback with her performance featuring Jacob & Co.'s Brilliant Skeleton Northern Lights watch. Embracing Riri's look and her performance, the stunning timepiece by the brand is made of 323 white diamonds. With a bright red alligator strap. The diamonds are set on a precise 44-mm case. This one is a magnificent timepiece, which is a combination of excellent horology and high-end jewellery. This lavish work of art features the hand-finished openwork mechanical sensual beauty of Jacob & Co.
2. VICTORIA BECKHAM – PATEK PHILIPPE NAUTILUS JUMBO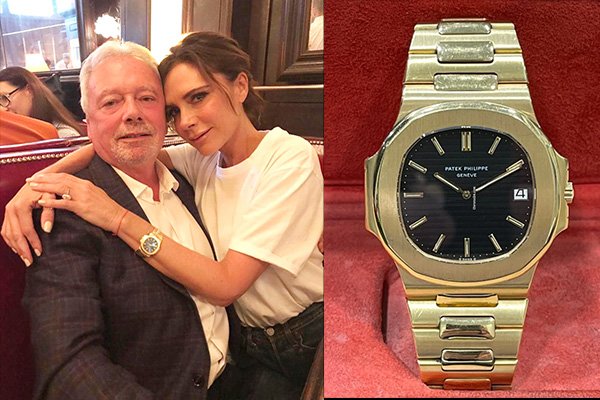 Ace fashion designer, Victoria Beckham owns a lot of expensive staples. Nevertheless, this classic horologe has a noteworthy place not just in the fashion designer's wardrobe, but also in the Beckham family. The Patek Phillipe watch 3700, by the Swiss luxury watch brand debuted in 1976 as part of the company's sporty Nautilus line. The classic timepiece, at that time, was known as the "Jumbo" with its huge 40mm size. If this doesn't make your heart say 'wow', we don't know what will.
The watch is still one of the most sought-after timepieces in the present day. With an 18k yellow gold case, a flat automatic
movement calibre, and a dial that is ribbed in black and blue, it surely has the potential to uplift any look. Up to its retirement in 2006, the piece became a rare find making it an impeccable and expensive watch. Victoria was seen hooking to over this
typical vintage timepiece numerous times. The maestro has been imparting us with some great accessory inspiration as well
other than just chic apparel.
3. HAILEY BIEBER – ROLEX GOLD DATEJUST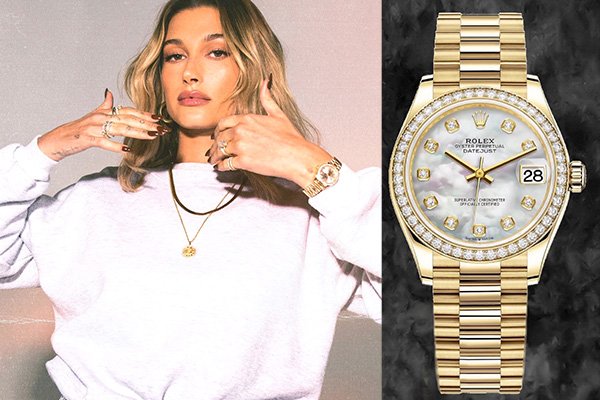 Hailey Bieber sporting some iconic horology is not a piece of news. Just like her beau, we also saw her donning some stunning
watches. Observing her liking of timepieces, we came across one of her absolute favourite timepieces, The Rolex Gold Datejust, with a case and bracelet made up of 18 Carat yellow gold. The British-found designer Swiss watch brand has a name in the industry for its archetypal designs.
This one seems to be Hailey's favourite as she appears to be wearing it in many of her Instagram posts. The watch features a
diamond-set bezel, which is like a cherry on the cake. The watch is a classic fashion statement itself, which can add an extra
dose of style to an already staggering look. One can pair it with an extraordinary dress for a date night or style it with a classy co-ord set for work. The combination of a white dial with the golden bracelet makes it look even more spectacular.
4. MICHELLE OBAMA – CARTIER
Looks like Cartier has achieved a special place in the hearts of celebrities with its on-point craftsmanship. We have witnessed many established folks wearing this extensive clientele by Cartier. Other than Princess Diana and Andy Warhol, the inspirational Michelle Obama could also not help but fall in love with the exquisite French design of the watch. The classic
stainless steel version of the Cartier Tank Francaise is something that would suit anyone. With an incredible white dial, the
watch is a reflection of the high-toned trait in accessories.
Michelle was spotted donning this timeless piece on numerous occasions. The timepiece is a contemporary take on the
vintage pattern. This watch has a slightly curved case that is more like a square than a rectangle, and it offers the option of a date display at the bottom of the dial.