The Master of Leather, Michael Lombard has his A-Game on with the opening of its flagship store in Dubai Mall, an easy access to the best in the world of fashion! 
Dubai has our heart, mainly because it's the hub for all luxury brands and their vintage collections that deserve all the hype. Amongst the world's most grandeur fashion houses, Michael Lombard has successfully placed his exemplary brand in the capital of fashion in the Middle East, Dubai. Michael Lombard launched its first flagship store in Dubai Mall with a bang. The iconic designer known for his eccentric fashion pieces is now easily accessible to all fashion connoisseurs. At the Dubai Mall's Fashion Avenue – an exclusive address located next to Gucci, Balenciaga, YSL, Louis Vuitton & others is now Michael Lombard. 
Thriving since the time he debuted his first collection to the world, Lombard has faced fashion hurdles but managed to shine bright in the luxury department. Coming onto the Dubai Store launch, it was indeed a part-ay! The collections spotted were everything a fashion admirer would desire. He made sure to walk us down memory lane by featuring his best runway pieces from the past, from jackets, coats, and skirts to handbags, sneakers, and more, the store was gleaming with top-notch fashion. 
Not just the iconic pieces, but he also unveiled his latest 2022 collection including of course his world-famous leather jackets, skirts, corsets, pants, studded handbags, shirts, sneakers, belts, masks and so much more. Anyone who knows fashion should be familiar with the fact that no one can beat Leather goods by Michael Lombard in the biz. Michael Lombard as a brand has always represented his personal style through various collections. Just like his undercover rock star career, his style is a bit edgy and includes dark colors which can totally be witnessed in all his collections.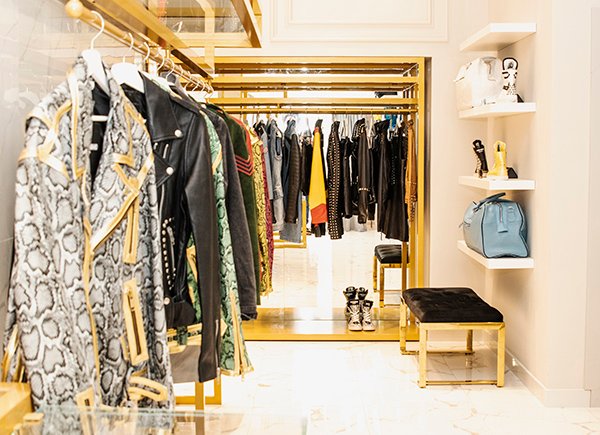 Our favorite from his latest collection has to be the leather dresses; the V-neck leather dress is on a bold, and elegant side while the studded leather version of the same is perfect for when you're planning to go all out and make a true statement with fashion. We remember asking him about his favorite collection sometime back, which is the psychedelic collection with a great color flare and wild psychedelic patterns, that too can be witnessed offline. The store also features some of his iconic scents that we admire. 
With the opening of the flagship store in Dubai Mall's Fashion Avenue, Michael Lombard has become the second black designer to launch a store after Virgil Abloh. For us, the King of Leather has also become the King of Hearts, with his marvelous designs and impeccable art. Michael Lombard has also been the talk of the town from New York Fashion Week to London Fashion Week. we're hoping to witness more quirkiness with this store launch & hopefully a vibrant collection too (wink)!