Business Jets Are Getting Bigger And Better. If You Are Someone Looking For Private Jets, We Got You Covered With All The Deets You Need.
Synonymous with the rich and famous, private jets are the epitome of wealth, luxury and exclusivity. Private aircraft have always stood for luxury and privilege for a very long time. They offer unparalleled comfort, convenience, and privacy, making them the preferred mode of travel for the elite. With a wide range of types of private jets available today, choosing the right one for your travel needs can be overwhelming.
From light jets to heavy jets, each type of private jet has its own unique features and benefits. In this segment, we will help you choose the best private jet for your next trip. Whether you are traveling for business or leisure, our recommendations can cover a seamless travel experience. Dive in!
1. AIRBUS ACJ320NEO
Derived on commercial variant of Airbus ACJ320neo, this aircraft has wingtip sharklets that improve the efficiency of the unit by take-off and landing performance improvement and drag reduction. These sharklets save fuel by reducing it to 4%, which compare to 900t of carbon dioxide emissions annual reduction. This aircraft has an external length of 37.57 meters, tail height of 11.76 meters, fuselage diameter of 3.95 meters, and wingspan of 35.8 meters. It can transport a maximum of 25 passengers, and has a user-friendly and generous cockpit that boasts the latest technology.
It also features a Melody Cabin with a new outlook to cabin design. This cabin has flowing lines like that of the curves of nature, with hilly horizons, rivers, and deserts. These lines are defined in the cabin's main pathway and the walls within it. The aircraft cabin has a length of 27.74 meters, height of 2.25 meters, width of 3.70 meters, and floor area of 96m2. It has a kitchen, dining area, lounge, master bedroom, washroom, and lavatory. With a 65-inches large screen television, loud speakers, and a Wi-Fi connection for entertainment purposes. This aircraft also has a baggage space of 650ft3 that can lodge up to 138 suitcases.
ACJ320neo is powered by two of the latest-generation engines in the aviation industry: CFM International's LEAP-1A engine and Pratt and Whitney's Pure Power PW1100G. Both of these engines have a maximum thrust of 27,000 lbf, and offer better improvements in terms of range and efficiency. While this version can seat more than 180 people, the flying penthouse version is limited to 19 people, with a sleeping capacity for 17.
2. GULFSTREAM G700
The G700 is the new flagship jet of Gulfstream's line with having a 7,500 nautical mile range, 0.925 maximum Mach speed, and up to five living zones that can include a rear bedroom. Its 20 oversized windows set standards for natural light, and an onboard circadian lighting system that simulates sunrise and sunset in flight to help the body adjust to the new time zone. New ergonomic seats, custom fabrics and tactile, intuitive entertainment centres are also part of the G700's DNA differentiators.
With a cabin that is almost 57 feet long, 6 feet high, and 8 feet wide, passengers can certainly appreciate being able to stretch out comfortably during their flight. There's no doubt about this jet's ability to take people long distances, as this speedy jet will get you where you want to go in no time — not that you'll be anxious to deplane. Full-scale mock-ups of different aircraft interiors allow clients authentic touchpoints, from experiencing the reclining, massaging seats to viewing the indirect lighting, storage cubbies, and discreetly hidden wireless cell phones charging pads that are in the business jets.
The G700's long legs and increased capabilities and comfort are derived from engines, curved winglets, avionics, flight controls, a flight deck, a cabin, and seating that build on the modern systems and design philosophy employed by its smaller G500 and G600 stablemates. The cabin is 10 feet longer, though, for a total length of nearly 57 feet—it is carved into up to five distinct living zones that can be configured to seat from 13 to 19. While, the G700 also offers many cabin layouts and seemingly endless finer details, which makes it a true lux long-hauler the "Grand Suite" in the aft fuselage. It's the closest thing to a five-star hotel room in a production business jet.
3. HONDAJET ELITE-II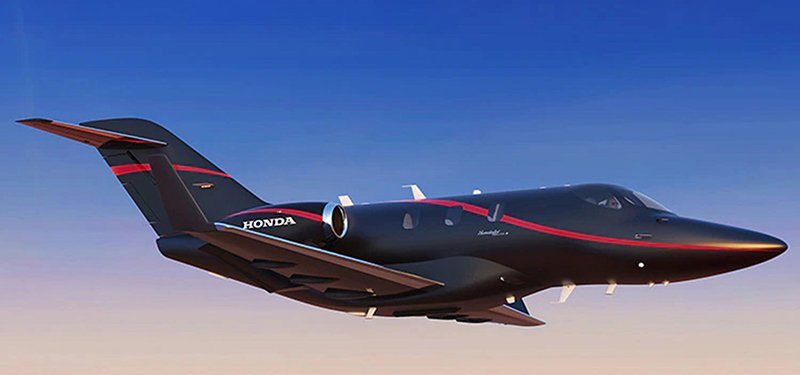 Allocated as the "fastest, farthest and highest-flying plane in its class," the HondaJet Elite II features a composite fuselage and a distinctive Over-The-Wing Engine Mount (OTWEM) configuration. Speaking of which, the model is powered by a pair of GE Honda HF120 engines that each produce 2,050 pounds of thrust. The Elite II can take off on runways as short as 3,699 feet (1,128 meters) and travel up to 1,547 nautical miles (2,865 km) with four occupants onboard. Honda has also acclaimed that the model has the largest cabin in its class and is the "most fuel-efficient jet."
It also has improved acoustic treatments throughout the cabin as well as a Bongiovi aviation audio system. The model also has 62 cubic feet (1,756 litres) of storage space. The aircraft is equipped with a Garmin G3000 avionics suite and features automated anti-ice, lighting and pressurization systems as well as under-speed protection. Its black livery, with a red side stripe, rightly gives it a stealth profile and has a fully redesigned cabin, with two new interior options, Onyx and Steel, which add a luxe look. The engineering team also did an acoustic upgrade to make the interior quieter.
The aircraft has also increased its maximum take-off weight to 11,100 pounds, so it can carry more cargo over a longer distance. Along with these is new aisle flooring with a hardwood herringbone and plank patterns, a nose-to-tail acoustic system, LED lighting with a soft indigo nighttime setting, and ground illumination for the main entry door. The crew seats even have an extra three inches of legroom and the pilot seats have sheepskin covers. The Elite II has also received type certification from the U.S. Federal Aviation Administration and is expected to receive certification from the European Union Aviation Safety Agency soon.
4. DASSAULT FALCON 6X
"Bigger is better" is Dassault Aviation's mantra for its next-generation business jets. And the Falcon 6X is, by far, Dassault's largest, heaviest, and most powerful business jet in the 60-year history of its business jet production line. The 6X represents a sea change in Dassault's design focus. Falcons have always appealed to pilots, engineers, and technicians—lean, nimble, and hyper fuel-efficient.
The latest Falcon jet offers a wider floor and taller cabin than any other purpose-built private jet in current production and promises to have mid 40 dBA super-low interior noise levels. This results in a nearly 38-ton aircraft at max take-off weight. For the record, the Falcon 6X actually grew to be bigger in cabin volume, heavier overall, and more powerful than originally intended.
Being a Falcon, it would be a technological tour-de-force, starting with its digital fly-by-wire flight controls. The Falcon 6X has the upholstered areas throughout the cabin utilizing micro-perforated fabrics, woven textiles and 3D fabrics, which, according to Dassault's design engineers, offer protection from microbes and absorb sound. All of the materials and finishings are also optimized to absorb or reflect light, with the aim of providing passengers a soothing travel environment.
Further consideration has gone into the cabin lighting (an area of rapidly growing sophistication in today's Business Aviation industry). The Falcon 6X also incorporates smart-control mood lighting that varies colour patterns depending on the type of activity, time of day and season. All in all, 6X has distinguished itself as an extremely remarkable aircraft, sailing through its certification campaign and consistently wowing pilots and engineers with its flawless performance.
5. BOMBARDIER GLOBAL 7500
Bombardier Aviation is ramping up deliveries of its flagship Global 7500 ultra-long-range business jet. Bombardier Aviation and the International EPD System, an environmental-declaration group based in Sweden, published the environmental product declaration for the 7500 jet that provides detailed information about the Global's life cycle as it relates to carbon dioxide emissions, noise, water consumption and other key environmental-impact indicators.
The publication of the Global 7500 aircraft EPD is an important milestone in the advancement of Bombardier Aviation's overarching environmental-sustainability strategy, which encompasses increasing the adoption of sustainable alternative fuels, reducing its CO2 footprint, enhancing aircraft recyclability and sustainably sourcing—all as a part of its EcoDesign approach and in support of industry-wide carbon-reduction goals.
The 7500?s EPD is the outcome of many years of collaboration with Bombardier's supply chain, a rigorous analysis from the program's outset, and the robust certification process completed throughout 2019. The Bombardier EcoDesign team applied its product-innovation life-cycle process throughout the development of the Global 7500 aircraft to minimize the jet's impact upon the environment, from the design and manufacture of the aircraft to the end of its life.
The Global 7500 aircraft is powered by the new GE Passport engine, incorporating advanced technologies and materials to improve durability, deliver a lower noise output and improve fuel consumption. Additionally, the 7500?s high-speed transonic wing cuts down on drag, reduces fuel burn and lowers emissions, improving the ride, as well as offering excellent short-field and high-speed performance.