Ditch the highways in style and head on to the dirt track with these amazing dirt bikes.
Extreme adventure is guaranteed!
What happens when a bunch of mud-loving, bike fanatics get together? They participate in world-class competitions for dirt bikes! Alright, we'll be a little realistic now; everyone cannot really participate in dirt-bike competitions but you can still enjoy a ride on your dirt bike! Dirt bikes gained their popularity in the 1960s as people started using them to travel back and forth between offroad areas that were otherwise inaccessible through cars and regular bikes. If you've never come across one, dirt bikes are, at their core, just motorcycles pared down to sleeker, offroad forms. As a result, instead of the heavy metal motorcycle frames that their counterparts sport, dirt bikes come with moulded plastic parts, tires having aggressive offroad treads, and other specs that make them the best for outdoor riding. So, depending on what you expect out of your dirt bike, we have lots of choices for you here. Pick one and enjoy riding over some rough and rocky terrains and leave all your worries behind. So, ditch the highways and get on your new dirt bike, because it's gonna be a bumpy ride!
1. ALTA, REDSHIFT MX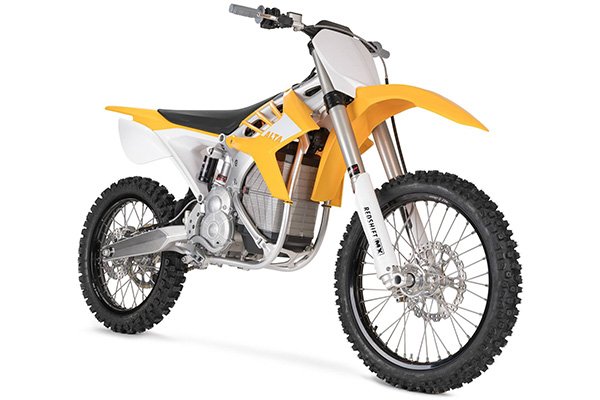 Alta MX might be the heaviest and tallest dirt bike on our list but don't make the mistake of thinking it isn't powerful. Alta has released a powerful statement with the release of this bike that the future is going to consist of some truly formidable electric vehicles. The MX was designed as the electric equivalent of a modern 250cc gasser. It weighs 265 lbs and requires no air filters, change of oil, or any top-end rebuild. So, you'll be able to truly enjoy your ride without having to worry about any of these problems. The bike is from the motocross species and has a welded aluminum frame and a slim and tight plastic bodywork casing. Some of the more unnecessary parts were removed to keep the bike light, and the bike is strictly meant to be ridden on dirt trails only. The paint job has been done exquisitely – it is edgy, and the white makes it an immediate attention grabber. The 350V lithium-ion battery makes it easy for you to ride for a continuous 2 hours before you need to recharge it. And the battery pack is IP67 waterproof and shock-resistant up to 20G. The bike provides an estimated top speed of 120 miles per hour and is ultra-fun to ride especially if you are someone who loves to speed through tracks or make high jumps on the ramps.
2. SUPREME HONDA CRF250R 
Let's take a look at the story behind this bike – in late 2019, Honda partnered with Fox Racing and the lifestyle brand Supreme and came up with a line of dirt bike gear as well as a limited running Supreme-branded CRF250R dirt bikes for 2020. They created approximately 80 examples and for the interested people, you can only purchase them in person at the Supreme retail stores. The bike is only offered in one colour and there is not much change in the physical aspects compared to the 2019 version. Boldly emblazoned with the signature redand-white Supreme branding, the bike comes with a Showa front spring fork to offer precise handling and balance, HRC launch control and features 79mm bore and 50.9mm stroke lengths for added power. Honda claims they've gone to extreme lengths to keep the bike light, narrow and responsive and the result is an amazing bike that is totally worth checking out. The bike boasts great torque and midrange power which comes in handy especially when you need to make whoops, manage high jumps, or blast out of deep loam and berms. The front wheel diameter is 21" and it features an DOHC 1 cylinder 4 valves/ cylinder engine. The fuel tank capacity is 1.611 gal and the curb weight is 237 lbs. Not bad for a dirt bike!
3. NORDEN 901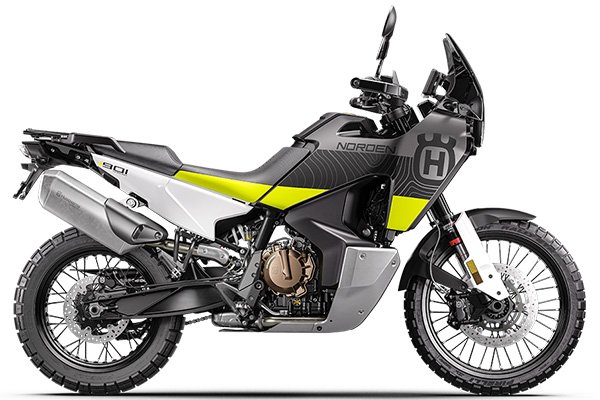 Did you know, the Norden 901 was actually tested by Mike Horn, an explorer-enthusiast harbouring a love of cold mountains, sailing, and fast bikes? He, along with Cyril Despres, tested the bike on an offroad trip across Iceland; the verdict? It certainly passed with flying colours! A dirt bike designed for performance, the Norden 901 has an 889-cc parallel-twin engine and a light steel frame which gives it a slick outer appearance and appears to be a great motorcycle, yet having the rugged capabilities of some of the toughest dirt bikes. The suspension is more than ready for offroad driving yet the ergonomics were constructed keeping luxury in mind. The bike is powerful enough to take you across the roughest of terrains yet keep you comfortable and stylish. A smooth and torquey 889 cc parallel-twin engine that is housed in a light steel trellis frame powers the Borden 901 making it an exceptional dirt bike. A state-of-the-art bike having optional Rode Husqvarna app support, a built-in phone system, and a Bluetooth music connection, what more does one need?