When talking about pride month and the LGBTQ community, a few names cannot be left out. We picked out the best names from the fashion industry who also belonged to the LGBTQ community. Read on to own some of their most gorgeous apparel.
The LGBTQ community has had to fight tooth-and-nail for acceptance, and although their journey is far from over, their effort has started paying them their dividends. The fashion industry too saw many great creators and designers who were members of the community. A lot of them went on to become some of the most famous names in the industry
Since June is known the world over as Pride month – extending from 1st June to 30th June – we wanted to pay homage to the community. The fight for inclusion and acceptance is still going on and to acknowledge the efforts of the community, we picked out the LGBTQ designers credited with revolutionizing the fashion world through their creations. And, as a tribute, we have picked out one piece of apparel from each designer's collection and curated a series of matching products to be worn with it.
1. GIANNI VERSACE: ACID BOUQUET FOULARD DRESS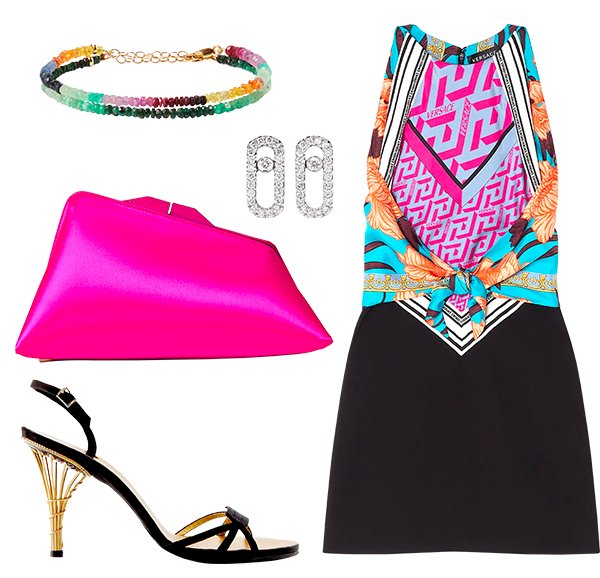 VERSACE, Acid bouquet foulard dress, approx. Rs. 2,15,500
SALVATORE FERRAGAMO, Creations calipso 1956 satin-trimmed metallic leather sandals, approx. Rs. 1,93,720
MESSIKA, Move Uno 18-karat white gold diamond earrings, Rs. 1,54,120
THE ATTICO, Large leather-trimmed satin clutch, approx. 
Rs. 64,280
JIA JIA, Set of two 14-karat gold, sapphire and emerald bracelets, approx. Rs. 51,110
2. ALEXANDER MCQUEEN: STORM PRINT OPEN BACK MIDI DRESS IN BLACK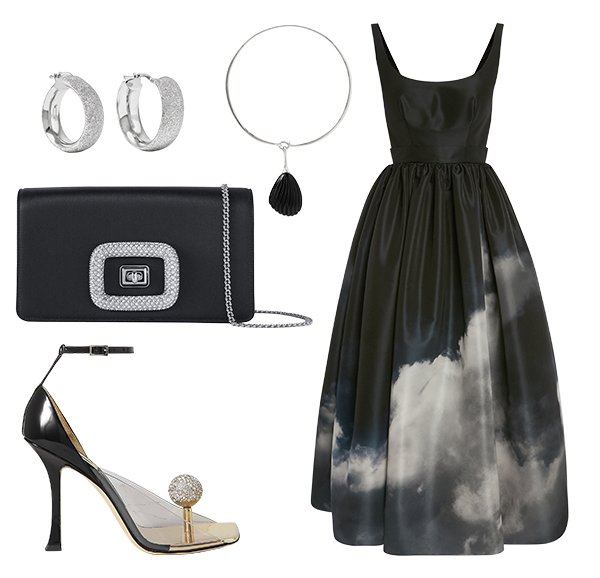 ALEXANDER MCQUEEN, Storm print open back midi dress in black, approx. Rs. 3,47,700
SOPHIE BUHAI, Coquille silver onyx choker, approx. Rs. 2,63,450
ROGER VIVIER, Viv' choc mini embellished satin clutch, approx.
Rs. 2,36,190
JIMMY CHOO, Mugler crystal-embellished PVC and patent-leather sandals, approx. Rs. 1,51,010
CAROLINA BUCCI, Florentine 18-karat white gold hoop earrings, approx. Rs. 1,46,330
3. TOM FORD: EMBROIDERED ONE-SHOULDER CHAIN GOWN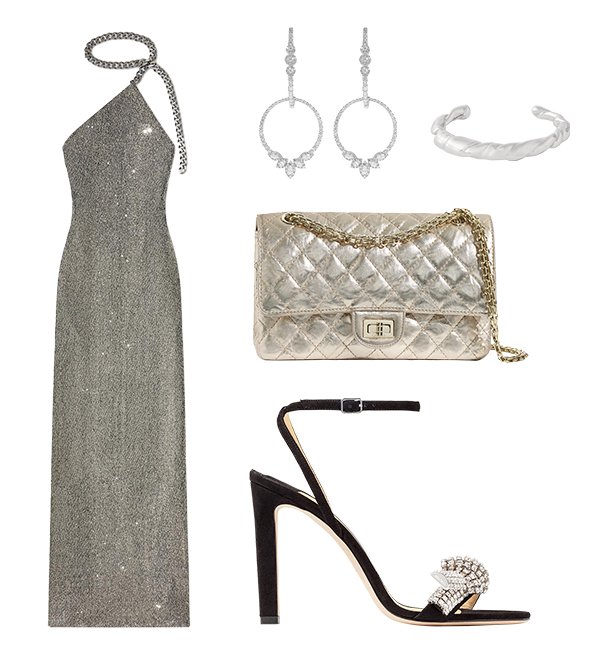 TOM FORD, Embroidered one shoulder chain gown, approx. Rs. 18,98,260
YEPREM, 18-karat white gold diamond earrings, approx.
Rs. 13,63,760

CHANEL, 2.55 handbag, Metallic Crumpled Calfskin & Gold-Tone Metal Light Gold, approx. Rs. 6,84,960
JIMMY CHOO, Thyra 100, approx. Rs. 1,00,740
LOEWE, Nappa twist rhodium plated cuff, approx. Rs. 88,670
4. YVES SAINT LAURENT: LONG BACKLESS DRESS IN CREPE VISCOSE
YVES SAINT LAURENT, Long backless dress in crepe viscose, approx. Rs. 4,16,990
RETROUVAÍ, Puzzle 14-karat gold, onyx and diamond necklace, approx. Rs. 3,55,060
CHOPARD, Happy hearts 18-karat rose gold, diamond and onyx earrings, approx. Rs. 2,68,720
BALENCIAGA, Le Cagole mini studded crinkled-leather shoulder bag, approx. Rs. 1,05,080
BALMAIN, Black and gold suede Uta sandals, approx.
Rs. 92,540
5. VALENTINO: SHORT EMBROIDERED ORGANZA DRESS
VALENTINO GARAVANI, Short embroidered organza dress, approx. Rs. 5,32,610
2. CHANEL, Chanel 19 handbag, lambskin, gold-tone, silver-tone & ruthenium finish metal white, approx. Rs. 4,41,580
3. ALMASIKA, Le Cauri 18-karat gold diamond ring, approx.
Rs. 2,20,790
4. RENÉ CAOVILLA, High grey sandals supercleo, approx.
Rs. 1,15,430
5. OF RARE ORIGIN, Hedera gold vermeil pearl earrings, approx. Rs. 89,090
6. JACQUEMUS: LA ROBE SAUDADE LONGUE
1.  JACQUEMUS, La robe saudade longue, approx. Rs. 60,660
JIMMY CHOO, Clemmie crystal-embellished metallic leather clutch, approx. Rs. 1,51,780
STONE AND STRAND, Let it slide diamond tennis bracelet, approx. Rs. 1,04,980
GIANVITO ROSSI, Montecarlo d'orsay, approx. Rs. 89,040
ROXANNE FIRST, 14-karat gold diamond single hoop earring, approx. Rs. 38,920
7. HUBERT DE GIVENCHY: DRESS IN CREPE BACK SATIN WITH CHAIN
GIVENCHY, Dress in crepe back satin with chain, approx.
Rs. 4,54,800
2. ROXANNE FIRST, 14-karat rose gold sapphire bracelet, approx. Rs. 2,29,230
3. ANDREA FOHRMAN, Round rose de france earrings, approx. Rs. 1,86,640
4. BOTTEGA VENETA, Arco small intrecciato leather tote, approx. Rs. 1,76,200
5. JIMMY CHOO, Sacora 100 faux pearl-embellished satin sandals, approx. Rs. 1,32,730
8. GIORGIO ARMANI: LONG, DOUBLE SILK-SATIN DRESS
GIORGIO ARMANI, Long, double silk-satin dress, approx. Rs. 3,22,720
2. JUDITH LEIBER COUTURE, Turntable Scratch crystal-embellished goldtone clutch, approx. Rs. 4,09,130
3. MESSIKA, My Twin Toi & Moi Thin Bangle Bracelet 0,15ct x2, approx. Rs. 2,39,770
4. SUZANNE KALAN, 18-karat white gold diamond earrings, approx. Rs. 1,88,360
5. AMINA MUADDI, Yigit silk-satin platform pumps, approx. Rs. 95,150