Have You Ever Wanted A Sneak-Peek Into A Drag Queen's Makeup Vanity? Well, Here's A Glimpse Of What Makes The Art Of Drag And The Look Of Drag Queens So Fascinating.
In the enchanting realm beauty and glamour, the radiant stage of any event has witnessed an exquisite tapestry of makeup trends and bewitching looks, crafted not only for the graceful women but also for the dashing men who graced the event. The theme of luminous radiance prevailed, as ethereal skin with a dewy glow always succeeds to take centre stage. Perfected complexions and on-point contouring, delicate layers of foundation and seamless perfection. Here's an exclusive excerpt for you of all the inspiration you need of what goes in front of the mirror when a drag queen is getting ready to make heads turn.
1. BEEKMAN BLOOM PRIDE KIT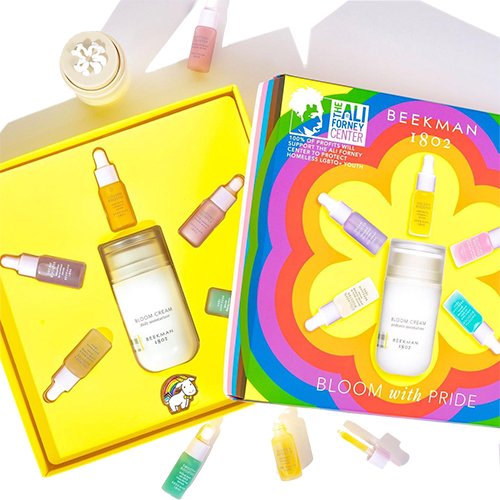 Celebrating uniqueness in honour of Pride Month, Beekman has added something special to its line of skincare products. Pride means far more to them than just a month of rainbows and adorable packaging because they are a queer-founded brand. The company has proudly maintained its relationship with the Ali Forney Centre, which offers unhoused LGBTQ+ kids
in New York City shelter and medical assistance, during this Pride month.
A full-size Bloom Cream and 5 tiny boosters are included in the brand's limited-edition Bloom with Pride kit, all of the proceeds
from which will be used to benefit gay youngsters who are in need. As a firm built on the principle of kindness, they oppose hate and stand in solidarity with the weak and marginalised this month.
2. LA MER SOFT FLUID LONG WEAR FOUNDATION
The La Mer Soft Fluid Long Wear Foundation is a luxurious and highly sought-after foundation that lives up to its reputation. Its lightweight and silky texture effortlessly glides onto the skin, providing easy and even application. The buildable coverage effectively conceals imperfections and creates a natural-looking finish with a semi-matte glow. The foundation's long-lasting formula withstands sweat, humidity, and oily skin, ensuring all-day wear without significant fading.
Infused with La Mer's Miracle Broth, the foundation also offers skincare benefits, nourishing and improving the skin's overall
appearance over time. A velvety, weightless composition that brings quick solace while supporting daily equilibrium. The La Mer Soft Fluid Long Wear Foundation delivers on its promises, making it a worthy investment for those seeking flawless coverage and skincare benefits in a luxury foundation.
3. VELOUR LASHES XTENSIONS FALSE LASHES KIT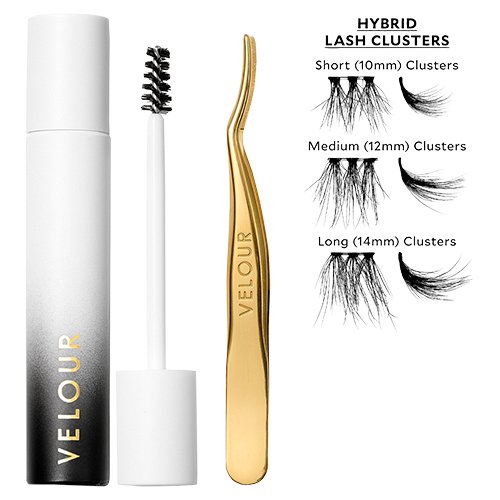 The Velour Lashes False Lash Kit is a luxurious and high-quality set of false eyelashes that are designed to enhance and elevate your eye makeup look. This comprehensive kit includes everything you need to achieve stunning lashes with ease.
The lashes are made with premium, ultra-soft velour material, providing a natural and lightweight feel. They are meticulously
crafted to mimic the appearance of real lashes, with varying lengths, thicknesses, and styles to suit different eye shapes. Whether you're aiming for a subtle, everyday look or a glamorous, red-carpet-worthy effect, this lash kit has got you covered. The Velour Lashes False Lash Kit combines exceptional quality, versatility, and convenience.
4. TOM FORD SHADE AND ILLUMINATE CREAM CONTOUR DUO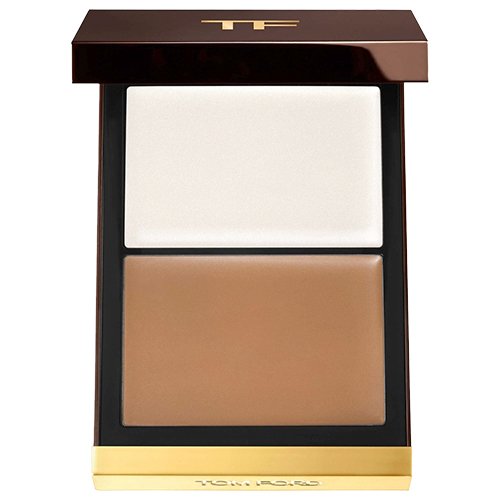 The Tom Ford Shade and Illuminate Cream Contour Duo is the ultimate secret weapon for achieving flawlessly sculpted and defined features. Designed to elevate your makeup game to new heights and give you the power to create stunning dimensions this duo is everything you want.
This product features two shades that effortlessly blend to create a natural-looking contour. The darker shade helps to define and sculpt the contours of your face, while the lighter shade adds a luminous glow, enhancing your best features and creating a youthful radiance.
The creamy texture glides on smoothly, allowing for seamless and easy blending. The long-lasting formula ensures that your perfectly sculpted look stays put throughout the day, without smudging or fading. With the Tom Ford Duo, you have the power to transform your face with professional-level precision.
5. PAT MCGRATH LABS MOTHERSHIP IX EYESHADOW PALETTE
A celestial masterpiece that will exhibit limitless creativity and stunning beauty. This iconic palette is a true work of art,
curated by the renowned makeup artist Pat McGrath herself. Drag ladies out there, what else do we need, right? From rich,
velvety mattes to high-impact metallics, each shade is carefully formulated with Pat McGrath's signature blend of pigments,
ensuring intense color payoff and seamless blending.
Indulge in a self-expression journey as you explore this palette's infinite possibilities. From a sultry smoky eye or a bold and
vibrant statement look, the Mothership IX Palette has it all.
Elevate your eyeshadow game to celestial heights with the Pat McGrath Labs Mothership IX Eyeshadow Palette. Unleash
your creativity, embrace your individuality, and experience the transformative power of Pat McGrath's visionary artistry. Prepare to be spellbound by the beauty and innovation that awaits you.
6. MAC VIVA GLAM LIPSTICKS
A special addition to the lipstick collection the brand is dedicated to the pride month MAC Cosmetics has launched a new collection of Viva Glam lipsticks in celebration of Pride Month. The collection includes four new shades, each inspired by the colors of the LGBTQ+ flag. Formulated with a matte formula, these lipsticks are definitely worth adding to your vanity if you prefer a bold look.
The Viva Glam lipsticks are available in shades of classic red, bright pink, and deep blue, along with a nude lipstick that is perfect for everyday wear. All of these shades have their individual vibes for distinguished occasions. Supporting their pride month campaign, 100% of the proceeds from the sale of the Viva Glam lipsticks will go to support the MAC AIDS Fund, which provides funding to organizations that fight HIV/AIDS.