Flattering Jewelry and A Great Pair of Heels Go a Long Way. Since You're Precious to Us, Here We Have the Recently Launched Jewelry Pieces That Need Your Attention!
Bold accessories are nothing but a women's armor. Welcome to another month of choosing opulent jewelry for your grandeur box. With so many awards shows & red carpet, high[1]end jewelry brands wanted to outshine their own previous collections and decided to come out with some dreamy accessories. What's in it for us, you ask? Well, we believe jewelry is like ice cream, and there's always room for more. Therefore, we too had to up our game by exploring some of the best designs that these brands are offering.
While we were busy catering to the ideal piece that'd speak everything about you, we noticed how some accessories trends are making their way back in 2022. From Kylie Jenner's chunky bracelets to Doja Cat's Dreamy earrings at the BBMA. Therefore, here is your sign to begin piling up on these pieces too. After examining everything carefully, we collected accessories from lavish brands that spoke the most to you. Wait up, we also have a surprise for you, where we reveal accessories that celebrities wore to some of the recent red carpets and caught eyes! Dive in & witness the charms of these pieces that every queen desires!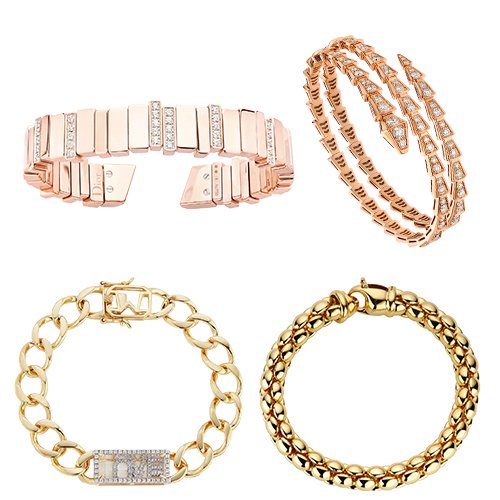 WRIST CANDY>ACTUAL CANDY
1. Dior, Gem Dior Bracelet, Price: on request
2. Bvlgari, Serpenti Viper Bracelet, Price: on request
3. Mateo, 14kt Secret Love Link Bracelet, Approx. Rs. 7,60,000
4. Mallory, 18ct Yellow Gold, Approx. Rs. 6,36,500
JAW-DROPPING EARRINGS
1. Tiffany & Co., Mesh Earrings, Approx. Rs. 4,00,000
2. Piaget, Sunlight Earrings, Price: on request
3. Tasaki, Iridescent Earrings, Price: on equest
4. Boodles, Secret Garden Sapphire Diamond Yellow Gold Drop Earrings, Approx. Rs. 9,00,000
CRYSTALS, THE SECRET WEAPON
1. GUCCI, Gold-tone, faux pearl and crystal necklace, Approx. Rs. `58,130
2. ALEXANDER MCQUEEN, Silver-tone Swarovski crystal hoop earrings, Approx. Rs. 61,120
3. OSCAR DE LA RENTA, Set of two gold tone, enamel and crystal rings, Approx. Rs. 34,790
4. PEARL OCTOPUSS.Y, Snake convertible gold-plated, crystal and faux pearl bracelet, Approx. Rs. 30,340
SPOTTED ON RED CARPET
1. Michelle Yeoh in Tasaki, Forest Valley Necklace, Price: on request
2. Nicole Kidman in Harry Winston, Eagle Yellow Diamond Necklace, Price: on request
3. Doja Cat in Bijules Jewelry, Short Nail Ring, Price: on request
4. Naomi Campbell in Jacob & Co., Yellow Diamond Riviera Necklace, Price: on request