Chocolates are good but jewelry is carb-free, so choose wisely. We have listed below the must-have jewelry pieces for this month, if you love any, buy it (before someone else does).
It's okay to be a little obsessed with jewelry, because we know we are! Welcome to another month of filling that opulent box of jewels with new and refined gems. This month many of our adorned celebrities collaborated with leading brands in the industry and the pieces they've come up with have our heart. Starting with Kendall Jenner X Messika to Tiffany & Co.' Love Me, Kiss Me & Hold Me and many others.
We decided to pick our favourite from some of these collections that will surely make your jewelry box plusher. It's also the month of love, so make sure to give your lady love some of the fresh and finest pieces by luxury brands, and for all our single ladies, it's time for self-love so turn on the, "I deserve new jewelry" mode on and shop till your credit cards drop!
If you want an excuse to make a plan well you will have cute jewelry by the end of this month that will have to be shown off, so here's your sign!
Lucky Move: Kendall Jenner X Messika Collaboration
1.1 PINK GOLD DIAMOND EARRINGS, LUCKY MOVE MONO EARRING, approx. ?9,97,005
1.2 PINK GOLD DIAMOND BRACELET, LUCKY MOVE, approx. ?16,64,300
1.3 PINK GOLD DIAMOND BRACELET, LUCKY MOVE PM WHITE MOTHER-OF-PEARL BRACELET, approx. ?1,81,700
1.4  PINK GOLD DIAMOND NECKLACE, PINK MOTHER-OF-PEARL LUCKY MOVE MM, approx. ?4,18,490
1.5 PINK GOLD DIAMOND RING, LUCKY MOVE PM WHITE MOTHER-OF-PEARL RING, approx. ?1,67,300
Tiffany & Co. Love Me. Kiss Me. Hold Me.
2.1 Tiffany Knot Ring, Yellow gold with diamonds, approx. ?1,41,700
2.2 Tiffany Victoria, Vine convertible drop earnings, approx. ?5,66,900
2.3 Tiffany Victoria, Vine wire bracelet, approx. ?3,80,400
2.4 Tiffany Knot, Pendant in rose gold with diamonds, approx. ?2,90,900
Chanel Coco Crush
3.1 Coco Crush, Necklace, approx. ?2,23,700
3.2 Coco Crush, Ear cuff, approx. ?3,58,000
3.3 Coco Crush, Too Et Moi Ring, approx. ?3,58,000
3.4 Coco Crush, Bracelet, approx. ?8,65,200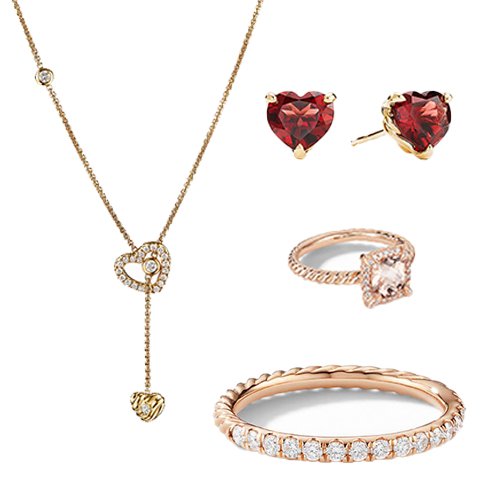 David Yurman Togetherness, Valentine's Special
4.1 Cable Collection, Heart stud earrings, approx. ?55,990
4.2 Cable Collectibles Collection, Heart Y Necklace, approx ?1,79,200
4.3 Cable Collectibles Collection , Stack Ring, approx ?1,12,000
4.4 Chatelaine Collection, Pave Bezel Ring, approx ?1,38,140