Looking for a shiny new toy for the summer? We have a list of the best hoverboards for you. Read below to discover our picks and to get all the information you need.
Hoverboards took over the world almost instantly after their launch. Hoverboards became the cool, new way of moving around, that allowed people to get to places without walking and avoiding the hassles of traffic and headaches of driving. Everyone from Wiz Khalifa to Justin Bieber to even Martha Stewart could be seen riding around the town on one. The hype may have died down a bit, but hoverboards are still as cool as they ever were. With improved safety features and the introduction of cool, new features, hoverboards have definitely come a long way from where they started. Discover the new fun, efficient way of running your errands and looking cool at the same time.
We understand that it is not so easy to choose the best hoverboard to fit your needs considering the market is full of options. But this is where we come in. Let us do some work for you, while you just relax and go shopping. Choose whichever one catches your fancy the most and enjoy your cool, new gadget.
1. SEGWAY: NINEBOT S MAX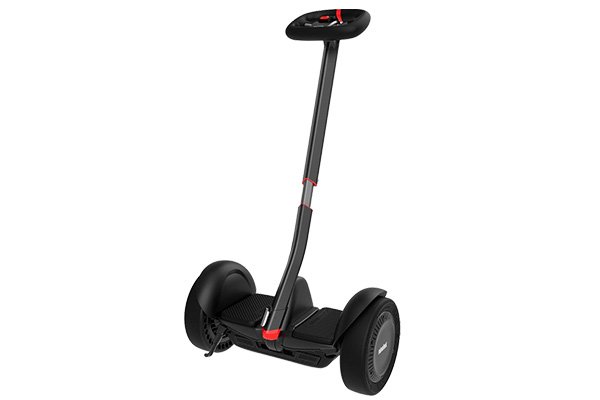 The NINEBOT S MAX from SEGWAY
Our first recommendation is the Segway Ninebot S Max. It is a supercharged version of the Ninebot S self-balancing scooter. It has faster speed, and an extended range. It comes with a hand control steering wheel that makes it easy to use and provides extra stability than any other hoverboard.
It has a retractable hand control steering wheel, a large capacity battery and an integrated speed panel. The top speed is 12.4mph and the range is of 23.6 miles. It is suitable for riders of 16 and over. The traversable terrain is pavement, packed dirt, slopes of up to a 15-degree grade. It can carry maximum weight of 220 lbs. With all these cool features, the Ninebot S Max promises a ride that is smoother than butter!
2. HALO BOARD: OFFICIAL HALO ROVER X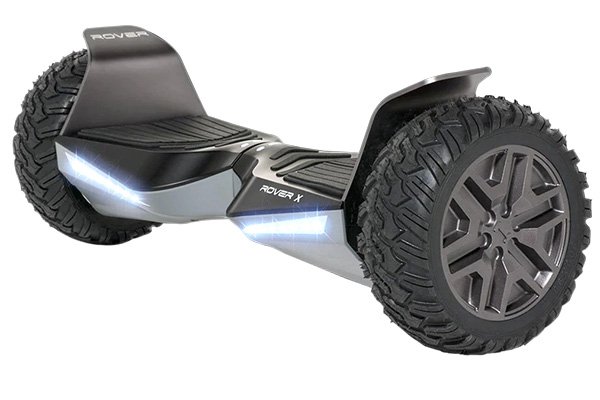 The OFFICIAL HALO ROVER X from HALO BOARD
The Halo Rover X is pretty much the best on the market currently. This hoverboard comes with literally every feature one could want in a hoverboard. With glowing reviews from customers, this hoverboard has rugged 8.5-inch wheels and powerful twofold 400-watt motors that make it possible to ride over any terrain and climb slopes of up to a 20-degree grade. It weighs 32 lbs and carries weights of up to 260 lbs. It is a great option for both children and adults alike.
It also has UL 2722 certified LG firesafe batteries that only take 2.5 hours to recharge to full capacity. It offers a range of up to 10 miles and a speed of up to 10 miles per hour. It also comes with two front LED lights that make it easy to ride at night as well. And, the best part? It comes with its own Bluetooth app giving you absolute control over the board.
3. GOTRAX: E5 LED OFF ROAD HOVERBOARD 8.5
The E5 LED OFF ROAD HOVERBOARD 8.5 from GOTRAX
The Gotrax E5 LED Off Road Hoverboard 8.5 features large 8" Solid Infinity Wheels and powerful dual 250W motors. These make it stand out from the rest of the hoverboards on the market. It also comes integrated with a Bluetooth speaker, so you can jam to your favourite beats while you run your errands.
It comes with a 36V 2.6aH battery that has a charge time of 5 hours and gives 7 miles per charge. It can carry a maximum weight of 220 lbs and comes with an IP54 waterproof rating.
4. SWAGTRON: SWAGBOARD T6 OUTLAW OFF-ROAD BLUETOOTH HOVERBOARD
The SWAGBOARD T6 OUTLAW OFF ROAD BLUETOOTH HOVERBOARD from SWAGTRON
Having repeatedly earned the title of the Best Off-Road Hoverboard in the recent years, the Swagboard T6 Outlaw is no doubt a great option. It is also the only hoverboard in the world that can handle a weight of 420 lbs. It has a robust 300-watt dual motor and its tires provide stability over mud, grass and gravel alike. It also comes with a Swagtron app that you can connect to your phone via Bluetooth and listen to your favourite beats.
The hoverboard has a maximum speed of 12 mph and is suitable for ages 12 and up. The charging time of the battery is 2-3 hours and the battery type is lithium. It also has LED front lights so you can easily ride at night. If you're still not convinced, it comes with glowing reviews and all safety regulations.