This Is Your Sign with Some Motivational Talk to Be Extra Happy This Month Because It's Worth It. Read on To Know All About the Health Benefits of Being Happy!
Laughter is great medicine; this statement isn't cliché and will never be. We believe being happy should never go out of style. With International Day of Happiness on 20th March, we have made it a mantra to worry less and live more. Like every year this global event is back again to remind us that being happy is our right, and now is the time to be cheerful again. Team L'Officiel makes sure to deliver a theme every year in March by focusing on one aspect that benefits your health by being jolly.
This time around we have put together certain physical health benefits of being happy. Over the years there have been several studies that have proved that happiness causes better health. These past years, some have made it a priority to speak about health and how it's cardinal to stabilize constructive behaviors, emotions, and thoughts. Check out the points below and get surprised while acknowledging these physical health benefits of being happy. Just remember to always smile big and laugh often! 
Enables Better Sleep
There is no science in understanding how sleep is the key to maintaining a person's optimal health and well-being. Nonetheless, it's just as prime as eating healthy food and exercising daily. Now you might be aware that a person requires an average of 7 and 9 hours of sleep per night, but speaking factually that's not really the scenario in most countries. Sleep deprivation can lead to putting your health at risk. However, if you get enough sleep, it will help you increase productivity, you won't feel tired throughout the day which will help improve relationships around you and keep a positive mind. It will be beneficial in maintaining or losing weight. Getting enough sleep will also be valuable to your heart and decrease diabetes risk. Well, enough reasons are given to make sure you give attention to sleeping as it deserves. 
Less Stressful Days with Glowing Skin
Now that we have figured out how being cheerful all day long can create a positive mindset, it's time to see how this particular aspect also reduces stress. To understand stress, it is a feeling of emotional or physical tension that can lead to making a person angry, or frustrated. Stress can be caused by overthinking on a particular topic, working under pressure, or during times of uncertainty. Doing things that cater to your happiness like going for a ride, meeting friends, taking a trip, or more can reduce stress leading to controlled blood pressure and other physical health benefits. When a person is stressed, their body produces a hormone called cortisol. Happy people tend to have lower levels of cortisol in stressful decisions.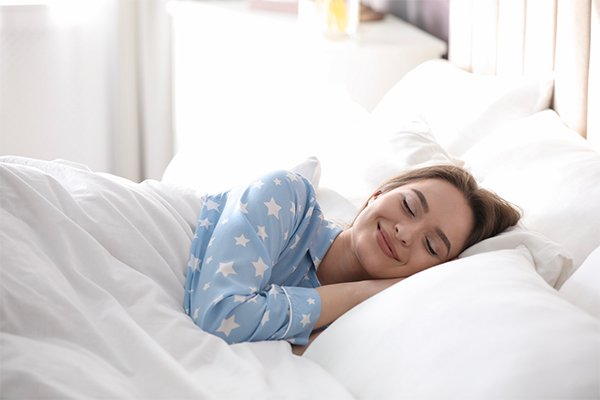 Better immune system
Do you seriously want to be reminded of the horrifying times we've had during the pandemic, where people just talked about improving the immune system with every remedy available? There has been researched showing how being happy helps keep our immune system strong. Unhappy people are most likely to catch colds and cough easily. Whereas, happiness can help prevent sickness by regulating your immune system, hormones, digestion, and stress levels. Now you know the saying, "Don't worry, be happy" is genuinely rewarding.
 Promotes Heart Health
Do you know, the ubiquity of CVDs in India was estimated to be 54.5 million in the year 2016 as per reports? Well, over the years Indians have been pompous by high rates of diabetes, metabolic syndrome, hypertension, and smoking which leads to most cardiac diseases. Here is when happiness comes in, as per reports it has been tested that being jolly can reduce the risk of heart disease by 13-26%. Several doctors believe that happiness and measure of heart rate variability are somehow linked. Indians should be happy and should indulge in useful behaviors such as physical activity, avoiding smoking, and healthy eating habits.
How to be happy
Stop overthinking girl – Certain thoughts or situations playing in one's mind can overwhelm some people and they face some real problems to stop thinking about the same. However, letting go of some thoughts is the key, try washing your face or writing it all down on a piece of paper, it might make you feel better.
Eat Healthily – Fit future has always been about maintaining health, in the past, we have made sure to give this aspect a priority. This time around too, eating healthy and taking a proper diet can affect your mood making you feel contented. In fact, when you are happy, you tend to intake wholesome food resulting in a healthy lifestyle.
Exercising daily – When you exercise all brain chemicals related to feeling happy, feeling confident, feeling capable, and less anxious are activated. Any physical activity throughout the day can make you happier, improve relationships with people around you and get you all charged up feeling fresh. In the beginning, it might feel like a huge task, but when you make it a habit, you'll definitely enjoy exercising without skipping even for a day!