Doesn't it look like she was meant to be a Disney princess? Nathalie Den Dekker, a dreamer, an achiever who was crowned Miss Netherlands 2012 are making sure to live her life to the fullest. The message we surely got from this charmer and shoot was to romanticize life. Know all about her experiences in the field of modeling and future plans, read on!
Team Credits –
Model: Nathalie Den Dekker@thenathaliedendekker
Photographer: Alberto Gonzalez@ag0nzphoto
Styling: Hassni Caina@styledbyhassni
Muah: Anastasia Eisenberg@anaeisenberg
PR: Wavemags@wavemags
1. Nathalie, you are a strong and independent girl from the Netherlands who has managed to build a successful modeling career, tell us what inspired you to develop yourself in modeling?
I grew up in a small town on a mushroom farm in the south of the Netherlands. Modeling for me was an opportunity to meet people and to travel the world. It expanded my horizon and I am still grateful that I had the opportunity to meet so many incredible people from all over the world and experience what it was like to live in different countries with different cultures.
Gown: Monsoori ,
Earrings: Cära,
Heels: Steve Madden
 2. What is the most difficult and interesting thing in your work?
The most difficult part of the modeling industry is that everyone will have an opinion about you. I needed to learn how to cope with that, as you can never make everyone happy. You can do a lot of castings and sometimes you are just not the type that they are looking for – for a specific campaign. You just need to remind yourself that it isn't something personal and keep your head up and keep ongoing. All you need is the right people to believe in you or that one 'yes' that can change your world. 
Gown: Dur Doux ,
Earrings: Chanel
 3. You have an incredibly beautiful photoshoot for L'Officiel India, share with your readers how and where it took place.
The shoot for L'Officiel India took place in and around the Vizcaya Museum & Gardens in Miami, Florida, US. James Deering built Vizcaya as his winter home between 1914 and 1916, a time when America was emerging as an international economic and cultural force. It's a beautiful estate where European design traditions were adapted into a Miami context. These gardens were matching perfectly with the romantic theme of our shoot. The whole shoot felt like a nice getaway into a fairytale world.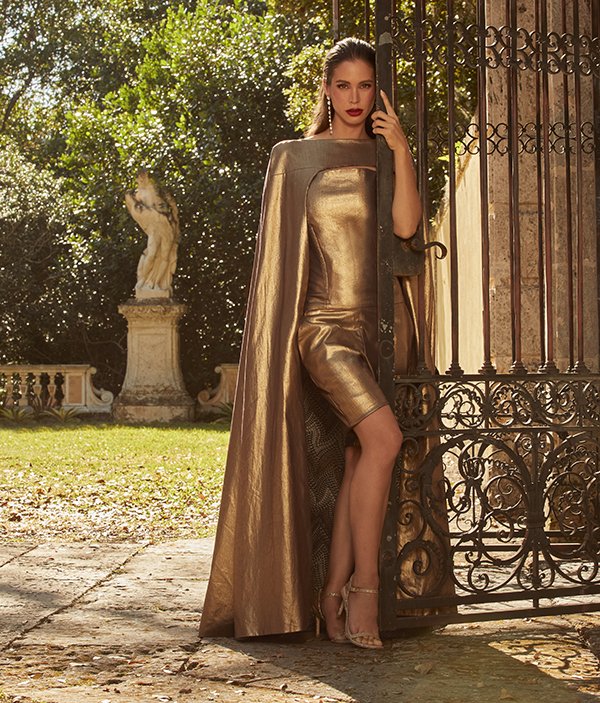 Romper & Cape: Rossi Tuxedo ,
Heels: Badgley Mischka ,
Earrings: Chloe & Madison
4. You are an example of inspiration for many women, what are the basic life principles that help you never give up?
The quote 'the future belongs to those who believe in the beauty of their dreams' works very inspiring to me. I love to dream and set goals for myself. Never stop dreaming and believing. You must believe in yourself and your dreams. You can never fail in life, as long as you try. I never want to live with the question 'what if?'. However, nothing in life comes easy, and therefore it is important to set goals and work towards them. 
Gown: Dur Doux,
Earrings: Baublebar
 5. What do you think makes a woman truly beautiful?
I believe character is very important. Beauty does shine from the inside out. Be good to the people around you. And I believe somehow you will receive what you give in life. Don't be afraid to be yourself because everyone is different and therefore beautiful and unique in their way. 
 6. Have you ever been to India? If yes, how was your experience?
My mom has traveled to India and she loved it so much! I haven't been so far, although I spend a lot of time modeling in different countries in Asia. It's still on my Wishlist to go one day. I love watching Bollywood films, and always get so inspired by the beautiful colors and happiness and songs!! I hope I can experience that one day if I travel to India myself. 
I also found that I got a lot of support from a lot of fans in India after competing for Miss World and Miss Universe in 2012. Maybe they also helped me win the Miss CHI model search during Miss Universe and the modeling contract for Farouk during my year. And they are such true support because now, even a decade later, if I look at my Instagram stats, I can see that India is my second largest audience – after my own country that is the largest group of followers. So, I am very grateful for that and would love to have the opportunity to thank my Indian fans for that!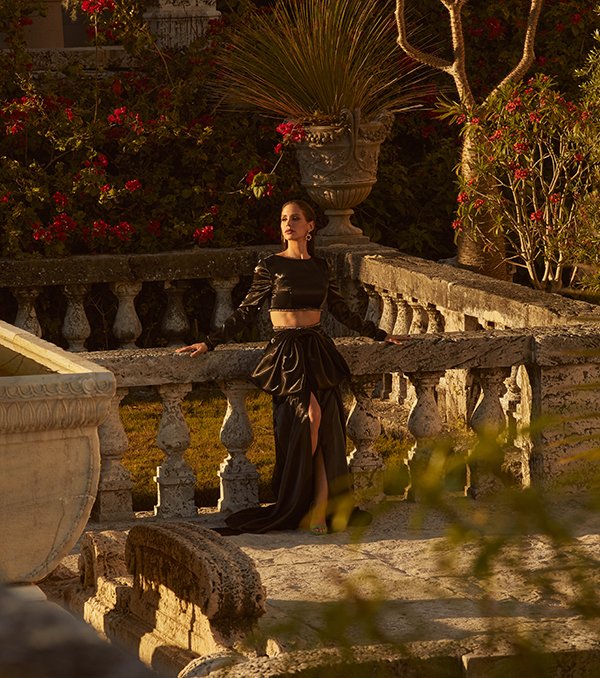 Two-piece black satin gown: Beateaú Comme Toi,
Earrings: Area,
Heels: Marc Fisher
 7. Which new projects are you working on?
Currently, I'm moving to the US and am working on some nice publications with different big magazines. Very thankful for that opportunity. Also shooting for L'Officiel India was amazing!! Some new campaigns are coming up and I am getting more and more into acting. I can't tell you any details about that yet but there might be something interesting coming up next year! Can't wait to share it with all of you! 
Dress: Beateaú Comme Toi,
Earrings: Chanel