A Butterfly Bag Has Been Creating A Buzz All Around For A While Now. But Will It Give You Any Butterflies When You Look At It? So Go On, Give It A Read And Decide For Yourself.
There is a curious dichotomy in the world of luxury fashion, where daring designs can question the very core of beauty. The Butterfly Crystal-Embellished Gold Tone Clutch is one such enchanting mystery that emerges from the workshop of one of the
most favourite luxury brands Judith Leiber Couture. This item, a marvel of shimmering gold and delicate crystal work, invite  us to investigate the difficult combination of brilliance and subtlety. And we're so ready for it, are you too?
At first glance, the clutch's shimmering allure is undeniable. Its gold tone, beautifully embellished with a myriad of sparkling crystals in the form of delicate butterflies, evokes a sense of whimsical charm. However, as we delve deeper into the charming clutch, we encounter a subtle discordance that leaves us pondering its true identity.
The surplus of crystals that adorn the clutch might initially seem like an overwhelming dose of extravagance. The bag comes
with a gold shoulder chain. Yet, on closer inspection, we begin to appreciate the daring artistry behind it. This item exhibits the accuracy and finesse for which Judith Leiber Couture is renowned.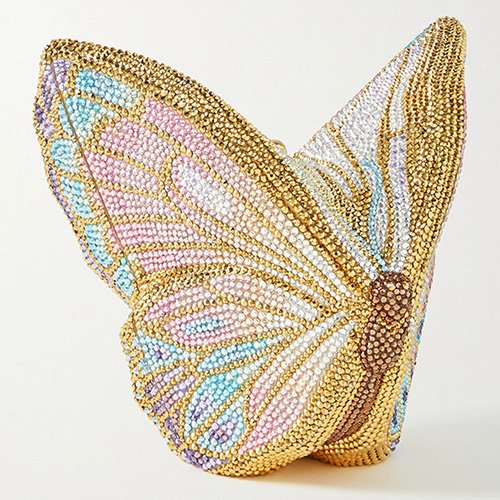 But is this finesse and chicness enough for a bag? Well, we're not quite sure. The clutch may not fit the usual definition of practicality, but its striking size and weight stand for an unshakable dedication to form above function. It changes into an eye-
catching object of art that compels viewers to appreciate it as an expressive art piece rather than just a fashion item.
However, it seems like functionality is the wing which the brand didn't pay much attention to. Undoubtedly, the grandeur of
this bag shines bright as a dazzling artefact in a world where subtlety often reigns supreme in luxury fashion. If you decode the bag on the basis of functionality, the bag would merely carry a miniature lipstick.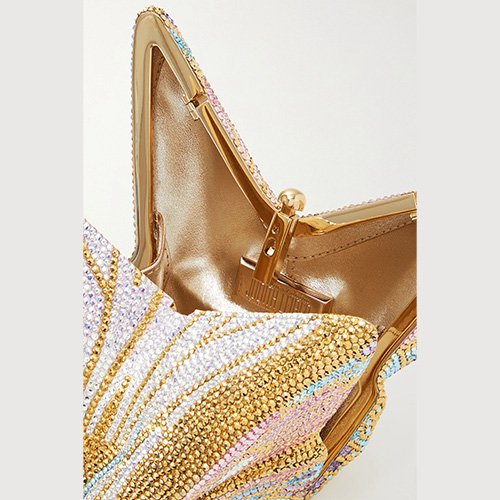 The gold-tone metal used in this bag is another factor that might disappoint you. The embellished bag and the gold-tone trammels will get tarnished after a while smashing the look and classiness of this bag. So, if you still find this bag suitable for your style, go call it your bet but remember we warned you.