In The Bustling Metropolises And Vibrant Urban Landscapes, An Ever-Evolving Fashion Movement Has Taken Centre Stage, Captivating The Hearts Of Men Across The Globe.
The best fashion show is definitely on the street. This quote by Bill Cunningham goes perfectly fine for the contemporary fashion scene. Streetwear fashion, a cultural phenomenon born from the streets is becoming a powerful form of self- expression. From humble beginnings to a global trend, this section delves into the captivating world of streetwear fashion for men, unravelling its roots, ethos, and the diverse styles that define it.
The versatility of baggy jeans and joggers has blurred the lines between formal and casual wear, adding an urban edge to classic silhouettes. Accessories like snapbacks, beanies, and chains complement the look, adding the finishing touches to the streetwear ensemble. Collaborations between streetwear brands and luxury fashion houses have redefined the concept of
exclusivity, forging a new path for the industry.
As we move forward, one thing remains certain: streetwear fashion for men is not just a trend but a timeless celebration of creativity. So, let's take a look at the spectacular streetwear inspiration we have for you.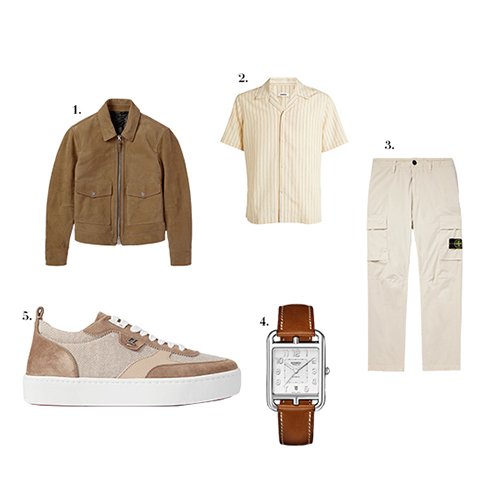 1. TOM FORD, Nubuck Jacket, approx. Rs. 8,62,110
2. SANDRO, Striped Shirt, approx. Rs. 28,630
3. STONE ISLAND, Straight-Leg Logo Appliquéd Cotton-Blend Twill Cargo Trousers, approx. Rs. 52,070
4. HERMÈS TIMEPIECES, Cape Cod Stainless Steel and Leather Watch, approx. Rs. 5,88,420
5. CHRISTIAN LOUBOUTIN, Happyrui Spiked Leather-Trimmed Canvas and Suede Sneakers, approx. Rs. 1,03,230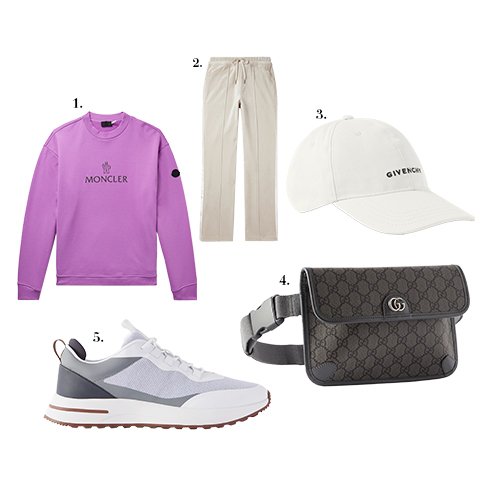 1. MONCLER, Logo-Print Cotton-Jersey Sweatshirt, approx. Rs. 65,240
2. TOM FORD, Wide-Leg Satin-Trimmed Velour Sweatpants, approx. Rs. 2,87,310
3. GIVENCHY, Logo-Embroidered Cotton-Blend Twill Baseball Cap, approx. Rs. 43,910
4. GUCCI, Ophidia Leather-Trimmed Monogrammed Coated-Canvas Belt Bag, approx. Rs. 83,800
5. LORO PIANA, Weekend Walk Leather-Trimmed Mesh Sneakers, approx. Rs. 89,080
1. PALM ANGELS, Distressed Logo Print Cotton-Jersey T-Shirt, approx. Rs. 56,480
2. BRUNELLO CUCINELLI, Straight-Leg Cotton-Twill Cargo Shorts, approx. Rs. 1,02,880
3. OFF-WHITE, Logo-Embroidered Cotton-Gabardine Baseball Cap, approx. Rs. 30,750
4. GIVENCHY, Logo-Engraved Silver-Tone Necklace, approx. Rs. 56,480
5. CELINE HOMME, CT-07 Rubber Trimmed Leather Sneakers, approx. Rs. 86,610
1.DOLCE & GABBANA, Open-back shirred printed cotton-poplin maxi dress, approx. Rs. 2,40,230
2.BALENCIAGA, Gold-tone chain earrings, approx. Rs. 94,900
3.OSCAR DE LA RENTA, Crushed Heart gold-tone bracelet, approx. Rs. 42,040
4.LOEWE, + Paula's Ibiza small leather- trimmed woven raffia tote, approx. Rs. 91,760
5.STUART WEITZMAN, Goldie faux pearl-embellished leather mules, approx. Rs. 70,700