If There Was An Award For Owning Stunning And Opulent Wheelies, We Could Really Help You Win With The Finest Collection
Of All Times. Read On To Know What We're Talking About.
Embodied in sleek lines and sculpted contours, luxury cars bear the hallmark of design mastery, a testament to the artistry that transforms mere metal and glass into rolling masterpieces. Each nuanced curve whispers a tale of meticulous craftsmanship, while every gleaming surface reflects the painstaking attention to detail lavished upon it. With a symphony of form and function, these automotive works of art evoke a sense of awe and admiration, casting a spell upon all who behold them.
Stepping into the sumptuous cabin of a luxury car, one is instantly enveloped in an atmosphere of sheer indulgence. Fine leathers, meticulously hand-stitched and caressed to perfection, cradle the body, inviting occupants to surrender to comfort
and elegance. The scent of opulence, a heady blend of rich wood veneers and supple upholstery, permeates the air,awakening
the senses and evoking an appreciation for the finer things in life.
The technology that graces the cockpit of these extraordinary vehicles is nothing short of enchanting. Infotainment systems,
endowed with intuitive interfaces and cutting-edge connectivity, effortlessly merge the realms of digital prowess and automotive prowess. Immerse yourself in a world of concert-hall acoustics, as crystal- clear audio emanates from bespoke sound systems, tuned with precision to deliver an auditory symphony that rivals the most hallowed arenas.
To embrace the allure of luxury cars is to embrace a world where every journey becomes an adventure, and every destination is transformed into a destination of prestige. It is an embodiment of excellence, where the mundane is transcended, and the
extraordinary becomes a way of life. These automotive paragons, with their allure and charm, stand as testaments to the human desire for beauty, power, and an unyielding pursuit of automotive perfection. Can't seem to decide on which one you should go for this season? No sweat because you've reached just the right place as we have the perfect recommendations to suit your personality. Here you go!
1. MERCEDES E-CLASS
Long regarded as a symbol of sophistication and luxury, the Mercedes E-Class is also adding to the already existing iteration of the luxury automobile brand. And with its sleek design, cutting-edge technology, and unmatched comfort, the latest Mercedes
E-Class is no exception. The latest model of Mercedes continues to set new standards in the luxury sedan segment.
The all-new Mercedes-Benz E-Class will act as a support to the evolution of the automobile industry. The modern MBUX is being developed by the business icon, who is paving the way for a new digital luxury experience. Step inside the latest E-Class, and you'll be greeted by an interior that oozes opulence and craftsmanship. The cabin is meticulously crafted with premium materials, such as leather padding, wood trim, and brushed aluminium accents, ensuring a truly luxurious experience.
The latest E-Class also boasts an array of advanced features, including a state-of-the-art infotainment system, a fully digital instrument cluster, and a touchpad controller, all seamlessly integrated to enhance convenience and connectivity. Additionally, the new E-Class offers a range of electrified powertrains in addition to a host of other advancements and a gorgeous look.
2. BMW X3 M4OI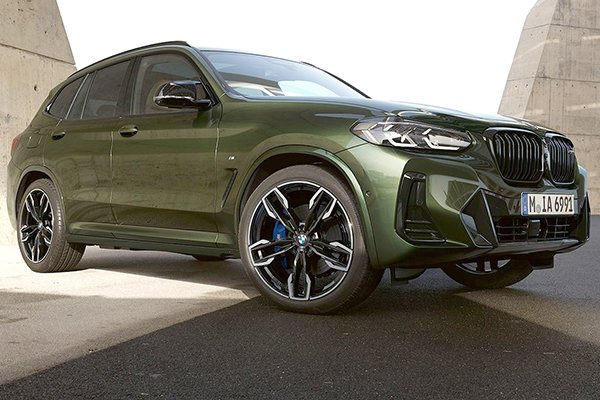 The brand-new X3 M40i sports several recognisable features on the exterior and inside to complement the SUV's performance-oriented personality. The 3-litre engine in the M40i is a powerhouse with plenty of genes and is ready for pure driving enjoyment without any additional ingredients. For an excellent driving experience, it boasts BMW xDrive all-wheel drive, an M Sport differential, and Adaptive M Suspension. Customers can further enhance the athletic appearance of their
vehicles by adding distinctive alloy wheels.
The inside has a sportier design, a dashboard composed completely of black, Sensatec black leather, and carbon fibre
components. The X3 M40i's powertrain, a 3.0-litre, 6-cylinder, turbo-petrol engine, is the same as the M340i's. Although the
torque is the same at 500Nm, the X3 M40i's engine only generates 360 horsepower, 14 fewer horsepower than the M340i. An
8-speed automatic gearbox distributes all of this power to the vehicle's four wheels. The X3 M40i is only 0.5 seconds slower than the M340i in its stated 0-100kph sprint time of 4.9 seconds. The maximum speed of the X3 M40i is 250kph.
3. LEXUS RX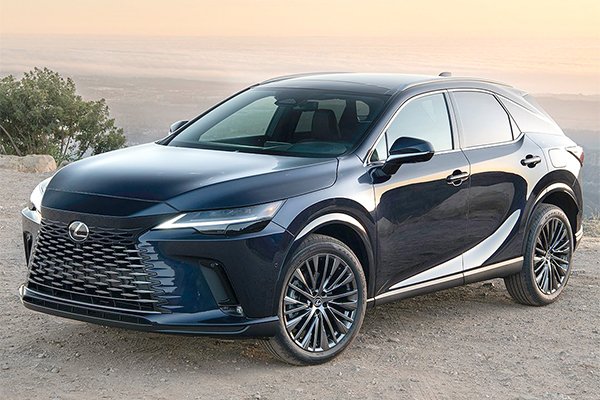 The Lexus RX is a stylish and sophisticated luxury SUV that delivers a seamless blend of comfort, performance, and advanced technology. With its sleek and aerodynamic design, the RX stands out on the road. Under the brand's name, the RX offers a range of engine options, including a powerful V6 and a hybrid variant. The V6 engine provides ample power and smooth acceleration, while the hybrid model combines efficiency and performance, making it an eco-friendly choice.
The RX automobile comes in two models and one fuel type: hybrid (electric + petrol). The 2487cc engine in RX hybrid (electric
+ petrol) variants produces a peak power of 190 horsepower at 6000 rpm. Inside the cabin, the RX provides a refined and luxurious experience. The spacious interior features high-quality materials and comfortable seating for up to five passengers.
Safety is a top priority in the RX, and it comes loaded with advanced driver-assistance systems, including lane departure warning, adaptive cruise control, and automatic emergency braking, to ensure a secure and confident driving experience. In summary, the Lexus RX is a luxurious SUV that offers a refined interior, smooth performance, advanced technology, and a strong focus on safety. It is an ideal choice for those seeking comfort, style, and reliability in their everyday driving.