Do You Know A Stylish Way To End The Day? We Hear Loungewear! With Winters Here Comes A Fabulous Collection Of Loungewear Only For Men.
If you don't think loungewear is the best, we can't be in the same team! When we hear comfort, the first thing that bounces into our minds is loungewear. We can't do 'Netflix and chill' without comfy loungewear. So, mates hop on because we got your loungewear set for this season. Nowadays, loungewear is a trending style, as it is relaxing with a touch of luxury. To enjoy our lives while staying in, that's when comfy pyjamas are a priority. Those days are gone when we had to choose between going out in uncomfortable outfits just for the sake of fashion and comfy clothes. It's nothing to think about anymore. Comfort Comes First! Wherein loungewear is the most comfortable clothing that can be worn in any situation and can be styled in innumerable ways. Even if you are working from home, exercising, resting, or running errands.
After working hard for the whole day, there is only one thing which a person looks for. Something that gives a relaxed feeling with a snug fit. Nightwear is made of a fluffy cotton material and is the middle ground between too warm and too cold. Consider a light cashmere blanket muffled up against your skin: it's soft, breathable and gives a cosy feeling, right? Loungewear has such a feel. By wearing loungewear, you can have the pleasure of absolute cosiness and can still stay in fashion. Nevertheless, loungewear stands out as a statement piece by itself. Clothing that gives an effortless, stunning, minimalistic, and an absolute no-filter look is all that Loungewear is.
To celebrate self-care, brands across the world have launched elegant and stylish coordinated sets of loungewear with distinguishing patterns and styles. Nowadays, loungewear is not just supposed to be worn at night, some sorts of loungewear are often worn by people on flights or styled in the form of streetwear. If you're unsure of how to style your PJs for brunch, the beach, or a night out, we got you covered. The easiest option to quickly style your loungewear for heading out is to pair your pieces with denim. Any T-shirt, even a pyjama shirt, can be worn stylishly with jeans, trousers, shorts, denim jackets, coats or blazers. At first, it may sound vague or rubbish. But once you style it, you'll love it and there is no going back.
Loungewear is attractive in its own way. And, now you know how it can also be styled in uncountable ways. Wait! Don't leave so early as we have got 4 different kinds of winter loungewear, which your wardrobe is screaming to have. These clothes too can be styled in classy differentiating ways. We are excited to know how you style these apparel at different events.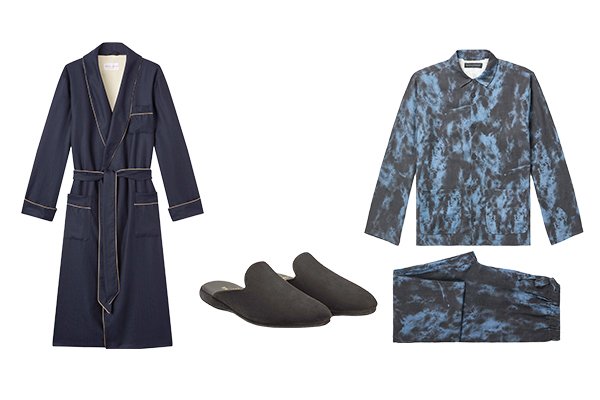 Desmond and Dempsey, Navy printed linen pyjama set approx. Rs. 21,300
Derek Rose, Navy duke herringbone cashmere robe approx. Rs. 1,89,040
Mariano Rubinacci, Dark brown comfort slippers approx. Rs. 1,89,040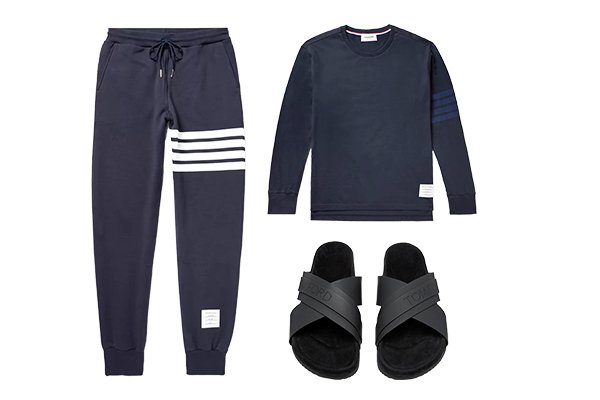 1. Thom Browne, Navy cotton jersey long
sleeve t-shirt approx. Rs. 48,300
2. Thom Browne, Navy cotton loopback knit engineered sweat pants approx. `Rs. 64,670
3. Tom Ford, Leather wicklow slider sandal approx. Rs. 69,590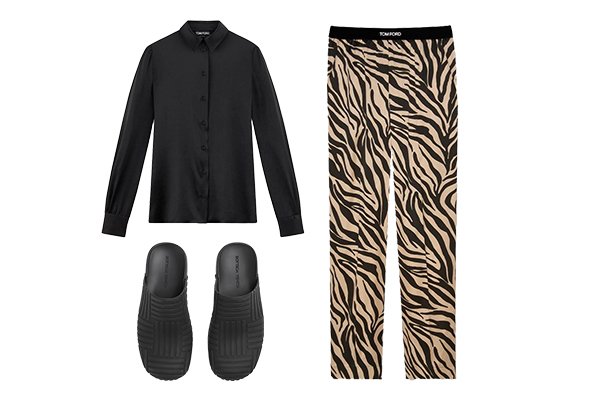 1. Tom Ford, Zebra Printed Silk PJ Pants
approx. Rs. 73,660
2. Tom Ford, Stretch Silk Satin Shirt approx. Rs. 1,11,730
3. Bottega Veneta, Black Sliders approx.
Rs. 43,030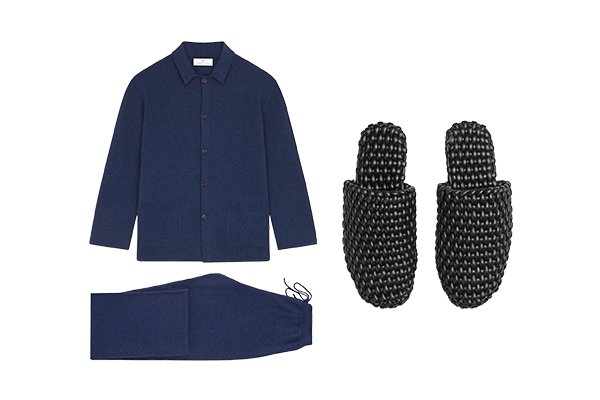 1. Turnbull and Asser, Navy cashmere knitted traditional pyjama set approx. Rs. 1,20,600
2. Bottega Veneta, Black leather squid mule approx. Rs. 2,38,140