Full Of Drama And In Full Swing Was The Biggest Night Of Fashion. Look How The Men Dazzled The Red Carpet Of Met Gala With Their Marvellous Looks.
The first Monday of May this year was the day all were waiting for since the beginning of this glorious year. After all, it was time for the most fashionable night out in New York city. Yes, we're talking about the mesmerizing MET Gala. Everyone in fashion showbiz went crazy for the looks to be revealed, metaphorically and quite literally as well. The biggest fashion night took place at the Metropolitan Museum of Art in NYC. Additionally, the phrase "Karl Lagerfeld: A Line of Beauty" pays tribute to a late fashion industry legend on its 75th anniversary. The annual dress code is intended to represent the current state of the fashion industry.
Pearls and monochromatic tones made a sparkling appearance on the Met Gala red carpet, on the first Monday of May. Everything screamed elegance, class, and top-notch, be it the capes or the stunning pieces of jewellery. Nothing can be overly
dramatic at the Met Gala, and for good reason—all of our favourite celebs are dressed to the nines. We certainly expected more from Pedro Pascal and Jordan Roth's red carpet entrances, among others.
The 'lewks' that stunned everyone at the Met Gala were donned by the men of showbiz, who understood the assignment exactly. Not only they gave a sizzling twist to the regular three-piece, but also made us go "Oh Damn" with their looks. Let's take a look at how these men dazzled on the red carpet. Here you go!
LIL NAS X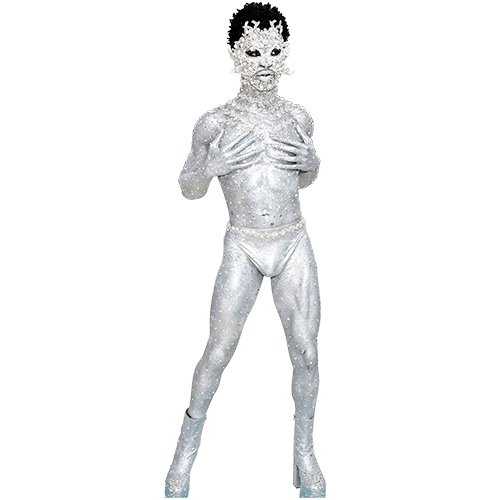 No way we're starting off with anyone else than the one star who made heads turn. It was appropriate for the most prestigious night in fashion when Lil Nas X and Pat McGrath collaborated on their debut effort. McGrath explains that Little Nas thoroughly loved the day's worth of laughter and teamwork. Naturally, that happiness carried over to the red carpet, where Lil Nas X purred (and shimmered!) to a convincing cat-like effect.
The "Industry Baby" rapper chose to forgo Clothing in favour of a coat of silver body paint covered in glitter and, almost 5,000
Swarovski crystals. Lil Nas X is only wearing a silver thong, but the metallic paint that covers every square inch of his body does all the work in this case.
BAD BUNNY
It's Bad Bunny's style, baby! The most streamed musician in the world chose a monochrome look for the biggest night in fashion, donning an all-white Jacquemus tweed suit (with a daring cutout back) and matching platform leather derby shoes for
the occasion. The celebrity slicked back his hair and accessorised with pearl stud earrings, a silver chain necklace, and a flowing, 26-foot-long rosette cape rather than wearing his customary cornrows or natural curls.
The streamlined appearance is a far cry from his Met Gala debut outfit from the previous year, which included a custom boilersuit by Burberry, gold floral hair clips, and huge bouffant hair. The famous guy has previously worked with Jacquemus, appearing in their spring campaign the previous year.
ROBERT PATTINSON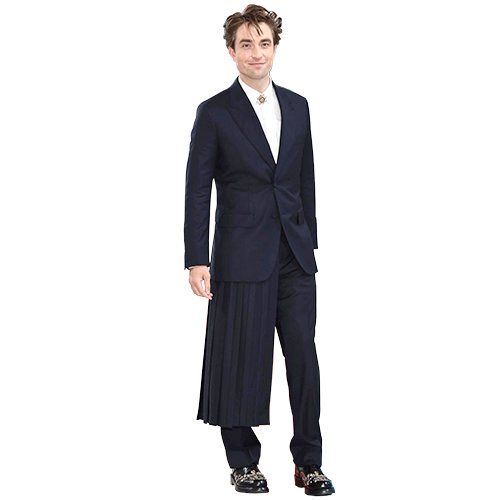 In addition to a white dress shirt with a gold brooch, Pattinson chose a black Dior Men tux with a pleated skirt element. Pattinson chose a Dior draping coat for this year's Met Gala, which served as a tribute to the late Karl Lagerfeld, who passed away in early 2019. It's a period when the current creative director blends the spotless archives with a sci-fi, Dune-like vision. It's classic Dior during the Kim Jones administration. Additionally, it has a theatrical, polished, familiar and foreign feel all at once.
But even on a night like the Met Gala, weird isn't quite as weird as it once was. Since Pattinson refused to submit to the Old
Ways, society is inspired to fully express their inner hero. Isn't that the perfect wedding inspo to flaunt?
DIDDY
Sean 'Diddy' Combs arrived wearing a self-made ensemble that included a floor-length coat embellished with camellia blooms.
Combs started the clothing line Sean John in 1998 in addition to performing music. As a homage to Lagerfeld's work at Chanel,
his self-designed Sean John outfit has 600 Swarovski crystals and black pearls.
The grand creation looked absolutely chic and classic. The singer looked nothing less than an amalgamation of a modern-day
celeb and the old-school knight. Diddy understood the outfit assignment of the fashion night just right and came up with this jaw-dropping outfit leaving people stunned with the eminence of his look.
CONAN GRAY
In attendance at the Met Gala 2023, which was held on May 2, 2023, was well-known Asian-American singer and songwriter Conan Grey. Conan Gray's appearances on the red carpet left fans in awe. They all act as their star's biggest supporters and
promoters.
Custom Pierre Balmain clothing was worn. The company's reputation for having an edgy and contemporary style has made it popular with celebrities and fashion-conscious customers all around the world.
The hand-embroidered pearls, high v-neck fitted collar, and glove attachments on the fringed off-the-shoulder tweed redingote jacket add a stylish finishing touch. The outfit was finished off with a traditional white shirt, a black tie, a black embroidered camelia, leather diamond quilted high heels, and a black pearl embroidered fan.