The Barbie Movie Trailer Has Taken The Internet By Storm! Here's Your Inspiration To Rock Some Barbiecore Fits To Slay At Your Very Own Bachelorette! Dive In To Bring Some Pinktastic Glam To Your Beauty.
I'm a Barbie girl, in the Barbie world." Here's your Barbie moment to steal at your bachelorette. Let's see if you make it or break it.
We've all shared a love-hate relationship with the Barbie doll at some point in our lives. As you grow up, you evolve and realise how the cult-favourite doll actually set the wrong beauty standards for one and all. However, amidst all the chaos, one lovely thing emerged for all the beauty fanatics – the pretty pink hue. Its due credit only came after the popularisation of Barbie. Lucky for us, the Barbie-pink colour, so as to BOMBSHELL ERA say, is back on the trend charts. It's now called the Barbiecore trend. And much to our surprise, celebrities were quick to pick up on the hue, and oh boy did they go big on it. Minimalists and muted palette-lovers, look away now, because this summer's biggest fashion trend is bright, unapologetic and brilliantly saccharine. Enter: Barbiecore.
There's simply one color that encapsulates the essence of Barbicore and that is — you guessed it — pink! With many nostalgic for simpler, sunnier, and more carefree times, it only makes sense that this '80s-inspired, unapologetically pink aesthetic is taking centre stage as the 'it' style of this season.
While many of us tie ourselves to one specific aesthetic, it's always fun to experiment and take parts with different looks and incorporate them into our own personal style. Through these fun celebrities looking pretty in pink, you can also get an idea of the makeup looks to slay at your bachelorette with this hue and makeup looks to go with. We also got you covered with the beauty wands to use at your bachelorette for recreating such jaw-dropping looks!
FLORENCE PUGH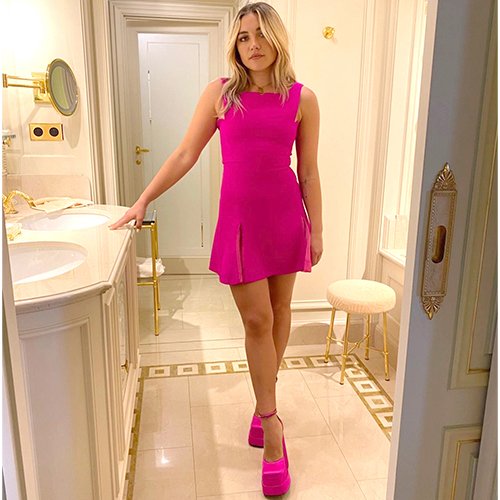 Dressed in a flippy hot-pink Versace mini dress and monster platforms, originally put her twist on the quintessential Florence Pugh glamazon. With pink eyeshadow perfected and mussed-up hair style. She has her fashion A-game winning all the way
ANNE HATHAWAY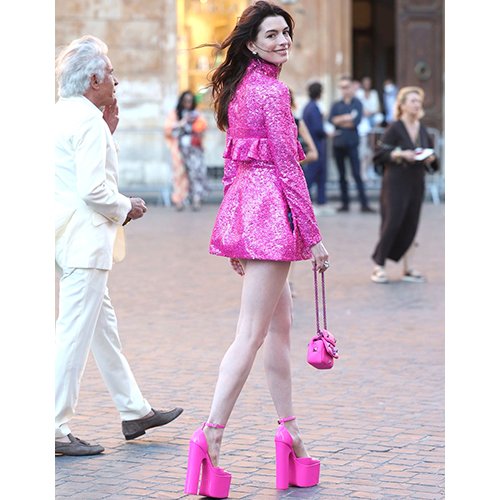 Anne Hathaway is the fashion Barbie IRL. On her way to the latest Valentino show, Hathaway made a strong case with shocking pink, glitter, and platforms. And her minimal no-makeup look is undoubtedly the show stopping ailment.
KIM KARDASHIAN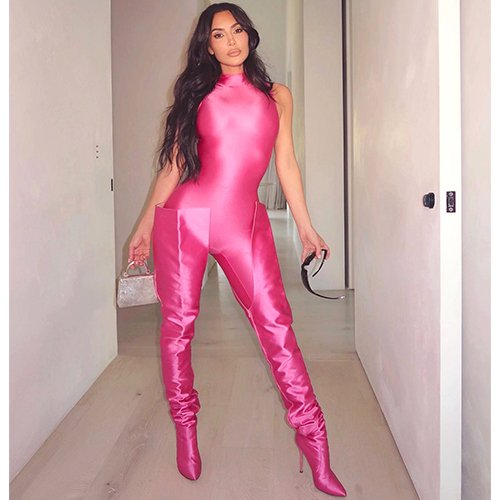 While Kardashian used to be an all-neutrals type of girl, she's not the one to shy away from color anymore—certainly not pink. Kim Kardashian has delivered yet another statement look. The mogul recently shared photos of her latest outfit, which includes a monochromatic bubblegum pink color palette. She wore a glossy, body-hugging SKIMS jersey catsuit with a mock neck and no sleeves. For an extra dose of glamour, she opted for a minimal makeup look with matte lip acing the game in its own way.
MEGAN FOX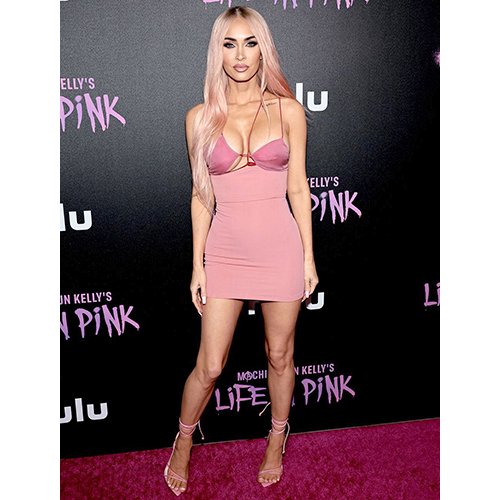 While the hair is giving obvious Barbiecore vibes, take notes of Megan Fox's subtle makeup in this look. The matching pink strappy heels, perfectly complemented her light pink hair and the flawless pink lipstick. Now Megan Fox has joined in, with a metallic pink Spandex outfit that's just crying for a matching sweat band and a hairstyle that most of our Barbies had… With a flash of neon pink liner on her bottom lash line, she kept the rest of her makeup neutral and matte. Including a cool toned brown overlined lip and full, bushy brows. It really does seem like there's no look that Megan can't pull off at this point.
HAILEY BIEBER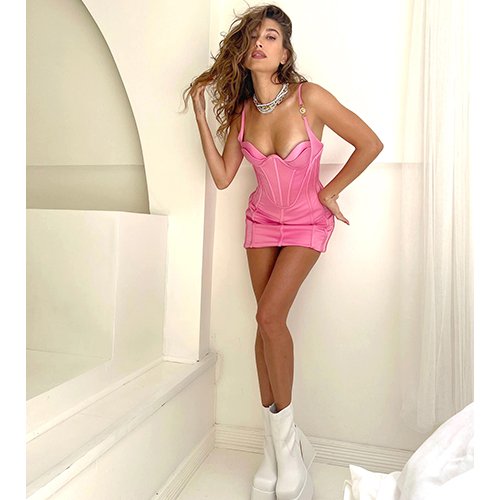 If you're averse to bold makeup looks or want to dip your toe into the trend without committing to too bright of a hue, follow Hailey Bieber's lead. She proves that Barbiecore can be subtle. Plus, the model tapped into the chunky shoe trend by adding a dose of '70s disco vibes with white platform heels. But she Didn't! Stop! There! Giving a hint of bold and sultry, she is setting right cues for the perfect bachelorette look.
LIZZO
Musical artist Lizzo lit up the stage wearing an eye-catching catsuit made of panels of sheer material and Barbie pink shimmer that ran up her arms and over her shoulders in tiger-like stripes. Flanked by backup dancers in matching shades, she paired the catsuit with hot pink combat boots with pink laces. She wore her hair down in long waves, wearing silver hoop earrings, a bright eye shadow, and a long pearlescent manicure.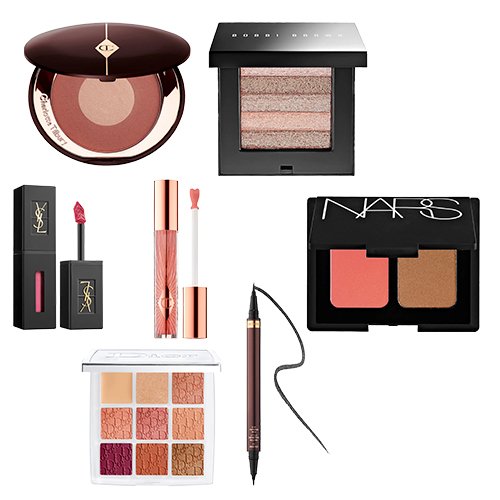 1. CHARLOTTE TILBURY, Cheek to Chic Blush – Pillow Talk Collection, Color:
Pillow Talk Intense – deep rosy pink, approx. Rs. 3,440
2. BOBBI BROWN,
Shimmer Brick Highlighter, Color: Pink Quartz – soft, warm pink glow, approx.
Rs. 4,260
3. NARS, Blush/Bronzer Duo, Color: Orgasm/ Laguna – peachy-pink
shimmer/ sheer light brown shimmer, approx. Rs. 3,440
4. TOM FORD, Eye
Defining Pen Liquid Eyeliner Duo, Color: 01 Deeper – black, approx. Rs. 5,080
5. DIOR, BACKSTAGE Eyeshadow Palette, Color: Coral, approx. Rs. 4,016
6. YVES SAINT LAURENT, Vinyl Cream Lip Stain, Color: 412 Rose Mix,
approx. Rs. 3,690
7. CHARLOTTE TILBURY, Collagen Lip Bath Gloss, Color: Rosy Glow – pinky nude, approx. Rs. 2,870