New Season Brings Along New Trends. Greece's Typical Fashion Is Light, Airy, And Neutral, But If That's Not Particular Enough, We've Got Some Desirable Outfit Ideas For You.
As we enter the spirit of summer, we all know that cute and flowy dresses look forward to moving to the front row in our wardrobe. To beat the heat and chill down the mood during the hot sunny days, these adorable summer dresses come in
handy. From denim shorts to easy breezy maxi dresses, this time, our summer wardrobe inspiration is approaching straight from the land of Western civilisation – Greece.
Isn't it unbelievable how a country is an inspirational treasure for everyone around the globe from attires to architects and from food to art? However, when we talk about fashion and fads, if vintage prints and flowy silhouettes come to your mind when you hear 'Greece', you're just on the right track. This month, we are here to serve you a touch of Greece-y vibes with our outfit inspiration to make the midsummer bearable. With an aesthetic sentiment for your wardrobe, we've curated pieces that
are beautiful, flowy, vibrant, and just perfect for summertime. So, this is your sign to pick up your favourites from these Greece–inspired chic styles that suit you the best. Without further ado, slay it away with these adorable, chic yet elegant tailors.
1. LA DOUBLEJ, Belted printed silk-twill kaftan, approx. Rs. 90,080
2. MANOLO BLAHNIK,Callasli 90 leather slingback sandals, approx. Rs. 67,560
3. FERRAGAMO, Wanda mini embellished leather tote,
approx. Rs. 1,63,620
4. GARRARD, Blaze 18-karat white gold multi-stone
earrings, approx. Rs. 28,66,300
5. VALENTINO GARAVANI, Valentino Garavani VLOGO leather-trimmed straw sunhat, approx. Rs. 81,890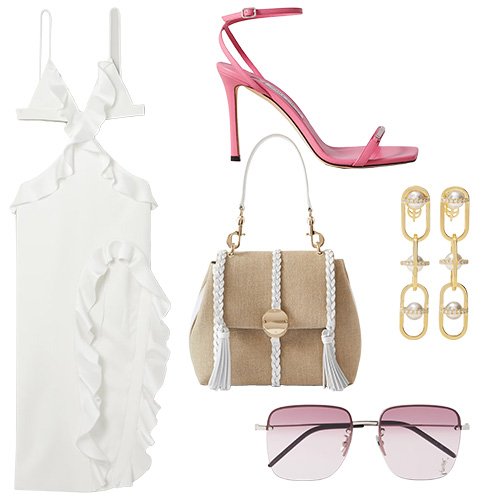 1. DAVID KOMA, Cutout ruffled satin- trimmed crepe midi dress, approx. Rs. 1,62,150
2. JIMMY CHOO, Jaxon 95 leather sandals, approx. Rs. 71,660
3. CHLOÉ, Penelope braided leather- trimmed linen tote, approx. Rs. 1,67,880
4. STATE PROPERTY, Allegory Major 18-karat gold, pearl and diamond earrings, approx. Rs. 3,04,650
5. SAINT LAURENT EYEWEAR, YSL Pin square- frame silver-tone sunglasses, approx. Rs. 25,800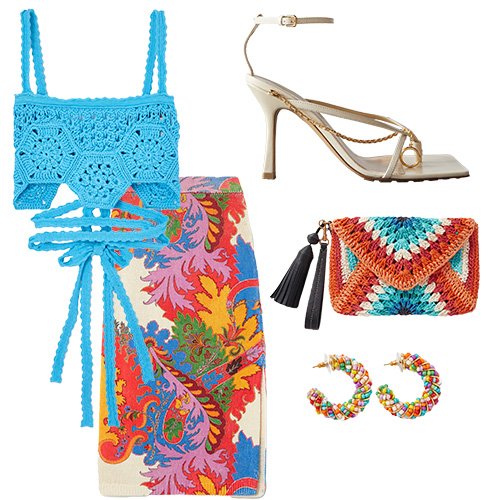 1. ETRO, Paisley- print silk and linen-blend jersey midi skirt, approx Rs. 1,13,380
2. ALANUI, Blooming flowers cropped lace-up crocheted cotton top approx. Rs. 77,800
3. BOTTEGA VENETA,  Embellished leather sandals, approx. Rs. 97,450
4. ANYA HINDMARCH,  Tasseled crocheted raffia clutch, approx. Rs. 39,300
5. CRYSTAL HAZE JEWELRY, Tutie-frutti gold-plated beaded hoops, approx. Rs. 8,190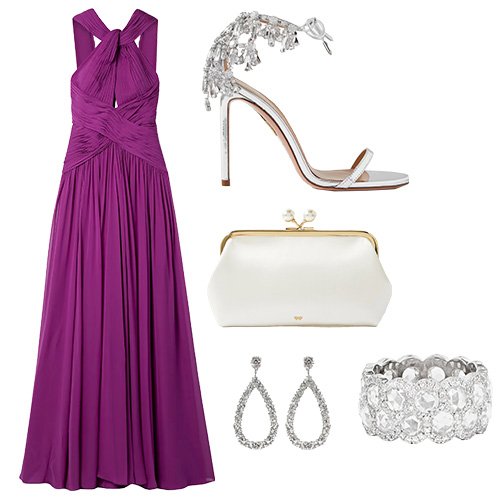 1. ELIE SAAB, Cape-effect cutout pleated silk-chiffon halterneck gown, approx. Rs. 4,48,130
2. AQUAZZURA, Moonwalk 105 crystal-embellished metallic leather sandals, approx. Rs. 1,43,310
3. ANYA HINDMARCH, Maud recycled-satin clutch bag, approx. Rs. 52,000
4. SUZANNE KALAN, 18-karat white gold diamond earrings, approx. Rs. 28,82,690
5. DAVID MORRIS, 18-karat white gold diamond ring,
approx. Rs. 42,50,320