A Gem Of A Bag Can Be Just As Versatile As A Jewellery Piece. Are You Ready To Hold Your Giant Statement Bracelets? Read On To Get Some Purse Inspiration!
With Valentine's Day right around the corner, you may be wracking your brain to come up with the perfect glam look! Every year Valentine's Day promises to deliver megawatt fashion that is sure to capture your heart and find its way into your closets. With a bevy of bold and bright offerings by luxury brands, find a space for your handbags to uphold a win- win in the fashion game. When it comes to adding finishing touches to your look, nothing beats a classic handbag. Whether you prefer wearing a crossbody bag, tucking a shoulder bag under your arm or swinging a tote on, there is nothing better than owning a stylish bag that perfectly complements your outfits. The perfect handbag is the juxtaposition of storytelling, legacy, and craftsmanship. These things coming together results in a great design and creative sophistication. Make sure you're adorning yourself with
some glitz before you head out the door on your date. Don't want to go overboard with too much and also want to make quite a statement simultaneously? Hold a bag and get back to the theme of keeping things light, airy, and romantic. When you're on
a date night, show your partner how much you care by pulling out all the stops when it comes to your wardrobe. There's a fine line between corny and chic when doing this so always keep it chic if you feel you may miss the mark. The latest trendy drop of bags is made to be showcased in new and enticing ways. Have a look and complement your outfits with the elegance!
1. LOUIS VUITTON X YAYOI KUSAMA COUSSIN PM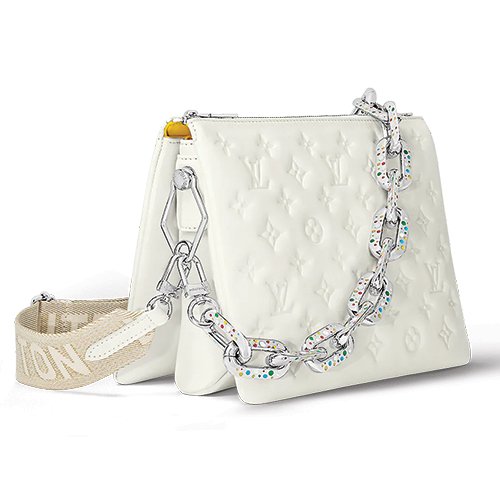 LOUIS VUITTON X YAYOI KUSAMA COUSSIN PM
The highly anticipated collaboration between Louis Vuitton and legendary multi hyphenate artist Yayoi Kusama has been creating accessible yet awe-inspiring works of art. For the second time, Kusama was enlisted by Louis Vuitton to create a
collection of ready-to-wear and accessories that delight, surprise, and reinvent themselves with each new wear. From the
collection we have a soft puffy lambskin bag that can match your black and white outfit perfectly, worn low-slung next to your hip. The chunky silver chain is enlivened with brightly coloured enamel dots, echoing the mesmerizing dotted motifs that permeate the Japanese artist's paintings, sculptures and installations. A chic, body-friendly cross body bag with an upbeat artistic spirit can also complement a booming colourful outfit instantly!
2. FERRAGAMO TRIFOLIO BOX BAG
 FERRAGAMO TRIFOLIO BOX BAG
City chic compact bag with cool, contemporary vibes, this new edition to the Trifolio line is young, fresh, and ready for the date night. Its boxy lines are inspired by the silhouettes of vintage luggage, and lit up by a Gancio clasp with a palladium hue. The origami opening reveals a fully functional interior. This calf leather iteration features a special graphic giving "love is in the air vibes," to celebrate Valentine's Day. Carry it in hand or over the shoulder with the removable strap, it exudes elegance and sophistication both ways. This all season "It" bag has gained momentum with bringing the classic piece with small design updates reigning Valentine's supremacy. Presenting hands- free ease and practicality, this timeless bag will not fail to deliver both style and function.
3. GIVENCHY RED MINI G HOBO BAG IN GRAINED LEATHER
 GIVENCHY RED MINI G HOBO BAG IN GRAINED LEATHER
Always a smart addition to a well-curated wardrobe, Givenchy bags never fail to disappoint. New silhouettes with practical
detailing make them a clever investment to last all seasons. Hold the Givenchy new mini bag by the strap in lieu of putting
it over your shoulder. It brings an agile construction, modernised lock hardware, and a sophisticated nonchalance to the
Givenchy V-cut signature. Its sensual suede lining and strap closure with a leather-incrusted lock, elevates this new take. Keep things thematic by tying in romantic colours to yourself. A handbag in a shade of red can keep things as airy and romantic as possible. This bag can add a pop of super bright, pretty colour! Play up with a contrasting outfit of white or black as it gives a very chic and classy look. Or wear a red outfit for a dramatic over the top style and raise the temperature with effortless hotness! 
4. GUCCI JACKIE 1961 MINI CALF HAIR SHOULDER BAG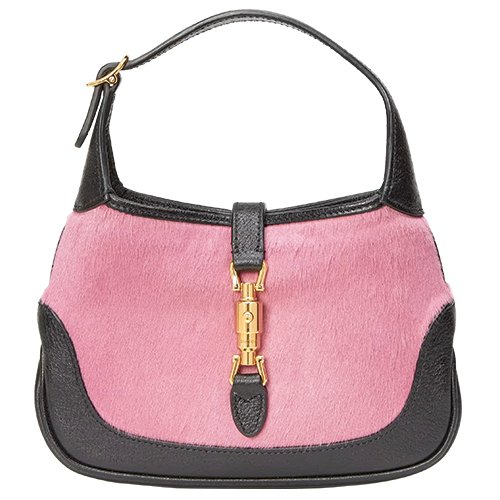 GUCCI JACKIE 1961 MINI CALF HAIR SHOULDER BAG
Take cues from the 90's underarm styles, the classic shoulder bag has blissfully established itself as a wardrobe staple. Wear it across your chest or tuck it under your arm for a chic, hands-free option. Keep it sleek, not slouchy with this black and pink shoulder bag fitting into everything you need! Being super girly, how romantic is this pastel pink shoulder bag? This bag is especially fabulous for you if this Valentine's your style is romantic or retro/vintage. You will indeed look pretty and ladylike
with this pink bag. Pair this bag with outfits in white, tan, yellow, red, green, blue, purple, grey, black, or more pink for a monotone look! Stylish yet spacious, it will complement your lifestyle and instantly glam up your look.