If you're a sucker for boots and it is one of your favourite footwear then you have landed at the right place. We are here with the perfect collection of boots that could be the solution to your outfit. 
Walk it like you talk it- is a phrase that we take pretty seriously. When the walk talks, the aura rocks. You can do all the talking as soon as you walk in a place. How? Boots! Whether glamorous or casual, boots enhance the look of your outfit. You know how they say, one can be judged on the basis of footwear alone – which means they need to look truly splendid. Initially, boots were considered to be winter-appropriate accessories only, but now they are wearable in any season – it all comes down to how you style them. And you have plenty of freedom for the styling part since boots are highly versatile. There is a gigantic variety of boots available out there for you to get your hands on and style and experiment with. We have come up with an enthralling list of some of the most unique and trendy boots we could find. Take a look.
Saint Laurent, 68 BOOTS IN MESH WITH RHINESTONES
Are you a party animal? Do you love to look unique and beguiling? Is it important for you to flaunt your looks because you know you look utterly bewitching? Well! This is the best footwear to rock the platform. Saint Laurent has blessed all fashionistas with these knee boots that are specially designed to buoy up your party outfits so that you stand there shining brighter than the sun. It is made in Italy with fishnet fabric and has a suede trim. Radiantly embellished with sparkling crystals, it ensures to add a sparkle to your outfit. It uplifts even the simplest looking outfit with such grace that the boots will speak for themselves.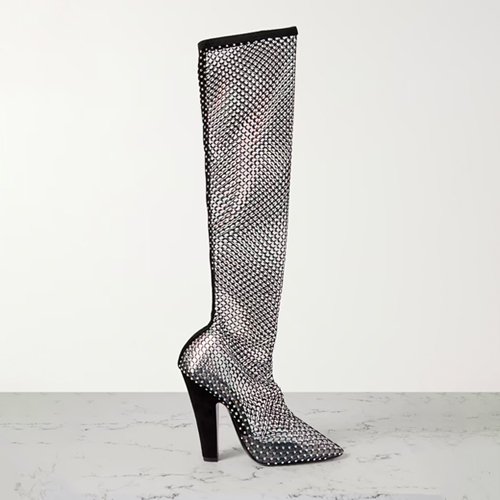 SAINT LAURENT, Suede-trimmed crystal-embellished fishnet knee boots, Approx. Rs 3,62,960
VALENTINO GARAVANI CLUB PLATFORM ANKLE BOOT by Valentino
A rocky, vibrant look is sure to make people draw their eyes towards you. If you are not afraid to stand out in a crowd, then these boots are for you. Valentino's 'Pink PP' collection has brought these super-fab 'Club Beatle' ankle boots that are designed with bright and glossy patent-leather. The height of the heels is approximately 125mm/ 5 inches. These boots are full of spirit and have ultra-high heels with chunky platforms to balance. They are the perfect choice to bring grace and electricity in your vibe.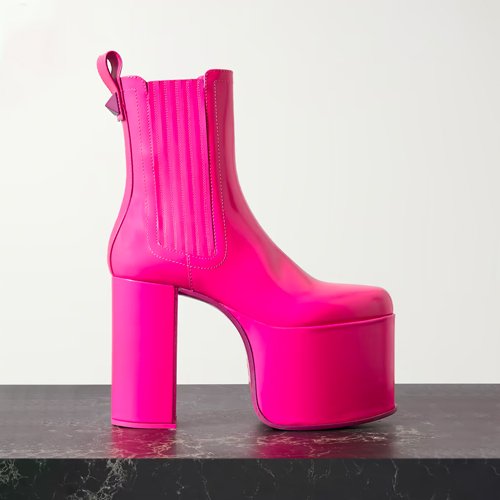 Valentino, Valentino Garavani Club Beatle 125 patent-leather platform ankle boots, Approx. Rs 2,13,720
Jimmy Choo, Cierra 100 leather ankle boots
There's always a need for boots that can be dressed along with every outfit. From shimmering to basic, Jimmy Choo's 'Cierra 100' ankle boots adds a class in every outfit you choose. If you're thinking of them as just a basic black boot then you aren't looking closely. Resting on stiletto heels, the boots are made from leather and designed in a streamlined silhouette. A closer look will introduce you to the glossy patent pointed toe. These boots give a minimal and light look that provides a dark warmth to your appearance. With the height of 100mm/ 4 inches, you can just pull on these boots and walk the way with confidence.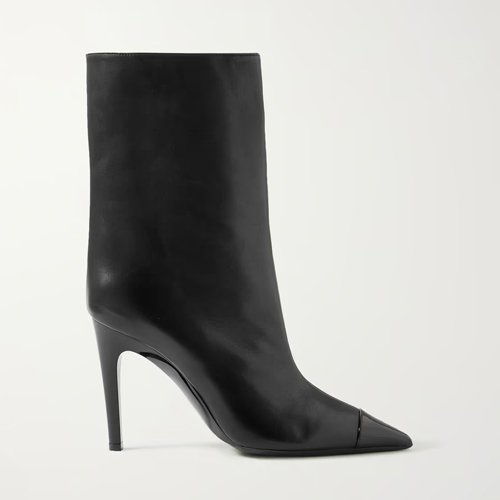 Jimmy Choo, Cierra 100 leather ankle boots, approx. Rs 74,060
Gucci, Tom 75 logo-jacquard stretch-knit ankle boots
Wanting to be under the spotlight of glamour is highly enticing. The power that glamour holds is extraordinary and it can outshine anything. As for how you can talk the talk of glamour, you can do so by styling these ankle boots with your glamorous outfits. Set over slim kitten heels, these Tom boots are knitted with the house's signature 'GG' monogram. Instead of making them pointed, Gucci chose to go with elongated square toes. With 75mm/ 3 inches heel measurement, the boots are poised to walk gracefully. The boots are available in lively and bright shades of Wild Rose and Hibiscus. It's a win-win if you choose to wear glamour.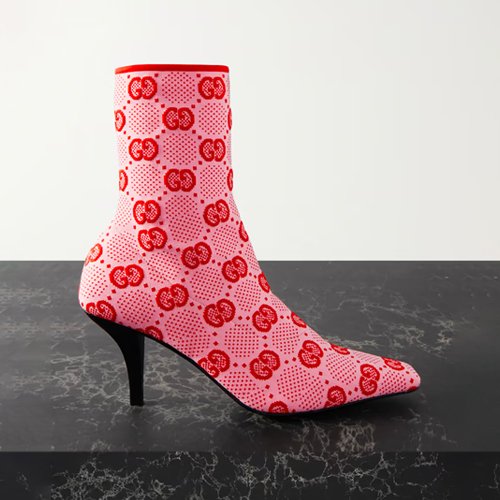 Gucci, Tom 75 logo-jacquard stretch-knit ankle boots, Approx Rs 1,44,670
Fendi, Cut leather knee boots
Do you know the feeling of choosing just the perfect footwear for your cute midi dresses? Especially in autumn, when it is very important to twin with the season. These boots are perfect for it. Fendi's cut boots are fabricated from smooth brown leather with a block heel presenting the signature 'FF' motif. With a pointed face, the boots match perfectly with the autumn-vintage look. They reach just below the knees, thereby also providing some warmth in the colder months. This design comes from Fendi's Fall '22 collection. With a heel of 110mm/ 4 inches, the boots reverberate confidence with every step.
Fendi, Cut leather knee boots, Approx. Rs 2,04,680