Making us swoon over his looks, our Hommes Cover Star Mauricio Kirschner has intertwined Architecture, Interior Designing and Event Organizing; all in his work.
Team Credits:
Talent: Mauricio Kirschner @mauriciokirschner
Photography: JB
Photography Assistant: Toby Stampfli
Grooming: Charlene Georgy
Stylist: Pablo Patane @pablo_patane
Stylist Assistants: Jordan Renou, Alexis Eluard
We can't stop surprising you, yet we have our Hommes Cover Star for the April issue, Mauricio Kirschner whose aristocratic handsomeness and classic and electric looks surely caught our eyes on the first site. Awakening all senses, and having a personality that is fast on the rise, he is stellar as ever! Take a quick little peek into his world – as he shared all the sublime experiences and secrets of the successful career he owns; this is a conversation you don't want to miss!
Hi Mauricio, Welcome to L'Officiel, tell us about your thought process while picking your career – who was your inspiration?
I wouldn't say I chose to pursue architecture, but rather it was a calling that I couldn't ignore. From a young age, I felt a deep pull towards the world of lines, spaces, and design; a little voice in my head always led me towards these captivating subjects. That voice knew that I was meant for greatness and that I had been placed in this world to partner with others in achieving their dreams, as well as my own. It's ironic that nobody close to me has ever pursued architecture, yet I have always been captivated by the visionary work of the Pritzker Prize winners. The dynamic creations of Zaha Hadid, the evocative designs of Luis Barragan — who happens to hail from my own hometown— and the innovative works of Japanese creators like Tadao Ando and Kengo Kuma, have all inspired me to pursue my own path in this field. Ultimately, every museum, airport, and monumental project ignited my passion for architecture and reinforced my calling to make my mark in this dynamic and visionary industry.
You have been in Architecture, Interior Designing and Event Organizing for quite some time now, what's the one thing that you wished that someone would've told you when you were starting your career?
If only someone had told me that the key to a fulfilling life is following your dreams and that dedicating yourself to something you truly love will unlock a whole new level of personal growth and fulfilment. We need to encourage younger generations to pursue their desires and achieve their ambitions so that they can experience the transformative power of self-realization, love, and happiness. Of course, it's a challenging journey that requires hard work and perseverance, but the rewards are immeasurable. I came from a small town where misconceptions and prejudices were rampant, and where pursuing a career in architecture was met with scepticism and discrimination —especially since some people used to believe it was a profession reserved for gay men. But I refused to give up on my dreams, and now I'm living my best life, following my passion and making a difference in the world. Let us encourage and support each other on this journey so that we can all unlock our full potential and achieve our wildest dreams.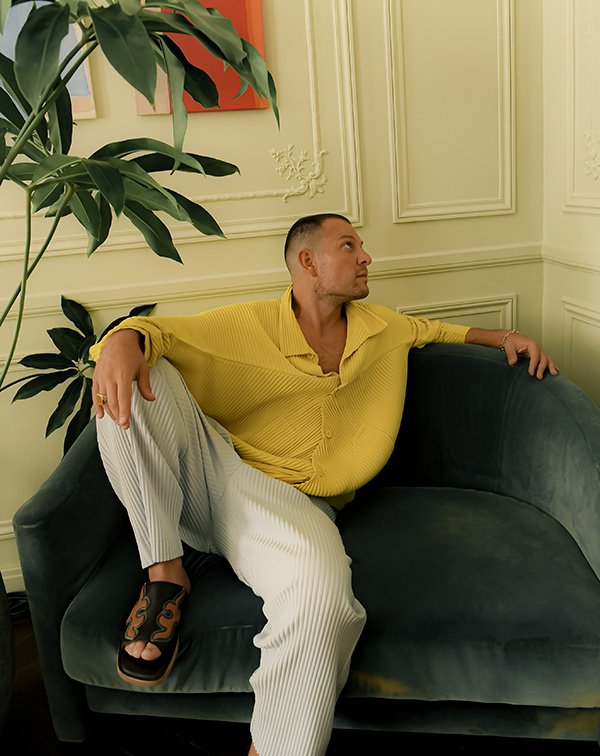 What has been the strongest influence on your life and career so far?
My family is undoubtedly the source of my life's greatest joys. The love and companionship of my mom, my siblings, and their children are the fuel that propels me forward every day. But in my work life, it's my clients who truly inspire me. They entrust their dreams and projects to the vision we have at HOK, and in doing so, allow my team and me to bring to life the ideas that reside within their hearts, and their souls. The influence of both my family and clients has been instrumental in helping me channel my creativity into something truly unique, sophisticated, and timeless. It's been an incredible synergy!
Tell us some secrets of organizing a successful event.
For me, the real magic of event planning lies in getting to the heart of the people behind the celebration. When I worked with a couple who are planning to unite their souls, I dived deep into their history, their passions, their dreams, and the experiences that fuelled their spirits. By truly understanding their essence, I can create something that is uniquely and authentically theirs. Building a bond with my clients is essential to my process, and it's one of the keys to our success at HOK. When we can connect on a personal level, it allows us to bring a level of magic to their special day that is truly unforgettable.
Of all the events you have organised, both large and small, which one(s) stand out in your memory and why?
Difficult question! Every event we've worked on at HOK has been a valuable lesson that taught us something new and challenges us to push boundaries further. Over the nine years that we've been creating immersive experiences and sophisticated architectural atmospheres, I've watched HOK grow at an incredible pace. One of the keys to our success, I believe, is our commitment to learning from each project we undertake. It's extraordinary to see how our team has risen to the occasion time and time again — taking on bigger events, collaborating with excellent teams, and utilizing high-end technology to deliver truly exceptional experiences for our clients. Every event is an opportunity to learn, and at HOK, we embrace that opportunity with enthusiasm and dedication.
Every task needs some to master. What were some of the difficulties you faced as an architect and later as an event designer at the initial stages of your career?
Looking back on my journey, I can recall moments when I lacked the expertise to react appropriately. I had to confront my own ego and humbly learn from others, to open my mind and heart to the lessons they were offering me. It was all an opportunity to grow stronger, stay true to my purpose in life, and never stop dreaming. And this philosophy is at the core of HOK, encapsulated by our slogan: "Dare to dream".
You are a style junkie. Who is currently your favourite designer and why?
I am! [laughs] It's hard to choose just one favourite, but I'm always inspired by the innovative work of Kim Jones. His fresh perspective on men's fashion, combined with his luxury streetwear aesthetic and forward-thinking vision, is truly captivating. I'm also impressed by the recent collaboration between Louis Vuitton and Colm Dillane's Kid Super, as well as the latest collection from Off-White. In addition to these designers, I feel constantly drawn to the creative work of designers like Maximilian Davis and Daniel Lee as they continue to elevate the senses and blur the line between fashion and art.
What is the single most important ideal you always strive to swear by?
No matter what you do in life, the achievements you've attained, or the dreams you have; consistency is key in life, regardless of what you do or where you are. It's important to be dependable and reliable so people can trust you, even if they may disagree with your beliefs or actions. Finding balance in life is crucial and being self-aware helps us navigate through our journey with clarity. We need to remember that every person we encounter is a reflection of ourselves and every relationship we have is a mirror of our inner world. We must understand that we are all interconnected in this shared experience called life and that the universe itself enforces a balance. At HOK, we recognize the importance of releasing blockages and tension through wellness practices, which in turn fosters a deeper connection with our true essence and creativity. This is reflected in our evolving projects as we strive to bring the perfect balance of beauty and functionality to every event we undertake.
Are you working on any future projects that your admirers don't know about? Please shed some light on some of those.
Yes, we actually are. We at HOK are constantly looking for new challenges and ways to push the boundaries of what's possible. That's why, in addition to our regular architectural projects, we have set our sights on achieving some of our biggest dreams: to have our very own hotel and to launch a furniture line and a beverage brand featuring wine and tequila. We are excited to take the HOK experience to a whole new level and invite all those who have been following our journey to stay tuned for what's to come. Trust us, it's going to be something remarkable!
What is the one piece of advice you would like to leave for our readers who were looking forward to, have you?
Trust in the transformative power of the Universe to turn a fleeting moment into enduring memories that will stay with you for a lifetime. Let the magic ignite your senses and take you on an unforgettable journey crafted by talent and passion.