Get your hands on your monthly dose of fashion, entertainment, beauty & luxury. December is the month of joy and festivities, curl up by the fire and read to your heart's content!
ALTUZARRA'S PARKA BAG MAKES ITS DEBUT
In case you have not paid attention to the new season trends, utilitarian motifs have been popping up everywhere lately! And Altuzarra's spring/ summer 2023 collection leaned heavily into utilitarian motifs as well. Creative director Joseph Altuzarra seems to have taken cues from patchwork and jackets to create its latest hardware-forward Parka bag. Taking its cues from the classic outerwear style with multiple pockets and cording, it is crafted in from leather in Italy and features two zipped pockets to the front and Altuzarra's iconic braid design. This incredibly chic bag comes in 5 different hues and might just be your go-to this new season.
LORO PIANA TAKING HOME DÉCOR INTO ITS HANDS
Everyone's favourite brand Loro Piana has entered into a new collaboration that will help enhance your home's aesthetics tenfold. This collaboration with Charlotte Chesnais has yielded some stunning pieces that will be the perfect addition to your home. Loro Piana has dedicated itself to the highest calibre of craft and creates products defying trends and last generations. For this collaboration, the brand enlisted French jeweller Charlotte Chesnais whose modern jewellery also rises above temporality. Together, both have created artful, fluid candleholders that are rendered in gold, bronze, and silver. The pieces are extraordinary and built to last. They will also serve as a wonderful conversation starter. The artisanally hand-crafted candleholders showcase and preserve a shared legacy of artisanal excellence.
AN ODE TO FUNFILLED CURIOSITY FROM LOUIS VUITTON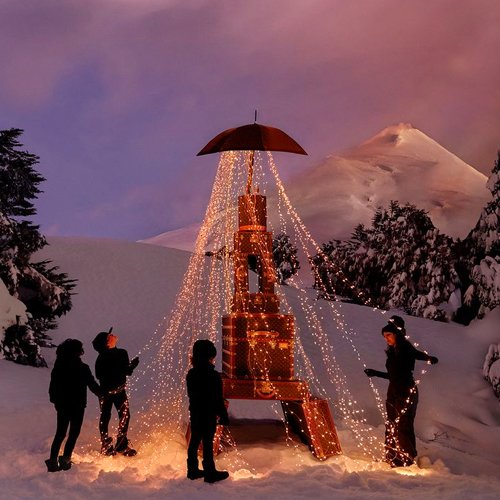 Louis Vuitton's latest travel-inspired campaign "Towards A Dream" sparks joy and unleashes the power of imagination. This holiday season, the Maison sought to awaken the inner child in everyone as it gave an ode to fun-filled curiosity and infinite possibility. The luxury house unveiled the new chapters of its "Towards A Dream" campaign that pays tribute to the inner child in all of us. The campaign was shot at the mountains outside Pucón, Chile, and is set against breathtaking wintry landscapes. The campaign has managed to capture the awe, innocence and unbridled joy expressed by a group of children on a boundless quest of the imagination. Louis Vuitton explored the brand's core values and the spirit of adventure and freedom through the campaign.
DOLCE & GABBANA'S ALTA MODA SHOW EVOKES MIAMI GLAMOUR
Dolce & Gabbana staged what was possibly the most glamorous takeover of Miami. While it might have been a little scaled back from the lavish Alta Moda weekend in Sicily, the Miami showcase was an ode to artisanship. The fashion house took over the fabled 1930s-night spot Surf Club to showcase its latest collections. These included the latest Alta Gioielleria, (high jewellery), Alto Moda (women's haute couture) and Alto Sartoria (men's) collections. The Surf Club has been a playground of the rich for more than nine decades. Steeped in old-school glamour, it offered a fitting background for the collections which offer beauty and sophistication. The Alta Moda show was truly a couture extravaganza.
GUERLAIN'S NEW JEWEL – L'ABEILLE NOIRE ÉDITION PRESTIGE BOTTLE IN BACCARAT CRYSTAL
The bee-shaped fragrance flacon designed in 2010 by Lorenz Bäumer for Guerlain has been reborn. This time, the bottle has been sculpted in black crystal by French crystal maker Baccarat. The flacon for L'Abeille Noire Édition Prestige required the contribution of some 25 artisans. The black body of the bee was made by blowing molten crystal into a metal mould and the smooth head and faceted wings are crafted out of pressed crystal. Inside the flacon is an exclusive scent that is composed by Guerlain Master Perfumer Thierry Wasser. The scent has notes of bitter almond, orange blossom, ylang-ylang and benzoin. In true Guerlain fashion, only 22 numbered pieces have been created and the iconic perfume bottle is a collector's item in its own right.