Avocados and tequila were meant to go together! Don't believe us? Try this margarita and see for yourself!
Given that this month's focus is on fitness and health, we thought why not add something to our margarita that is delicious yet healthy at the same time? And of course, it had to be avocadoes! But wait, don't run for the hills yet! We promise there is no reason to be weirded out by this combination. Now, we're sure that you're wondering what alcohols benefit the most from addition of avocados, let us clear your doubts! Avocado can be paired with Rum or Tequila and it tastes heavenly in both cases. So, for today, we have brought for you a margarita. Tequila and Avocado meld together perfectly, creating a drink that is sweet, sour and perfectly creamy and luscious. Probably even smoother than your favourite smoothie! So, what are you waiting for? Run towards your blender and whip up a batch of these avocado margaritas.
INGREDIENTS
2oz silver tequila

2oz reposado tequila

2oz agave syrup

1oz triple sec

1/2 medium sized avocado (diced)

3/4oz coconut milk

1/2oz lime juice

1/2oz lemon juice

2 handfuls of ice
FOR THE SALT RIM
1 tablespoon kosher salt

½ teaspoon chili powder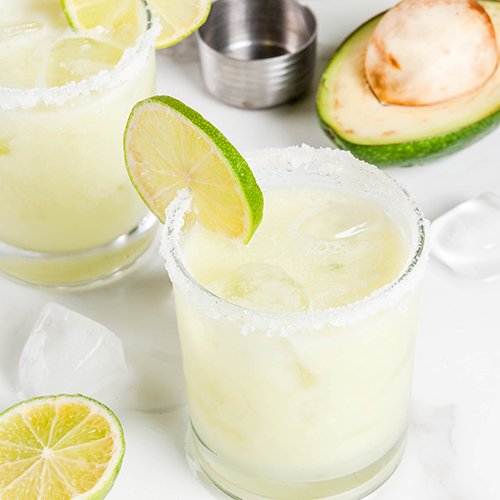 HOW TO SALT RIM THE GLASS
1. Take a small plate and pour the salt and chili powder on it. Give it a mix.
2. Rub the rims of 2 glasses with a lime wedge and then dip the glasses in the salt and chili mix.
MAKE THE DRINK
1. Add both the tequilas, agave syrup, triple sec and the coconut milk to a high-powered blender and give it a blend.
2. Add in the lemon juice, lime juice, ice and avocado and give it another mix. Just blend it for 30 seconds, not more than that.
3. You can add in more ice to the glass before pouring it in the glass, if you like your margarita with ice cubes.
4. Serve immediately.
NOTES
1. The coconut milk and the avocado give the margarita its creamy and smooth texture, so don't omit it or try to replace it with some other ingredient.
2. You can use any brand for the tequila.
3. Make sure to dice the avocado otherwise blending it will become a little difficult.