Whether You Want To Be More Consistent With Your Exercise Regimen Or Are Interested In Challenging Yourself With A Variety Of Exercises, Workout Mirrors Can Support Your At-Home Workout, As Well As On- Demand Meditations. Dive In To Find Which One Suits You The Most!
Working out at home is a convenient way to sweat, and smart fitness mirrors can totally up the ante with their smart technology. It not only allows you to follow along with a life-sized trainer at your home, but also showcases important exercise data to help you track your progress.
Since, most workout mirrors display all of your stats including your workouts, heart rate, caloric output, and features a life sized trainer right in front of you. Thus, the smart workout equipment makes it even easier to hold yourself accountable when working out at home. Plus, it makes regular exercise super convenient, since you don't need to leave your living room to get your sweat on.
If you're ready to up the ante and invest in at-home workout equipment that brings the gym to your home, here are the best
workout mirrors we recommend.
1. LULULEMON STUDIO THE MIRROR
Our very first pick for the workout mirror is also the one used by Jennifer Aniston and Reese Witherspoon — the Lululemon Mirror. This mirror wowed us from the start with its classes, and other perks. It holds so many different types of workouts,
including yoga, HIIT, Pilates, dance cardio, kickboxing, strength training, and over 10,000 classes to choose from. They also offer prenatal and baby-wearing classes. Plus, Lululemon partners with popular workouts like Pure Barre, Rumble, and DOGPOUND tend to bring trendy and popular workouts to your home without any additional cost. The mirror also connects you directly to Apple Music so you can play your own music while exercising. You can also purchase the mirror's compatible heart rate monitor, smart weights, and smart ankle weights for more precise documentation of your workout stats, allowing you to track your progress through data.
2. PROFORM VUE
For beginners who desire a workout mirror that can truly support their workout journey — the Proform Vue mirror can be just the perfect type. This gym mirror features a simple design and user-friendly interface that is easy to navigate. The mirror connects to the iFIT app, which gives you access to lots of amazing workout classes across a variety of categories and skill levels, so you can start where you are at and improve over time. One thing we loved about this mirror is its focus on form classes, which is perfect for beginners as it allows you to work on your overall form and improve your workouts over time.
3. NORDICTRACK VAULT COMPLETE
If your workout level is advanced and you're looking for a smart mirror that can keep you motivated at home, we would suggest the NordicTrack Vault Complete. It features hidden storage behind the mirror screen, so you can store your weights mats, and bands while saving space. While using this workout mirror, the overall variety of classes caught our eye, as it includes different skill levels and allows you to challenge yourself based on your experience. From strength training to yoga to pilates, you can choose workouts that keep you motivated to improve your performance through tracking metrics. In addition to offering the mirror with or without accessories, NordicTrack also features several subscription plans, including an annual family plan and an individual annual plan.
4. TEMPO STUDIO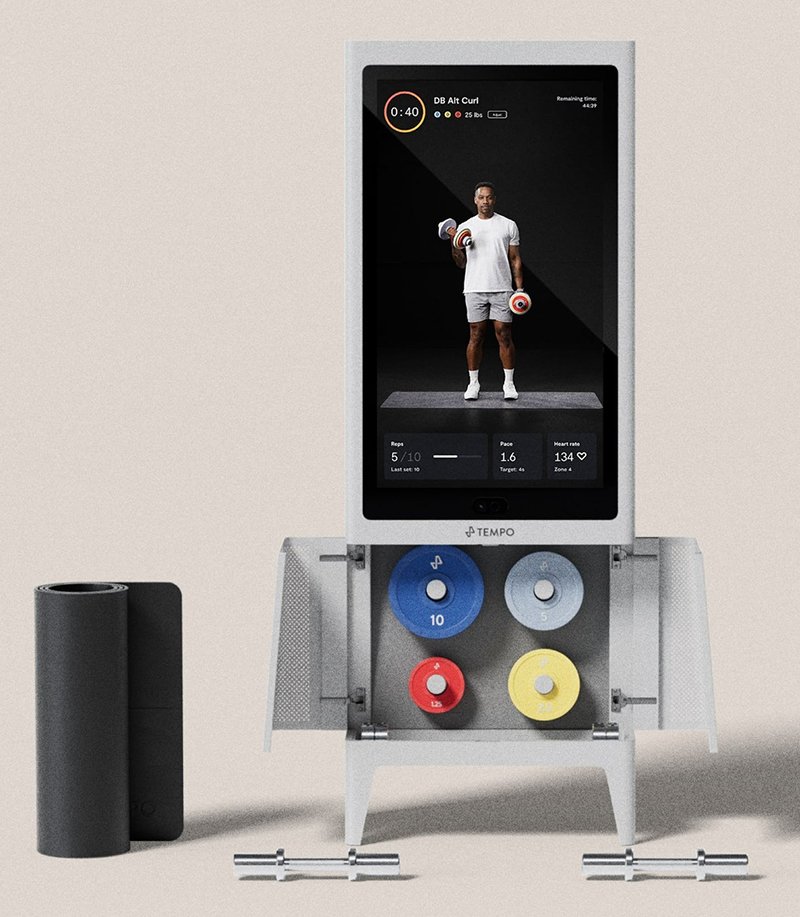 If weight lifting is your thing, the Tempo Studio will be your top pick for the best workout mirror for strength training. This gym mirror is compatible with the brand's smart weights, which allows one to keep track of the stats and progress on the mirror, sharing it with trainers, and curate a more customized workout plan based on your goals and achievements. You may cherish the live classes, which provide real-time feedback while you move, ensuring you have proper form and prevent potential injury while getting your sweat on. For a more personal session, one can also go for subscription and get access to one-on-one live fitness coaching.
5. TONAL HOME GYM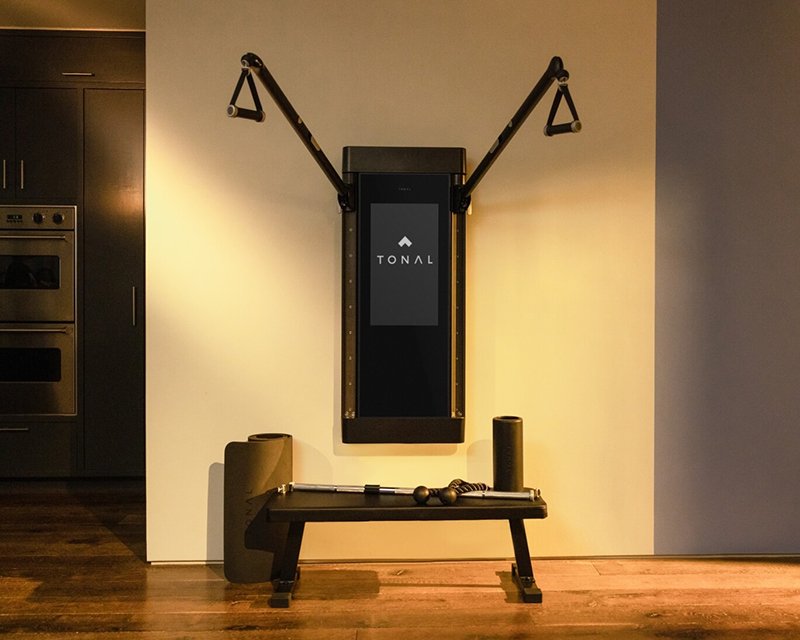 Smart workout mirrors are, no doubt, an investment — but if you're looking to splurge on a device that can truly elevate your workouts, we recommend the Tonal mirror. This mirror essentially combines several different types of equipment into one sleek and space-saving design for at-home workouts. As far as the workouts are concerned, Tonal offers 20 different types of workouts with professional trainers that are engaging enough to follow along with. The video classes also feature different angles so one can actually see what the trainer is doing from the side and back, rather than just the front. Tonal features lots of different workout programs, allowing you to set goals and challenge yourself to stay motivated for a period of time. Thus, if this is something what intrigues you, surely get it!