When The Sun And The City Lights Come Alive, It's Time To Unleash The Power Of Mesh. Ride Along For A Messy-Mesh Fashion Inspiration Ahead.
Ladies, in the ever-evolving world of fashion, trends come and go like seasons. Yet, there are some exceptional styles that catch fire and ignite a fervour within the fashion-forward community. This month, we're recalling the trend that fulfils the chic and elegant aura at the same time.
Mesh, with its delicate web-like structure, has an undeniable glamour that cuts across the boundaries of casual and formal wear. The stunningness of this silhouette straddles the line between sexy and sophisticated, allowing you to flaunt your curves with ease. The key to mastering the mesh trend is to understand its versatility – it can be as daring or demure as you desire.
One of the most exciting aspects of the mesh trend is the art of layering. For the fashion-forward, it's an opportunity to experiment with textures, colours, and fabrics. Let the boldness inside you unleash while exuding the sultry in the most graceful way. Don't be afraid to mix and match – mesh plays well with almost every piece existing in the fashion scene.
1. LESLIE AMON, Medusa strapless cropped stretch-mesh top, approx. Rs. 28,250
2. LESLIE AMON, Medusa ruched stretch-mesh skirt, approx. Rs. 30,070
3. DE BEERS, Enchanted Lotus 18-karat white gold diamond necklace, approx. Rs. 3,10,520
4. GIANVITO ROSSI, Portofino 85 suede sandals, approx. Rs. 1,13,600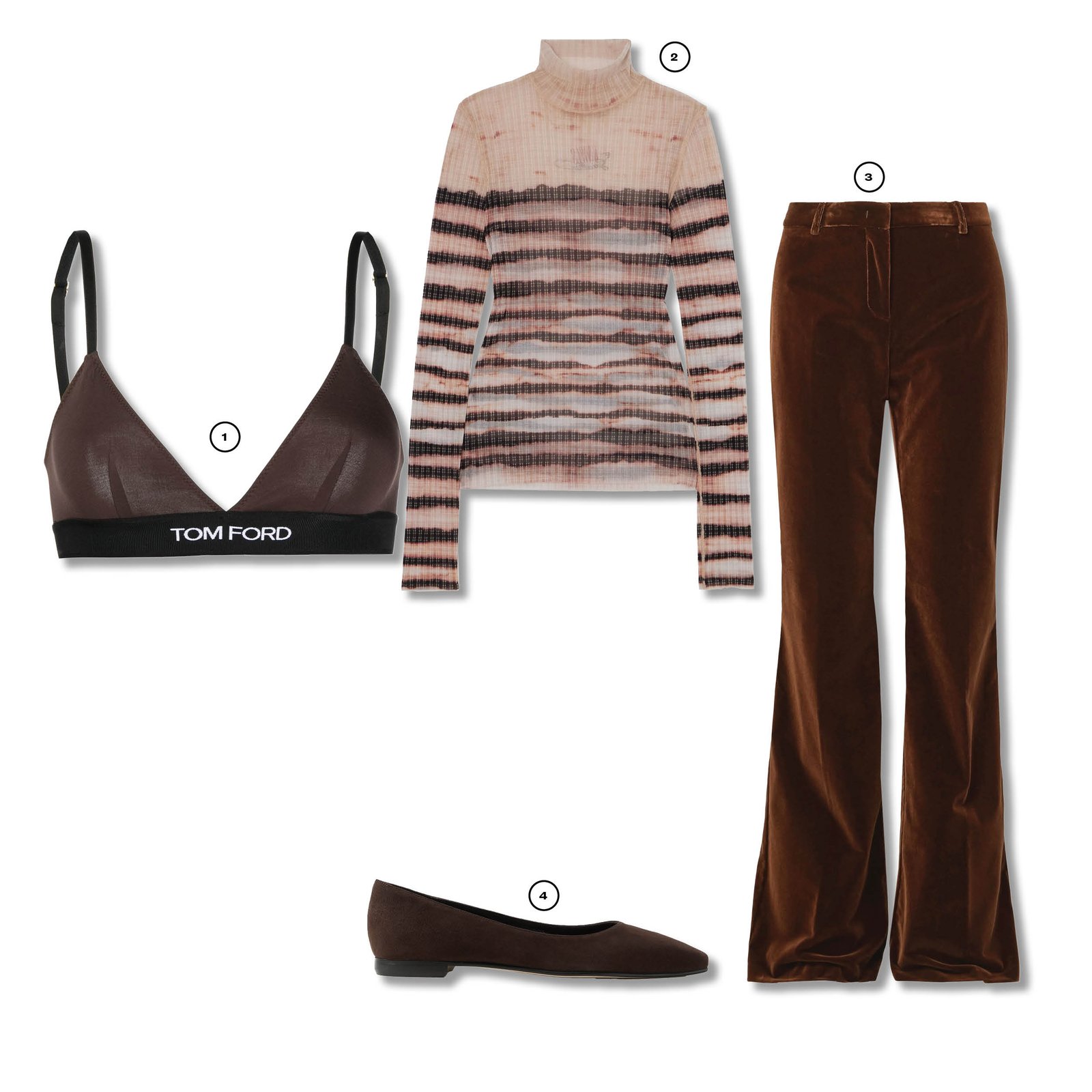 1. TOM FORD, logo-underband bra, approx. Rs. 15,790
2. JEAN PAUL GAULTIER, + KNWLS striped mesh turtleneck top, approx. Rs. 34,470
3. ETRO, Cotton-blend velvet bootcut pants, approx. Rs. 63,410
4. MANOLO BLAHNIK, Gelista suede ballet flats, approx. Rs. 94,600
1. DOLCE & GABBANA, Crop top with fusible rhinestones, approx. Rs. 4,21,300
2. DOLCE & GABBANA, Miniskirt with fusible rhinestones, approx. Rs. 8,95,060
3. DRIES VAN NOTEN, Silk crepe de chine shirt dress, approx. Rs. 96,680
4. JIMMY CHOO, Nari embellished leather combat boots, approx. Rs. 1,58,900
1. PUCCI, Cutout printed stretch-mesh maxi dress, approx. Rs. 142,840
2. JENNIFER BEHR, + NET SUSTAIN Moira gold- tone pearl earrings, approx. Rs. 47,110
3. JIMMY CHOO, Bon Bon crystal embellished satin bucket bag, approx. Rs. 1,65,770
4. THE ROW, Bare leather sandals, approx. Rs. 1,07,020