This Halloween, It's All About Crafting A Personalized Ensemble That Showcases Your Creative Prowess. Get Halloween Ready With These Oomph Inspirations.
It's that time of the year again when the moon rises high, and the spirits awaken from their slumber. Halloween's enchanting blend of eerie mystique and playful costumes calls for a fashion transformation like no other. As fashion enthusiasts, we know that the essence of Halloween can seamlessly intertwine with chic outfits, allowing us to unleash our inner fashionista at this thrilling holiday event.
Halloween isn't just a holiday; it's a celebration of the extraordinary. The first step to conquering Halloween fashion is to dive into the enigmatic spirit of the occasion. Imagine your costume as a couture masterpiece, meticulously tailored to your body's unique contours.
From black serving as the perfect vampire vibe shade to red that will make you look nothing less than a hottie, that's how you weave drama into your outfit! Channel your inner stylist to bring your character to life this Halloween. Here are some outfits for your spooky creativity!
THE PIRATE GAL
1. JACQUEMUS, Off-the-shoulder gathered taffeta mini dress, approx. Rs. 1,80,570
2. MAX MARA, Patent-leather waist belt, approx. Rs. 1,00,780
3. KHAITE, Julius silver-tone earrings, approx. Rs. 87,780
4. ROGER VIVIER, Pocket Bouquet crystal-embellished satin tote, approx. Rs. 2,12,030
5. ISABEL MARANT, Ririo leather knee boots, approx. Rs. 1,36,870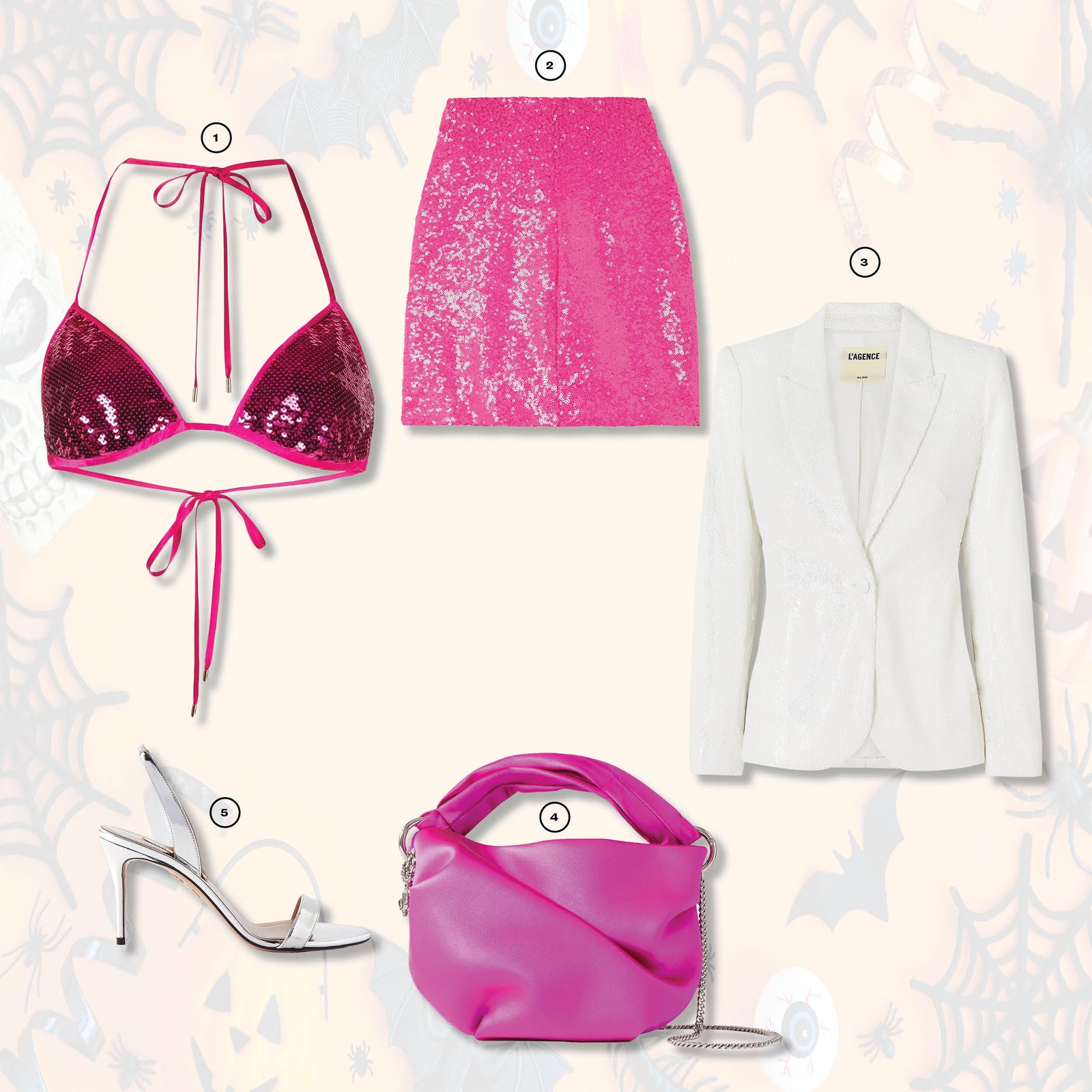 THE BARBIE BADDIE
1. TOM FORD, sequinned halterneck bralette, approx. Rs. 61,200
2. COMMANDO, Sequined stretch-jersey mini skirt, approx. Rs. 16,700
3. L'AGENCE, Clementine sequined stretch-crepe blazer, approx. Rs. 82,120
4. JIMMY CHOO, Bonny satin tote, approx. Rs. 77,250
5. AQUAZZURA, So Nude 85 mirrored leather slingback sandals, approx. Rs. 88,600
THE RED HOT
1. ALEXANDER MCQUEEN, Off-the shoulder ruffled faille gown, approx. Rs. 4,77,340
2. JENNIFER BEHR, Diana silver plated crystal earrings, approx. Rs. 34,240
3. MANOKHI, long suede gloves, approx. Rs. 59,970
4. ALEXANDER MCQUEEN, Four Ring embellished leather clutch, approx. Rs. 3,55,560
5. RENÉ CAOVILLA, Cleo crystal embellished satin and lather sandals, aaprox. Rs. 1,46,620
BLACK VAMPIRE BEAUTY
1. FLEUR DU MAL, Silk-blend satin trimmed stretch-mesh mini dress, approx. Rs. 66,400
2. OSCAR DE LA RENTA, Bloom silver-tone crystal necklace, approx. Rs. 1,30,530
3. COCO DE MER, Seraphine silk-blend satin-trimmed lace suspender belt, approx. Rs. 13,160
4. WOLFORD, Satin Touch 20 denier stay-up stockings, approx. Rs. 5,030
5. ALEXANDER WANG, Delphine logo embossed silicone-trimmed leather ankle, approx. Rs. 1,03,410