Fashion Week Is Back With A Bang – And We're Loving Every Second Of Its Already Epic 2023 Iteration. Kicking Off Procedures In Grand And Glorious Style Is The Always Awe-Inspiring Paris Haute Couture Fashion Week, This Year's Irl Shows Seem Set To Be Bigger And Better Than Ever.
Just when you thought that the riots would actually take a toll on Paris's scheduled events, we witnessed couture conquering the streets of Paris yet again. As they say, the show must go on, the Paris Haute Couture Week is dropping some of fashion's finest creations curated by renowned Maison's with each passing day.
So, if you're wondering whether or not the designers pulled off another episode of upside-down fashion this year too, well then, we seem to have the answers to your questions with showcasing our favourite ones from the season.
The fashion connoisseur in us lured us into picking a few of our favourites from the Paris Haute Couture Week. Have a look at these highlights.
1. ELIE SAAB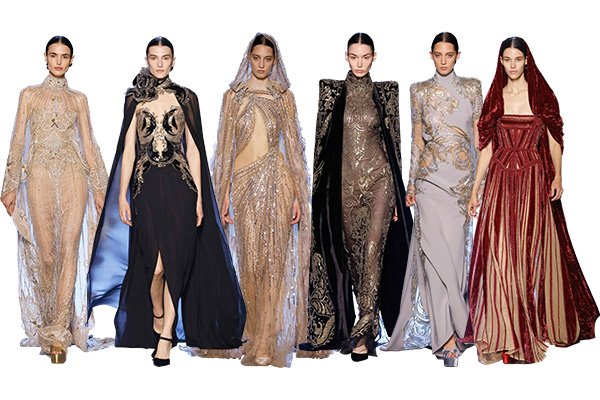 Elie Saab dubbed "A Glamor of Yore" – the show was clearly revealing intricate textures lavishly woven into refined gowns boasting crystalized crepe and velvet dentelle. As Elie Saab and intricacy walk goes hand in hand, the looks showcased at the Paris Haute Couture Week 2023 were intricacy at its best. Inspired by the medieval period, each and every piece exuded elegance courtesy of the textures, with the golden access and the embellishments stating nothing short of the typical Elie Saab royalty.
Jade green jostled with gold embellishment and darker shades on a runway that showed off Saab's penchant for dramatic glamor. Interestingly, hooded gown made a comeback on the runway – proving some trends from last year are still here to stay.
Amid the historic venue, Saab presented a couture show that astounded attendees with its intricate detailing and magnificent silhouettes – and lived up to the venue's grandeur. Staying true to the glamour-focused ethos, the fall collection saw Lebanese designer recraft history's contours through a modern lens. Drawing inspiration from heroines of period pieces, Saab reinterpreted timeless figures.
2. TONY WARD
In a bold departure from convention, Italian Lebanese designer Tony Ward fearlessly delved beneath the surface, exposing the hidden layers that lie within. The result was a breathtaking tapestry of art, technology, sustainability, and architectural nuances. Each creation acted as a captivating window into the depths of human expression, leaving the audience spellbound.
The collection broke free from traditional constraints, offering a truly transcendent experience. Tony Ward pushed the boundaries of haute couture to new heights, brought to life a remarkable 3D dress crafted from biodegradable plant-based material. This fusion of the Atelier's meticulous craftsmanship, cutting-edge technology, and ecological consciousness exemplified a new era of sustainable fashion.
Elegantly designed long dresses stole the spotlight on the runway, featuring delicate sheer skirts, captivating asymmetrical cuts, and enticing leg slits. The designer skilfully incorporated intricate fabric weavings, adorned with braids and organic shapes, creating a mesmerizing fusion of textures and patterns. Whereas, cut-outs of transparencies showcasing the breathing transparencies also left their imprints quite remarkably.