Love It Or Hate It, Nothing Garners A Visceral Reaction Quite Like The Polarizing Style Of The Peplum. With Flared Fabric Gathered At The Waist, It's All Set To Flounce At The Hips. So, Without Any Further Ado, Dive In For All The Inspiration You Need.
Modern day street style is brimming with fresh peplum inspiration. It can be found in the form of edgy boning layered atop. After all, the garment has been impressively resilient (or bothersomely incessant, depending on who you ask) for centuries. By cinching the waist and extending at the hips, the silhouette was made to artistically accentuate the hourglass shape.
Like all trends that eventually die, its fraught fate was sealed once it became overly ubiquitous. But in today's era of romanticized weirdness, the peplum's quirky look can become an emblem of genuine experimentation instead of a whirlwind fad.
If you feel so inclined to dust off your skinny jeans, part your hair to the side and rock a peplum top, take comfort in knowing
that everything in fashion eventually comes back around. Ahead, we explain exactly what makes the Peplum 2.0 a fashion trend to embrace, and not to flee from. If you're wondering how the modern peplum translates from runway to IRL dressing,
we've got you covered with peplum top outfit ideas to try.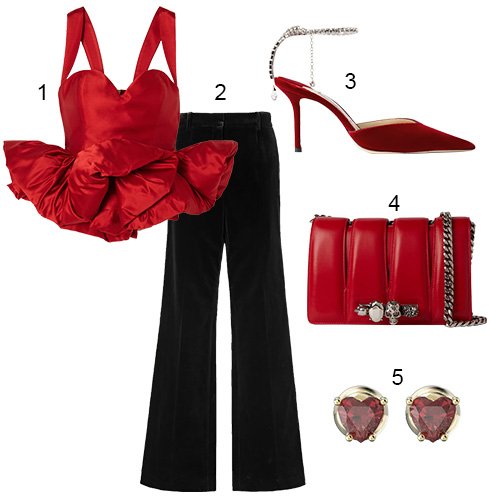 1.MISS SOHEE, + The Vanguard duchesse silk – blend satin peplum top, approx. Rs. 3,41,670
2.NILI LOTAN, Corette cotton – blend velvet straight – leg pants, approx. Rs. 58,040
3.JIMMY CHOO, Saeda 85 crystal – embellished velvet pumps, approx. Rs. 77,760
4.ALEXANDER MCQUEEN, The Slash embellished cutout leather shoulder bag, approx. Rs. 2,86,250
5.SWAROVSKI, Stilla Heart Stud Earrings, approx. Rs. 6,700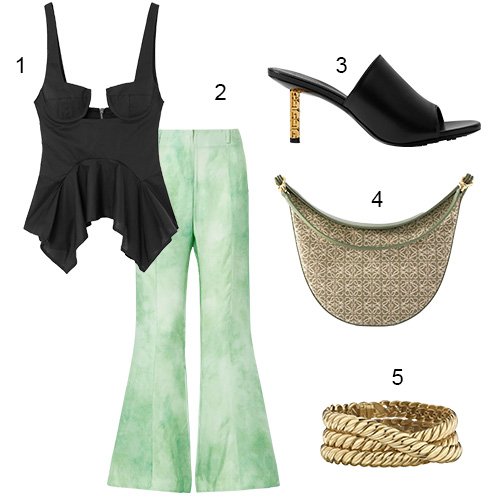 1.MARQUES' ALMEIDA, Asymmetric cotton – poplin peplum bustier top, approx. `37,420
2.ACNE STUDIOS, Flared tie – dyed twill pants, approx. `67,960
3.GIVENCHY, Leather mules, approx. `1,21,850
4.LOEWE, Luna leather – trimmed canvas – jacquard shoulder bag, approx. `1,90,810
5.DAVID YURMAN, Sculpted Cable Triple Wrap Bracelet in 18K Yellow Gold, approx. `14,11,050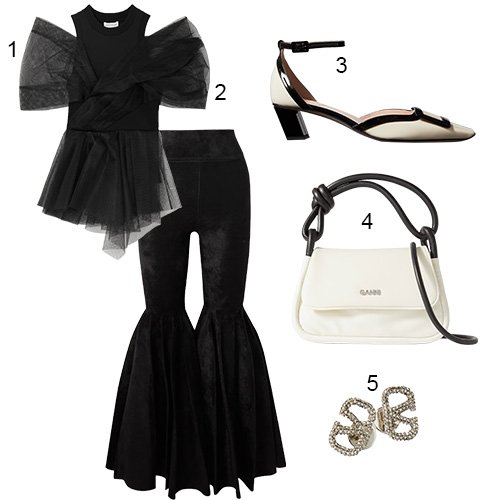 1. ALEXANDER MCQUEEN, Cold – shoulder cotton – jersey and tulle peplum top, approx. `1,00,250
2.ALAÏA, Velvet flared pants, approx. `3,71,180
3.ROGER VIVIER, Belle Vivier two – tone patent – leather pumps, approx. `1,38,940
4.GANNI, Knot recycled leather – trimmed shell shoulder bag, approx. `34,350
5.VALENTINO GARAVANI, VLOGO Signature Stud Earrings, approx. `41,160
1.Maison Margiela, Sculptural peplum top, approx. Rs. 1,75,900
2.ALEXANDER MCQUEEN, Embellished wool straight-leg pants, approx. Rs. 2,71,900
3.MANOLO BLAHNIK, Jada 70 leather mules, approx. Rs. 1,01,860
4.JACQUEMUS, Le Chiquito Noeud leather shoulder bag, approx. Rs. 1,09,190
5.AMINA MUADDI, Large Cameron Hoop Earrings, approx. Rs. 86,960