In The Bustling Metropolises And Vibrant Urban Landscapes, An Ever-Evolving Fashion Movement Has Taken Centre Stage, Captivating The Hearts Of Everyone Across The Globe.
Raise your hand if you're a fan of chic street-style fits, too! Be it the 90's American movies or our favourite stars on the street, urban fashion inspiration has never failed to capture our hearts. Drawing inspiration from skateboarding, hip-hop, and graffiti culture, streetwear fashion emerged during the 1970s and 1980s. These urban subcultures paved the way for a unique style characterized by edgy graphics, bold colours, and a rebellious spirit entered straight into the contemporary fashion scene. Embracing the do-it-yourself ethos that resonated with the youth, over time, streetwear left an indelible mark on pop culture.
At its core, streetwear fashion embodies the celebration of individuality and the rejection of societal norms. It challenges the traditional notions of high fashion, blurring the lines between luxury and everyday wear. Streetwear enthusiasts see clothing as an extension of their identity, using it as a canvas to express their interests, beliefs, and cultural affiliations. Moreover, the movement intertwines with art, music, and street culture, becoming a platform for collaboration and creative expression.
Well, we couldn't agree more with Carine Roitfeld's quotation, "Fashion is not about clothes, it's about looks". So, let's walk down the lane of the perfect amalgamation of fashion and comfort while still throwing the sassy vibes all around.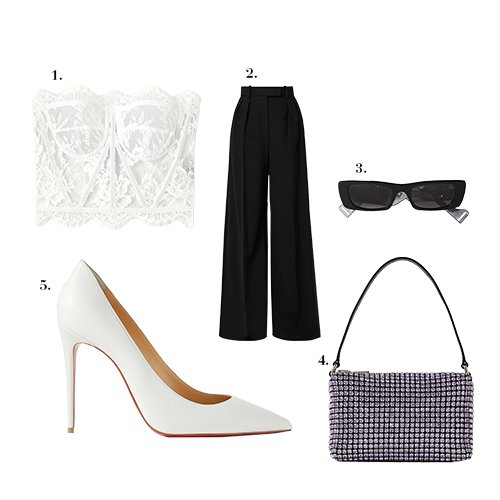 BRA TOPS FOR THE EXTRA SPICE
1. DOLCE & GABBANA, Grosgrain-trimmed lace bustier top, approx. Rs. 1,45,430
2. KHAITE, Teyana pleated woven wide-leg pants, approx. Rs. 1,65,970
3. GUCCI EYEWEAR, Rectangular-frame acetate sunglasses, approx. Rs. 42,730
4. ALEXANDER WANG, Heiress leather-trimmed crystal- embellished mesh shoulder bag, approx. Rs. 98,950
5. CHRISTIAN LOUBOUTIN, Kate 100 leather pumps, approx. Rs. 1,03,450
LEATHER FOR THE STREET WEATHER
1. RICK OWENS, Strapless panelled coated-denim bustier top, approx. Rs. 61,280
2. NORMA KAMALI, Oversized vegan leather blazer, approx. Rs. 37,680
3. LORO PIANA, Leather straight-leg pants, approx.
Rs. 7,08,000
4. GUCCI, Horsebit 1955 small leather shoulder bag, approx.
Rs. 1,27,900
5. BURBERRY, Embellished glossed-leather loafers, approx.
Rs. 97,090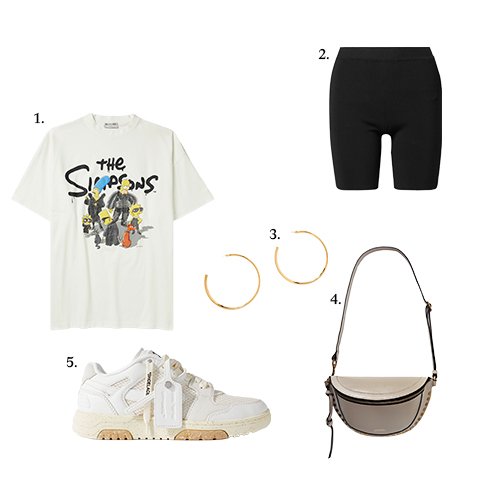 THE DROP SHOULDER SWAG
1. BALENCIAGA, The Simpsons Oversized Printed Cotton-Blend Jersey T-Shirt, approx. Rs. 65,020
2. LOEWE, Striped embroidered stretch-knit biker shorts, approx. Rs. 64,820
3. SAINT LAURENT, Gold-tone hoop earrings, approx. Rs. 62,970
4. ISABEL MARANT, Skano studded leather belt bag, approx. Rs. 85,610
5. OFF-WHITE, Slim Out of Office leather, mesh and suede sneakers, approx. Rs. 48,430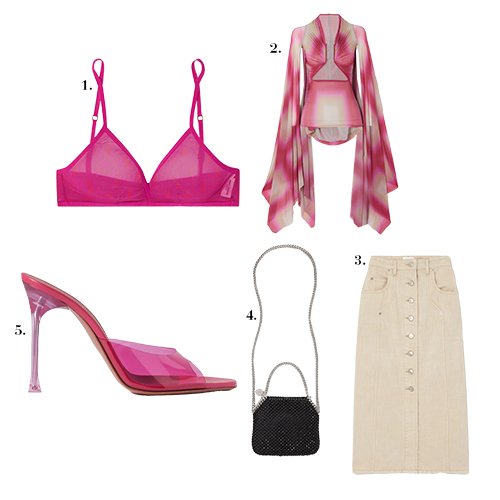 DON'T MESS THE MESH
1. SAINT LAURENT, Printed tulle soft-cup triangle bra, approx. Rs. 32,830 
2. RICK OWENS, Printed cutout stretch-mesh top, approx. Rs. 1,71,920
3. ISABEL MARANT ÉTOILE, Vandy paneled denim midi skirt, approx. Rs. 51,090
4. STELLA MCCARTNEY, mini crystal-embellished satin and mesh shoulder bag, approx. Rs. 1,41,790
5. AMINA MUADDI, Alexa PVC mules, approx. Rs. 86,870
SUPER CO-ORDINATES
1. DOLCE & GABBANA, Cropped printed stretch silk-blend bustier top, approx. Rs. 1,03,440
2. DOLCE & GABBANA, Printed silk-twill wide-leg pants, approx. Rs. 2,09,870
3. ALEXANDER MCQUEEN, Gold-tone earrings, approx. Rs. 48,520
4. SAINT LAURENT, Loulou small quilted leather shoulder bag, approx. Rs. 2,32,330
5. AQUAZZURA, So Nude 85 leather slingback sandals, approx. Rs. 87,700
BAGGY IS BOUGIE
1. FRANKIE SHOP, Nico cropped ribbed stretch-cotton top, approx. Rs. 8,2401.
2. MONCLER, Checked Cotton-Flannel Shirt, approx. Rs. 64,970
3. SLVRLAKE, Eva high-rise wide-leg jeans, approx. Rs. 39,470
4. GUCCI EYEWEAR, Rectangular-frame tortoiseshell acetate sunglasses, approx. Rs. 42,720
5. BALENCIAGA, Triple S Clear Sole logo-embroidered faux leather and mesh sneakers, approx. Rs. 1,06,500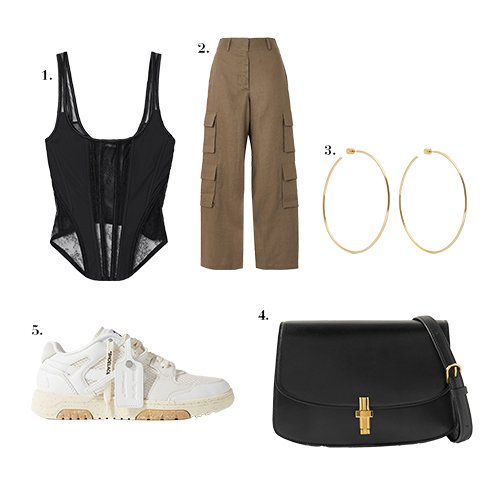 CARGO'S THE ALL TIME FAVOURITE
1. I.D. SARRIERI, Maud cropped lace, stretch-jersey and mesh bustier top, approx. Rs. 53,520
2. REFORMATION, + NET SUSTAIN Mateo linen wide-leg cargo pants, approx. Rs. 30,160
3. JENNIFER FISHER, Thread gold-plated hoop earrings, approx. Rs. 22,630
4. THE ROW, Sofia 8.75 leather shoulder bag, approx. Rs. 4,55,510
5. OFF-WHITE, Slim Out of Office leather, mesh and suede sneakers, approx. Rs. 48,420