The Fashion Month Train Keeps Chugging Along! And We Clearly Are Meant To Ride Along With Them. So, Are You Ready To Be The Princess Passenger Along? Let's Ride Into It While Evidencing Two Collections Entirely Opposite But Sophisticated At The Same Time.
The autumn/winter 2023 ready-to-wear catwalk season was wrapped with hundreds of shows taking place over in New York, London, Milan and Paris. Milan was a star-studded catwalk spectacle and we are still not over it. Throughout the fashion week, we have evidenced designer debuts, heart-warming tributes and plenty of catwalk drama.
Below, we have rounded up everything you need to see from the Milan Fashion Week of this season, from the major A-list model moments on the runway to the most beautiful collections. So, here we present the quirky catwalk highlights from the
autumn/winter 2023 season. Delve deeper into the new collections of the season as you can discover everything right here.
ROBERTO CAVALLI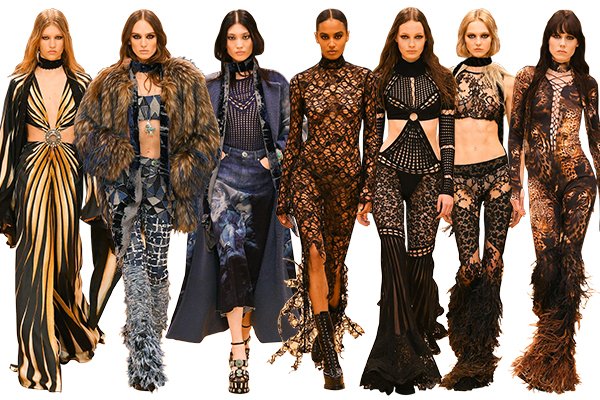 In a sumptuous catwalk set up in Piazza Affari, in Milan, supermodels parade for Roberto Cavalli 's Autumn/Winter 2023 collection-aims to enchant us with its revival aesthetic (not an imitation) of the Y2K era. Between lace, faux fur, gothic allure and limitless sensuality, this collection appeared to be an exploration and revisitation of the archives of the historic Italian fashion house. Then denim, told in many versions. Who will be able to resist the stainless charm of the iconic flared jeans? We clearly can't.
This fashion show is the clear demonstration of how much the brand, Roberto Cavalli has not been depersonalised, but rather amplified and made decidedly current and in step with the times. This Fall/Winter 2023 collection is a unique imaginary fruit seeming like an authentic tribute to the 2000s. Don't you seem to remember the iconic Y2K looks sported by Paris and Britney, or by Destiny's Child?
Evidence the black lace reinventing in countless different ways—as a devoré robe, sleeves; as a sheer catsuit with feather-trimmed flared legs and another in openwork crochet; and as a sequined lace miniskirt, not seen in these parts since before. This collection lived up to Roberto Cavalli's reputation for excess. All together on the runway, it could feel like fashion is overloaded blissfully.
SHUTING QIU
Qiu uses her pieces as canvases, layering materials and colorings, so much so that it is necessary to come back and inspect the looks more than once to notice every aspect of them. A suit where the top piece was cut like a studded jacket and a pleated miniskirt, coordinated by patchwork of motifs in between anthracite gray and candy pink, was partially decorated by 3D and multi-coloured floral patterns. It was combined with a balaclava and a satin bra, both covered in sequins; and we were flattered by the butterfly printed tights; and colored fake fur mules, bringing up the imagination to life.
Every look incorporated at least a couple of these layering techniques, with flowers, stripes, polka dots and smiley faces. The final look, a petticoat dress with lace and fake fur inserts, was embellished with endless smileys, seeming so fun! It seems that
mixing art and fashion is essential for Qiu while making a way to tell the story with the joyous approach to life. Abstract painter František Kupka, was the inspiration for Shuting Qiu's new collection. She is clearly passionate about art and a painter herself. The collection clashed a whirlwind of colors, prints and appliqués. Faux fur turned out to be Shuting Qiu's big obsession for fall 2023. It trembled on shoes and hats, fluttered on necklines, and flapped from the peplums of brocade puffer jackets.