This Wedding Season, Skip The Neutrals And Go For The Perfect Bridesmaid Dress For Your Best Friend's Wedding. If You Can't
Pick One, We're Here With Some Elegant Yet Chic Inspiration.
It's your best friend's wedding! And we know other than the excitement and responsibilities that you have, there's another task that you have to ace. Yes girl, it's the flawless bridesmaid dress that we're talking about. It can be simple to succumb to
clichéd, generic designs when choosing the greatest bridesmaid gowns. But why opt for that when you can play the perfect dress-up?
Over the years, we've been taught that it's the bride's dress that matters. Well, if you're the bridesmaid at your friend's wedding, you should know it's not true. The bride's and bridesmaids' outfits should coordinate to complement one another. Make sure you go for something that embraces your personality. After all, your outfits and those symphonic wedding pictures are what will be unforgettable memories that you and your friend will be cherishing. The wedding season is evolving with each passing year and so are the wedding trends.
If you're still unsure about where to begin while picking your bridesmaid outfit; gowns are the answer. Long pretty silhouettes and flowy trails are what will let people know who's the bride's soul sister(s). To bring that extra special touch to the wedding day, whether you're looking for a dress that exudes simple elegance or a dress that makes a bold statement, a design that flatters any shape or size is what you need. So, we've compiled some elegant pieces for you to choose from.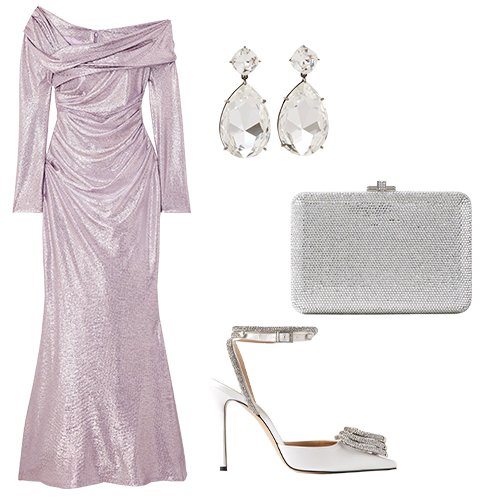 1. TALBOT RUNHOF, Off-the-shoulder draped metallic woven gown, approx. Rs. 1,85,910
2. ALEXANDER MCQUEEN, Silver-tone crystal earrings, approx. Rs. 73,440
3. JUDITH LEIBER, Slim Slide crystal- embellished silver-tone clutch, approx. Rs. 2,92,620
4. MACH & MACH, Triple Heart crystal-embellished satin pumps, approx. Rs. 1,21,590
1. ALEX PERRY, Quinn tie-front satin-crepe gown, approx. Rs. 4,21,720
2. SAINT LAURENT, Gold-tone resin clip earrings, approx. Rs. 1,11,750
3. JACQUEMUS, Le Chiquito Noeud leather shoulder bag, approx. Rs. 1,05,930
4. GIUSEPPE ZANOTTI, Metallic leather sandals, approx. Rs. 74,700
1. MICHAEL LO SORDO, Paloma silk-satin halterneck gown, approx. Rs. 1,49,860
2. ISABEL MARANT, Silver-tone crystal earrings, approx. Rs. 38,850
3. JUDITH LEIBER, Rose crystal- embellished silver-tone clutch, approx. Rs. 5,86,450
4. JIMMY CHOO, Saeda 100 crystal-embellished satin pumps, approx. Rs. 1,28,340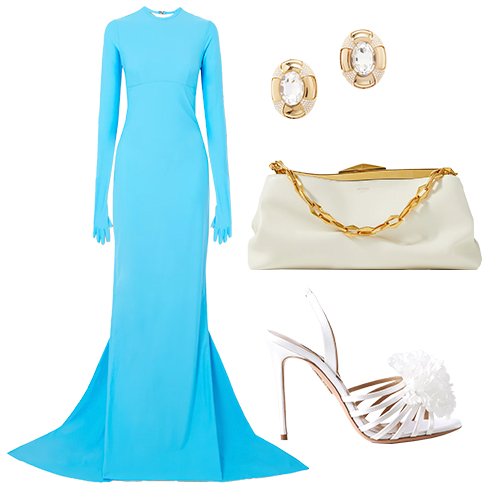 1. BALENCIAGA, Open-back stretch-jersey gown, approx. Rs. 3,36,430
2. SAINT LAURENT, Gold-tone crystal clip earrings, approx. Rs. 1,05,440
3. JIMMY CHOO, Bonny leather and gold-tone clutch, approx. Rs. 3,39,160
4. AQUAZZURA, Love Carnation 105 appliquéd satin slingback sandals, approx. Rs. 1,10,265