Time To Meet Our Lovely And Graceful Cover Star For L'Offciel April Edition, Mengjie Jiang. With Her Aura, She Is Here To Make Heads Turn.
Team Credits
Model: Mengjie Jiang @jiangmengjie
Photographer: Liang Siwei
Stylist: Lynn Ryu
HMUA: Simeng
Executive Producer & Art Direction: Zhiyu Qu @zhiyu_qu
Director: Gong Cheng
Production Coordinator: Rico
Producer: Even
Creative Director: Vyoung-Vermouth Liu @mr.vxx
Production Manager: Rock Management @rock.mgmt
Production Assistant: Su
Lighting Assistant: Dawei
Mengjie Jiang, our stunning model, is defined by a heart that values love and passion for everything, and gratitude for her acting career. We had a great conversation with her and realised that many others may learn from her experience. Her respect in her line of work is justified by her love of fashion. Read on to learn more about how she views fashion, beauty, and love in her novel.
Suit: ISSEY MIYAKE @isseymiyakeofficial
Necklace: METOO
We would like to extend a very warm welcome to you! Let's begin with knowing you better. Tell us about your background. 
Hello, my name is Jiang Mengjie. I come from Wuhu, Anhui Province. I was admitted to The Affiliated Secondary School of Beijing Dance Academy when I was 11 years old and studied ballet for seven years. Then I was casted as Lin Daiyu in the new version of Dream of Red Mansions, and I've been acting ever since.
How would you describe yourself in 3 words?
Free, spontaneous and purposeful.
Suit: ISSEY MIYAKE @isseymiyakeofficial
Necklace: METOO
You have come a long way in your acting career, which were some of the hardships that you overcame in all these years while pursuing acting as a career?
The initial transition from a dancer to an actor was very stressful and difficult. At that time, I didn't know how to act. It was very difficult for me to change from the physical performance of dance to the physical expression, emotion and language expression. However, after long-term learning and accumulation of acting, I think I have made great progress.
What do you like to do in your free time?
I like to see exhibitions, listen to music and watch movies. I've been doing a lot of sports recently, like learning to play golf and tennis. When I'm not filming, I have two tennis lessons and one golf lesson a week.
Since you have a fashion statement beyond doubt, we would like to know what is the one thing you love the most about fashion. 
I think fashion is a sublimation of our attitude towards life under the guarantee of our basic life. It is something that can make people feel better and pursue beauty more. So, for me, fashion is not simply following a certain trend, but about finding something you like and that suits you.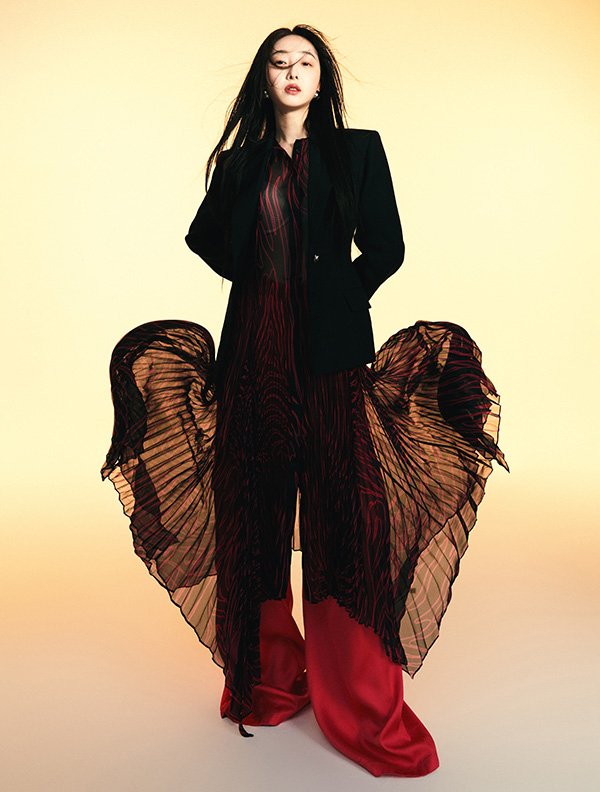 What is the secret mantra you follow that keeps you going, no matter what the situation is?
Love. As long as you love something, no matter what kind of difficulties you encounter, you can stick to it. And whether you're talented or not with what you do, there are going to be obstacles on the road to self-improvement, and you will constantly encounter new challenges. When you love a particular thing enough, you will not feel that you are suffering, but you will think that is a necessary process.
Top: Mashama
Accessories: Vera Wang @verawang
Trousers: NONHUMAN
Necklace: Espiegle
When did you feel the proudest of yourself in light of all the fantastic things you have accomplished? 
Every time my movie comes out, I feel precious when I see myself in the theatre because I played a new story and character. This feeling is very subtle and I'm so proud of myself.
If not acting, what profession would you have picked up?
I would do some work related to dance education because I have been studying ballet since I was a child. Also, I might do film production, or engage in some work related to art, like opening a gallery and so on.
You've done a tremendous job in the past. Tell us something about your upcoming projects.
There will be three projects coming out continuously this year, and I will be a part of more films.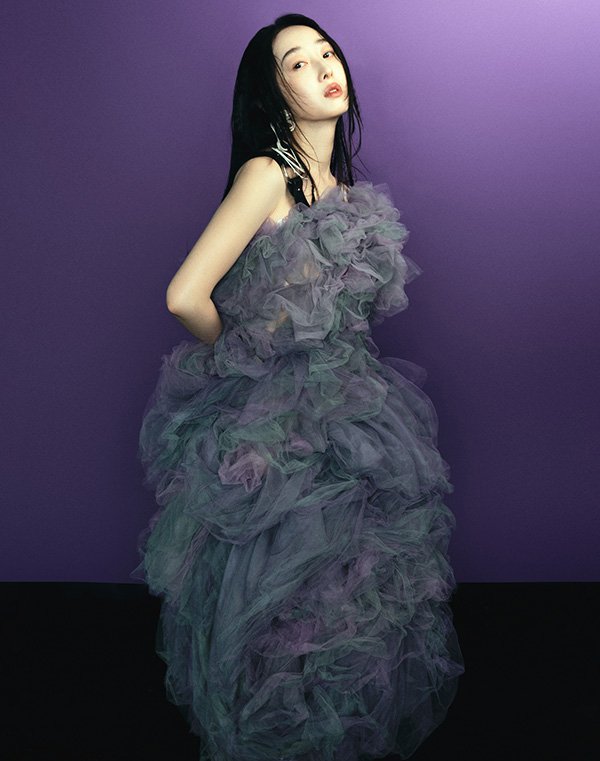 Dress: Vera Wang @verawang
Shoes: Lucia Tacci
Earring: METOO
Last but certainly not least, what words would you like to share with our lovely readers? 
I think L'OFFICIEL is a magazine that has been leading the fashion trend for many years. It not only gives us a lot of fashion trend information but also allows us to see a more diversified life.