Get your hands on your monthly dose of fashion, entertainment, beauty & luxury. March is the month of joy and festivities, curl up by the fire and read to your heart's content!
TAG HEUER CARRERA CHRONOGRAPH X PORSCHE ON THE ROAD TRACK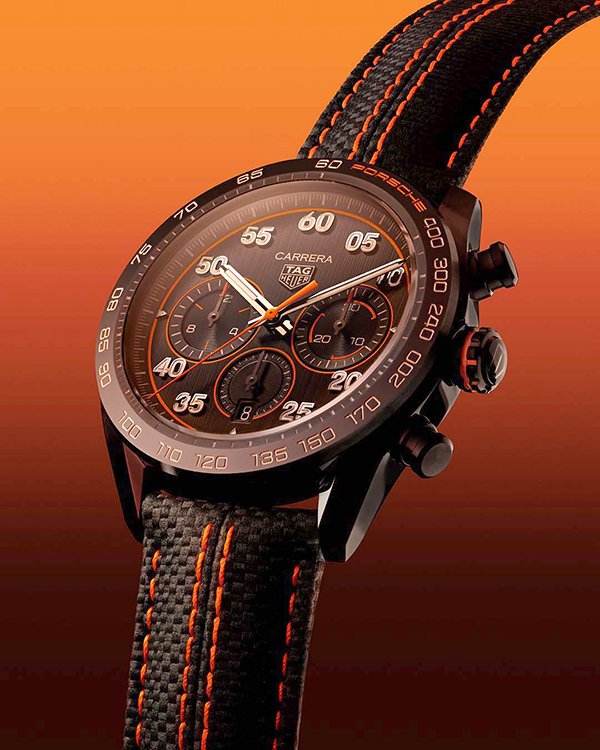 The TAG Heuer and Porsche partnership is a match made in heaven. It officially started in 2021, with the introduction of this TAG X Porsche Carrera, however, it goes well beyond sponsorships of racing events for marketing purposes, and a special edition watch. Now both brands are winning watch fans with special editions. Including the latest TAG Heuer Carrera Chronograph X Porsche Orange Racing. Their new collaboration is based on a Carrera Sport Chronograph presented in 2020, and it follows the TAG Heuer Carrera X Porsche of 2021 and the Yellow edition of 2022. All three TAG x Porsche come in a 44mm case, driven by a high-performance Calibre Heuer 02 and capable of racing non-stop for 80 hours. The difference between these models is visible but purely aesthetic. Just as you choose a colour for your car, TAG Heuer X Porsche lets you decide if asphalt grey and white, black and yellow, or black and orange is your thing. TAG Heuer explains the orange "was inspired by the colour of the heat sparks made by the car on the asphalt." Making lots of vibrant sparks, the winding rotor, shaped after a Porsche steering wheel. And the folding clasp with double safety push buttons on a textured black calfskin leather strap. The black dial has a vertical brush finish – this is new to this edition. This is also particularly important because this year TAG Heuer celebrates 60 years of the Carrera watch.
NEW FRAGRANCE DESTINATION: LE BON MARCHÉ
Celine has expanded its niche fragrance footprint with a shop- in-shop opening in Paris' Le Bon Marché department store. The space measuring about 270 square feet sells Celine perfumes, candles, fashion accessories and small leather goods, including vanity sets and perfume cases. Marking the brand's first dedicated Haute Parfumerie located in a department store, it is found in Le Bon Marché's ground- floor beauty area. A Celine fragrance pop-up stood in the department store's beauty space, and Celine scents had been sold in the brand's accessories and leather goods corner at Le Bon Marché. Each perfume in the collection reminisces a moment, a place or people close to Hedi Slimane, the brand's creative director. The new department store shop-in-shop's design echoes the freestanding store's Art Decor influences. There are Grand Antique marble surfaces and gradient mirrored shelves displaying rows of bottles, in what the brand referred to as a "perfumer's organ."
SOPHISTICATED AND WELCOMING AESTHETICS OF NEW BOUTIQUE
Japanese watchmaker Grand Seiko has opened a new boutique at Marina Bay Sands resort in Singapore, the brand's first retail location in the country. In response to growing demand and as part of its continuing expansion in the Asia-Pacific region, here comes Seiko Watch Corporation. Singapore is home to some of the most knowledgeable and passionate luxury watch enthusiasts in the world, and now with direct access to the Grand Seiko world. Aiming to strengthen its presence in Asia,
Grand Seiko's brand philosophy is "The Nature of Time", celebrating the Japanese spirituality of time that is deeply inspired by nature and brought to life. Designed to reflect Grand Seiko's core values of Takumi (expert craftsmanship), Tradition, Nature and Modernity. Grand Seiko's new abode is themed on understated elegance, just like the brand's many acclaimed timepieces.
THE FOREVER GUILTY CAMPAIGN
Julia Garner, A$AP Rocky, and Elliot Page walk onto a set as an eclectic crew, and, it turns out, the beginning of a whole new era for Gucci Guilty — specifically, the Guilty Pour Femme and Pour Homme fragrances. The just – released campaign is an ode to self-acceptance, friendship, and love in all its forms, making this trio the perfect one to drive the message home. The star-studded trifecta come together to create a pure moment of open – hearted bliss. Prominently featured in the campaign is Gucci Guilty Eau de Parfum Pour Femme, an energizing, spicy, and refreshing scent featuring notes of pink pepper, lilac, and Mediterranean Mandora citrus, with a strong, warm base of amber and patchouli. The yin to its yang, Gucci Guilty Eau de Parfum Pour Homme, generates a deep sensuality, embracing a base of patchouli, leather, and incense, while deviating from a traditional male scent profile with uplifting notes of orange blossom and neroli.
THE UNEXPECTED SURREAL COLLABORATION
German luxury automaker Mercedes-Benz and Italian luxury fashion house Moncler recently revealed their unique art collaboration, dubbed Project Mondo G, on a Mercedes-Benz G-Class off-roader. It's the first time that Moncler has collaborated with an automotive brand and the art piece showcases the creative opportunities and potential that arise from merging the worlds of automotive and fashion design. The near-perfect geometric design of the G-Class combines well with the lined patterns of the Moncler reflective surfaces. The unique design is most prominent on the roof of the car and large, open wheels. On the back of the car is the Moncler branding, in the shape of a huge zipper detail. The campaign visualisations were shot in a winter landscape inspired by the outdoor durability and limitless discovery opportunities of the off-roader G-Class and the puffer jacket of Moncler. Set in an imaginary universe with low gravity, the campaign captured fashionable moments of Moncler with models in conceptual looks from the brand's collection.