Get your hands on your monthly dose of fashion, entertainment, beauty & luxury. November brings the winter season with it. If you're also excited, read on!
SAVOIR-FARE WITH AN EQUESTRIAN TWIST!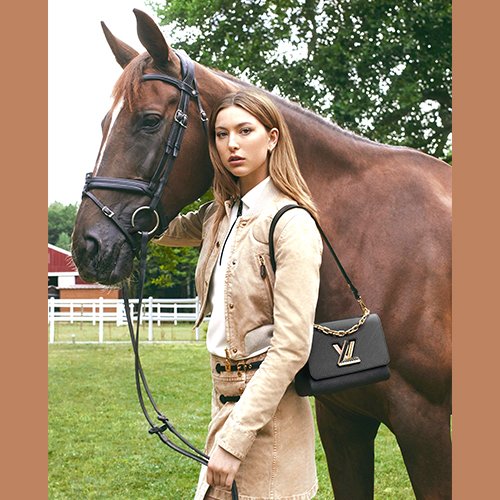 Louis Vuitton a French Fashion Label is a part of LVMH Group and among the world's most valuable brands. The brand is embarking on a journey with accomplished equestrian Eve Jobs posing with the season's twist bags. Standing out as an emblematic creation that perfectly articulates the Maison's savoir-faire, the Twist's youthful and sophisticated design is defined by its iconic LV lock and graphic shape. For Winter 2022, Louis Vuitton puts a stylish and modern spin on the bag with the new Lock Gourmette, an elegant jewel-like feature that combines colorful strass and enamel parts with engraved Monogram and metal.
BOLD MOVE – MASERATI X BARBIE
Italian luxury icon Maserati is thrilled to unveil an audacious collaboration with Barbie. The mutual desire of both the brands drove them to break boundaries and showcase the unique flair. With their extraordinary personality and signature style, Maserati and Barbie unleashed their creativity in a masterpiece of timeless design and bold character, inspired by the Barbiecore phenomenon. This unconventional collaboration ultra-limited SUV edition Maserati Grecale, is selected by Barbie to match her multi-faceted lifestyle ranging from a business meeting to a glamourous event. In full Barbie fashion, an expression of her iconic pink hue covers nearly every inch which pulsates pure adrenaline.
BALMAIN IN LIVING COLOR WITH PRINCE GYASI!
Luxury House enlists visual artist Le Petit Prince to tell the story of the Balmain Fall Winter collection. This artist is retelling of the legendary fable "Le Petit Prince". Balmain tapped a visual artist for an electric reinterpretation of Antoine de Saint Exupery's "Le Petit Prince" by Prince Gyasi. To continue the March's Fall – Winter 2022 runway presentation, indeed the Gyasi's modern interpretation pulls vibrant recreations. There is a unique relation to color and his love for his home – Accra Ghana where the campaign was cast and captured – has rooted his beautiful hyper chromatic compositions in strength and dignity.
MAKE IT YOURS! FT. MISS DIOR
We all look forward to collection launches from iconic fashion houses, but fragrances can be just as much a part of the luxury fantasy as any piece of clothing taken off a runway. Dior's new Miss Dior Eau de Parfum comes with its own luxurious and signature scent but includes a unique element. It becomes more couture than ever with its new embroidered guipure lace bow hand-tied across the neck of the iconic bottle. Inspired by the world of couture, Dior partners with Potencier ateliers, a French embroidery house since 1883, to create an exquisite embroidered guipure ribbon. The most intriguing part is that one can customise the bow. Choosing the label and ribbon of one's choice i.e., pink, blue and black and can also embroider your initials! Isn't it so fascinating?
RUNNING A LOT MORE FASHION! LOEWE X ON
LVMH's oldest luxury fashion house Loewe, a Spanish luxury fashion house specialising in leather goods, clothing, perfumes and other fashion accessories has collaborated with ON. A rich history of handcraft expertise fusion with technical innovation for a reinterpretation of outdoor gear. It marks ON's first venture into the luxury world. The collaboration includes six ready-to-wear pieces. The capsule of running gear includes a T-shirt, jacket, trousers, and leggings, and arrives in two colorways – a blue and a gold version – each using ON's futuristic technology to create weather-adaptable jackets and pants, temperature-regulating tees, and so on. The footwear is in focus for the collaboration. The capsule features sneakers, arriving in five colorways including "Gradient Blue," "Gradient Khaki," Gradient Grey," "Gradient Orange," and "Space Blue." This collaboration is indeed making running a lot more fashion!
EXPLORATION INTO THE LIBERATING AND UNIQUE VALENTINO TOILE ICONOGRAPHY
Italian Fashion Label Valentino is applying luxury's logomania obsession to new mediums. The brand fuses iconography with the human form of the new Toile Iconography campaign. The obsessive and exaggerated logo-centric print finds its way onto every surface. These infinite repetitions of the logo goes head-to-toe in this ready-to-wear and accessories selection of Maison's latest campaign. This all-new campaign brought life to the resignification of Maison's codes blending atop the skin and highlighting the one wearing it.