Get your hands on your monthly dose of fashion, entertainment, beauty & luxury. March is the month of joy and festivities, curl up by the fire and read to your heart's content!
After fully wiping its Instagram feed clean — talk about a fresh slate — Burberry and Daniel Lee released their debut campaign on February 06, unveiling the first creative expression. Under the direction of the former Givenchy creative director, Burberry
revealed a new house logo and archive-inspired print. This fresh branding isn't only about face for the 162-year-old company. The new assets were also unveiled on the brand's own Instagram account, where in addition to the flashy new pattern and logo, the label shared correspondence between Tisci and Saville. The new logo introduces the traditional Burberry lettering in a thin and elegant font. Meanwhile, its classic horse emblem is previewed with an illustrative outline in white and deep blue hues.
DIOR INTENSIFYING SKINCARE TREATMENTS
French fashion house Dior's beauty division is enhancing the efficacy of its skincare products with an exclusive new facial treatment service Hydrafacial to develop a custom Dior powered by Hydrafacial experience which will be available exclusively at Dior spas from April 2023. The new 90-minute facial treatment was co-created by Hydrafacial and Dior. It includes a co branded booster, and combines the best of Dior skincare with Hydrafacial technology. It begins with a thorough face cleansing and exfoliation using Dior Floral Peeling Lotion diffused through Hydrafacial's Roll on handpiece. The skincare device uses patented vortex technology. Since the skin is perfectly prepped, the aesthetician will consider the client's specific needs and suggest additional Dior skincare treatments. The Dior Powered by Hydrafacial experience is creating protocols and forging partnerships with the best in beauty and skincare.
BTS'S J-HOPE THE NEW HOUSE AMBASSADOR FOR LOUIS VUITTON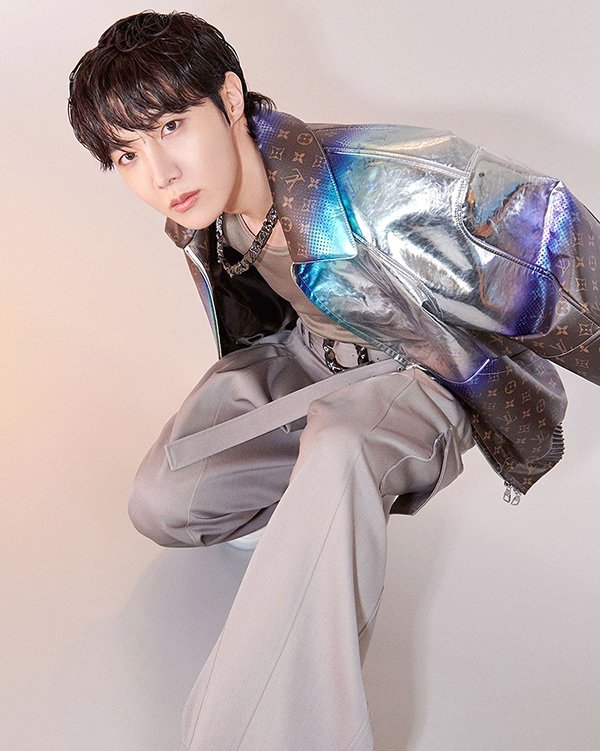 With more representation than ever, K-pop stars took over the Paris Fashion Week with multiple head- turning moments. First, Jackson Wang attended the Louis Vuitton presentation at the Cour Carrée du Louvre in Paris. Then, shortly after Jackson made an appearance at the Louis Vuitton Fall 2023 menswear show, and the luxury fashion house appointed him as its latest brand
ambassador. With over 31 million followers on Instagram, there is no doubt that Wang is one of the most widely followed K-pop icons. J-Hope's own innovative and unique style are a perfect match for the luxury brand. Not only does he exude the vibes of Louis Vuitton through his own charismatic fashion choices, his character embodies the brand's quest for excellence,
creativity, elegance, and a mix of tradition and innovation.
KALEIDOSCOPIA: A DREAMY COLOURFUL COLLECTION
The first new shape from KALEIDOSCOPIA — Bulgari's colorful new collection unveiled for FW23. The brand unveiling a fresh creation, inspired by the union of sea and land. With an adaptable Cobra chain strap, Serpenti morphs from a shoulder and hand-carry to a crossbody bag. An audacious mix of iconic designs, vibrant nuances and evocative details, this collection brings to shine Bulgari's eclectic spirit and joyful creative approach. To evoke the entrancing game of reflections generated by the interplay of colour and light, the collection is an invitation to uncover the richness, multiple layers and inspiring facets
behind each of Maison's creations. Once more lively and vivid gemstones serve as the Roman Jeweller's endless source of inspiration, conveying the charisma, effervescence and excitement of the Bulgari style. In honour of the 75th anniversary of Serpenti, the timeless Serpenti Forever Top Handle bag shines with golden skin and a snakehead closure encrusted with gems.
MEET THE PIAGET POLO PERPETUAL
It takes great watchmaking prowess – especially when it comes to combing these features in a legendary watch. But that is exactly what Swiss watch brand Piaget does with its newest Piaget Polo Perpetual Calendar Ultra- Thin watch. The new timepiece, crafted in stainless steel is powered by the brand's 1255P Caliber and boasts a moon phase display along with day, date, year and keeps track of leap year. Piaget Polo has always displayed the brand's sportier and bolder side, a departure from the fan-favorite, ultra-elegant, and indeed ultra-thin Altiplano collection. The revamped Polo collection debuted with three-hand and chronograph models, as well as a few special versions, but it is only now that we see Piaget engineer an ultra-thin perpetual calendar into the mix. The 42 mm-wide case measures just 8.65 mm-thick from its front crystal to its rear, courtesy of the Piaget Manufacture Caliber 1255P.