Smart Speakers Can Do A Whole Lot More, From Being Able To Tell You The Weather Forecast To What Time The Local
Supermarket Closes. Read On To Find Out What Suits You!
Smart Speakers are almost like family members, with people increasingly becoming dependent on them for everyday tasks. Now companies are working to develop a new feature that could sound exciting to some but eerie to others. Smart speakers can smartly control your voice, play music, make calls, and execute useful commands with one of the best smart speakers around. If you like the idea of being able to control household devices and access the near infinite amount of information online without even lifting a finger, one of the best smart speakers should be high on your shopping list. Paying gratitude to the wonders of artificial intelligence, we're now able to place any order without even touching a screen or keyboard and play music from our favorite band just by saying their name. It's time to upgrade your home listening experience with a high-end sound system. That portable bluetooth speaker you've been using might have done you well up to this point but your home and your ears deserve luxurious audio and aesthetics. Run through everything you need to know about the different brands
and types of smart speakers and dive into our narrowed-down top picks.
1. BOWERS & WILKINS ZEPPELIN WIRELESS SPEAKER
This wireless speaker from esteemed British audio manufacturer Bowers & Wilkins delivers smart functionality courtesy of a built-in Alexa. The smart assistant is perfectly responsive even when the Zeppelin is pumping out sound from its arrangement of speaker drivers. Mids and treble are wonderfully detailed and the bass is punchy yet controlled. The voice controls can only be used to open apps supported by the Zeppelin, which include Qobuz, Tidal and TuneIn.
Key Specs –
• Voice Assistant: Amazon Alexa
• Compatibility: Android and iOS
• Drivers: 5; Connectivity: Wi-Fi, Bluetooth, Spotify Connect, Apple AirPlay 2
• Dimensions: 650 x 194 x 210mm
• Weight: 6.5kg
2. BANG OLUFSEN BEOSOUND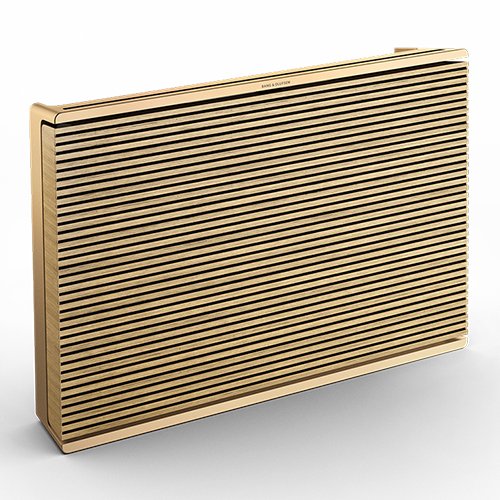 The Bang & Olufsen Beosound Level is a gorgeous speaker that's built to last. The company has designed the high-end model
to be repairable and upgradable over time. It's made of natural fabric and wood for a truly sustainable "cradle to grave" experience. It's a gorgeous flat speaker that comes with Google Assistant onboard or you can even buy it without a smart assistant for the same amount. Coffee tables, work desks, bookshelves – Beosound Level settles right in. Designed to look and sound incredible anywhere, it seamlessly connects to Wi-Fi while being free to move. The 16-hour battery life has you covered. Music in the kitchen? It's splash resistant! Sync it up, pick it up, and go!
Key Specs –
• Integrated music services: Bang & Olufsen Radio
• Voice Assistant Integration: Google Voice Assistant built in
• Remote control: Bang & Olufsen App
• Weight: 3.3 kg
• Dimensions: 34.8 W x 23 H x 5.6 D cm
3. BOSE SMART SPEAKER 500
Bose's Home Speaker 500 has Alexa, and a bit extra. This Bose speaker sounds pretty good, and it gets loud. It has hands free Alexa, Bluetooth, a 3.5 mm auxiliary port to connect directly to your phone or MP3 player, and six useful preset buttons you can assign to open a specific playlist or album from Spotify, Pandora, Amazon Music, and TuneIn. The display on the front show's album art and a few other prompts as effective as those on true smart displays.
Key Specs –
• Dimensions: 20.3 cm H x 17 cm W x 10.9 cm D
• Weight: 2.15 kg
• Compatible App: Bose Music App
• Bluetooth range: Up to 9 m (30 ft)
• Bluetooth version: 4.2
4. SONOS MOVE
An outstanding speaker, the Sonos has a well deserved reputation for producing smart speakers that sounds great but the Move is the best it has produced to date. Fitted with a battery so it can be lugged from room to room, and rugged enough to act as a garden speaker, too, it's the ultimate go-anywhere speaker. It supports either Alexa or Google Assistant, you can connect via Bluetooth or Airplay 2 and it sounds utterly wonderful. That's largely thanks to Sonos' TrueTone technology, which senses where in the room the speaker has been placed and automatically adjusts the EQ accordingly so it never sounds boomy or thin.
Key specs –
• Voice Assistant: Google Assistant or Amazon Alexa
• Compatibility: Android and iOS
• Drivers: 2
• Connectivity: Wi-Fi, Bluetooth
• Dimensions: 160 x 126 x 240mm
• Weight: 3kg
5. DEVIALET PHANTOM
Another speaker that's likely to stir conversation at a dinner party with its modernist design, the Devialet Gold Phantom will change the way you listen to songs you've heard a thousand times before with its immense output, void of distortion, saturation and background noise. Made from a sleek glass fibre polycarbonate, the speaker's peak power of 4500 watts and 108 decibels is akin to a rock concert, ideal for a solo, socially-distanced reproduction at home.
Key Specs –
• Dimensions: 252 X 255 X 342 mm
• Weight: 11.4 kg
• Synchronization: Phantom synchronization via Wi-Fi, Ethernet.
• Connectivity: Airplay 2, Spotify Connect, Bluetooth
• Apps: Devialet app iOS, Android