Why Should Girls Have All The Fun? This Time We Have The Male Gang To Talk About Fashion! Dive In And Get Hooked To
Your Favourite Character's Look And Learn How To Recreate It.
Emily in Paris' by no means is a hundred percent accurate portrayal of the 'French experience,' and does provide the perfect amount of visual eye candy that has helped make it a hit since its premiere. Aside from the stellar cast's organic chemistry, though, fashion, for better and worse, is the show's true main character. The third season has brought the action in more ways than one. It's a whirlwind in the best ways possible, folks! Along with the classic print mixing, bold colours, and maximalist aesthetic we've come to expect and adore from Emily and the gang, we're witnessing even more textural surprises like sequins and feathers this time around. It's a true sartorial feast for any fashionista and this time we have an eye on Emily's male gang. So, we're curating our favourite outfits of the characters. Dive in to recreate them for yourself.
JULIEN: THE ATTITUDE
Julien's fashion sense is one of the best things that makes him always stand out. His outfits are always stylish and modern,
with a touch of French sophistication. He never shies away in experimenting with different patterns, colours, textures, and
often mixing high-end designer pieces. With effortless chic looks he has gained a level of quirkiness in his appearance. Being
an extroverted young man, he never sugar coats his witty comments.
1. SAINT LAURENT, Slim Fit Wool and Mohair-Blend Blazer, approx. Rs. 246,370
2. SAINT LAURENT, Cropped Tapered Pleated Wool and Mohair Blend Trousers, approx. Rs. 127,720
3. BOTTEGA VENETA, White Ribbed Cotton Blend Tank Top, approx. Rs. 41,200
4. PEARLS BEFORE SWINE, Core Gold Chain Necklace, approx. Rs. 170,580
5. MIANSAI, Heritage Gold Vermeil and Enamel Ring, approx. Rs. 13,600
ALFIE: THE BRIT
The London-born, sarcastic charmer who refuses to immerse himself in French culture is none other than Alfie! Alfie may seem sarcastic and aloof, but underneath that strong exterior is just a big ol' softie. From knowing it well to switching from
work mode to fun mode, he helps Emily disconnect from work, relax, and have fun when she needs it most. The bad-attitude
Alfie we met in the second season has turned out to be quite the loyal partner to Emily in third season. So, if you are Team Alfie, we have curated one of his look for you, have a look!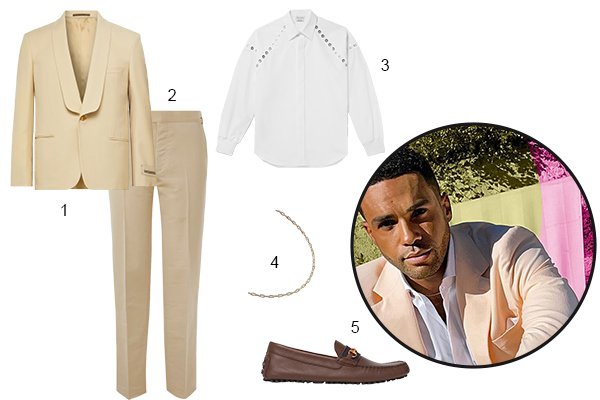 GUCCI, Beige Wool-Twill Blazer, approx. Rs. 2,14,260
TOM FORD, Straight Leg Cotton and Silk Blend Suit Trousers, approx. Rs. 82,490
ALEXANDER MCQUEEN, White Studded cotton Poplin Shirt, approx. Rs. 259580
MIANSAI, Volt Link Gold Vermeil Chain Necklace, approx. Rs. 67980
GUCCI, Ayrton Webbing Trimmed Horsebit Brown Leather Driving Shoes, approx. Rs. 59330
GABRIEL: THE CHIEF
Gabriel enjoys the finer things in life, and is quite the perfect example of this classic trait. Dabbling in all sorts of bougie French cuisine and wines, he's rocking with some Michelin-star taste. However, not to be mistaken as being artificial or materialistic, he's also known to be very grounded and down to Earth. Gabriel clearly displayed it by helping Emily live in the moment and
overall, just being a reliable presence for everyone in his life. Are you a fan of a 10/10 chef and ride or die? Hop in to recreate this look!
LORO PIANA, Unstructured Rain System Blue Linen Twill Blazer, approx. Rs. 1,93,540
BRUNELO CUCINELLI, Slim Blend Fit Tapered, approx. Rs. 98,830
TOM FORD, Slim Fit Silk and Cotton Blend Poplin Shirt, approx. Rs. 1,16,120
JACQUES MARIE MAGE, +Yellowstone Dealan Square Frame Acetate and Silver Tone Sunglasses, approx. Rs. 61,770
TOM FORD, Elkan Whole Cut Patent Leather Oxford Shoes, approx. Rs. 1,35,890