Winter is Almost Over, Which Means a Wardrobe Upgrade is Due. As the Cold Weather Bids Adieu, Spring is Ready to Wave Hello. So, Read on and We'll Take a Look at Some Great Looks From the Spring 2023 Runways.
Just like that, we've all entered February. That means, winter is on its way out and spring is knocking on our doors. Before we extend a warm welcome to it, we need to ensure that our wardrobes are primed to fully welcome it. And that means checking the long parade of all the fashion shows and the latest spring/summer 2023 collections from our favourite luxury brands. The first order of business is selecting two brands to focus on this month, and the spotlight has landed on Chanel and Valentino this time. Tweeds, ribbon and sparkle embroideries, short coatdresses, cardigan jackets – Chanel came prepared to slay! That doesn't mean Valentino was not prepared to do the same. Caped dresses emblazoned with the house's V logo, body suits designed to make women feel more comfortable with such gauzy materials, outfits tonally matching to the wearer, and sharp minidresses – Valentino also brought its A-game! If you're on the hunt for the latest fashion trends and looks to extend a heartfelt welcome to the spring season, this would be the time for you to pay careful attention. Let's dive into it and take a good look at the collections.
CHANEL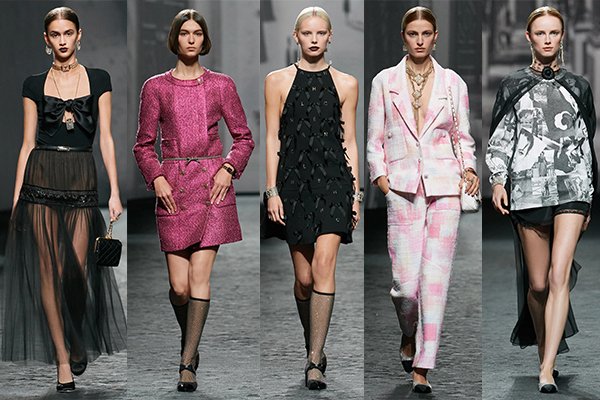 Chanel's spring/summer 2023 show was titled Allure – and rightly so since the collection was certainly very alluring! It opened with a black-and-white fashion film starring Kristen Stewart and the show notes talked about the allure spontaneously associated with Chanel that traverses all eras and is embodied by Kristen Stewart. The collection derived inspiration from this concept of allure, the link between fashion, film, and the arts – as well as a woman's freedom to be both herself and yet constantly new. Just like Chanel itself! The lineup was dressier than recent offerings from the brand and was bookended by a series of black-and-white looks. Flawless tweed jackets and cocktail gowns were embellished with black satin bow details, tiny sparkling crystals, or ostrich feathers. Some looks were trickier like the ruffle-edged halter tops paired with cotton bloomers and thigh-high mesh boots. A watercolour palette was also used and displayed through checkered tweed jumpsuits, speckled capes and coats, and a crystal-trimmed pyjama shirtdress. Graphic prints were also in attendance. The collection turned out light, nuanced, and with a palpable sense of the here and now.
VALENTINO
Valentino's collection was entitled 'Unboxing' and it looks like Valentino has had enough of pink. Through the collection, the creative director Pierpaolo Piccioli presented an idea that focused on individuality to reference how couture collections are made. Almost every design had a "base" made to match the skin colour of the model and was created in stretchy fabrics so it could fit a range of body shapes. This idea was derived from the bustiers used to underpin couture gowns. Piccioli reimagined them as a kind of shapewear to create a minimalist second-skin effect or a base layer for just about every look. Pleated cape dresses, sparkly cocktail frocks, and sheaths in 5 hues were not the only looks witnessed. Some outfits were tonally matched to the wearer – dark brown cropped shirts with sweeping chiffon cape backs, pale beige tops with slouchy pants, or a sharp black minidress with a diagonal cut-out back. Piccioli stripped away all excess by making use of a single fabric for each look. The new Valentino Toile Iconographe also appeared on ample looks.