Let's explore Japan's northernmost prefecture, also known as the kingdom of food in Japan.
We've covered a snowy haven for the ones seeking wintery vacation destinations, this time we have a place that is a little less cold. Japan's northern island, Hokkaido, has more than earned its reputation as one of the top travel destinations in Japan. Famous for its stunningly beautiful wilderness, world-class powder snow, scrumptious seafood, and fascinating indigenous culture, it is located just a short flight away from Tokyo. Hokkaido is also the only region that is its own prefecture and is Japan's ultimate winter wonderland. Home to some of the best food in the nation, Hokkaido is the ultimate paradise for food lovers. Boasting the incredibly primeval serenity of the UNESCO World Heritage listed Shiretoko Peninsula and Asahidake – Hokkaido's tallest mountain, this prefecture is home to some absolutely amazing natural wonders. There is a lot to see and do here that will make your vacation interesting – visit the largest city in Hokkaido – Sapporo – as it hosts the amazing snow sculptures of its annual Sapporo Snow Festival or avail the numerous skiing opportunities the prefecture has to offer. Most parts of the prefecture are wild and unspoiled and have natural hot springs, volcanic lakes which help create unforgettable experiences. With a rich cultural and historical diversity, Hokkaido makes for the ultimate travel spot. If you're intrigued, take a closer look at what might become your next vacation destination.
THINGS YOU CAN DO IN HOKKAIDO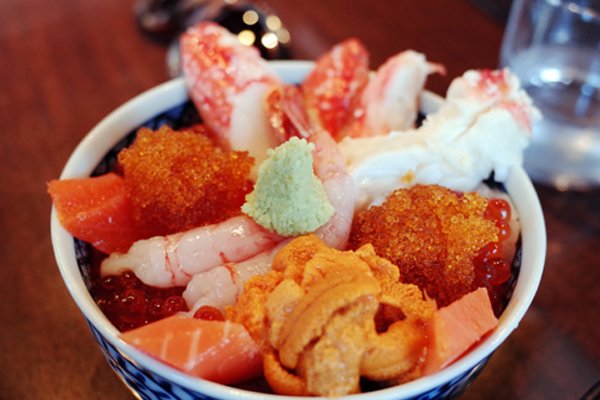 You'll find great food here.
Home to some of the most peaceful and luxurious hot spring locations in Japan, you will find numerous hot springs to take a dip in. Traditionally thought to be a cure for just about anything, locals and tourists alike head to these onsens to rest, recharge and relax. On the other hand, if cold weather activities are what interest you more, then you can go skiing here. Home to the 1972 Winter Olympics, the mountains in Hokkaido have some of the best skiing conditions in the world. Skiers and boarders from all over the world flock over to the resorts in Hokkaido to experience the finest powder snow and you too can easily have fun skiing here. Hokkaido also boasts countless seasonal festivals which keep things lively all year round and there is something here for every kind of traveller. Hokkaido is also the ultimate hiking destination. The mountainous terrain, green landscape and deep valleys make hiking here adventurous and thrilling as several mountain trails take hikers across still-active volcanoes.
Another thing to explore here are the street markets. Known as the "Kingdom of Food" among the Japanese, the prefecture offers some of the freshest seafood, produce, and dairy products in Japan. These curb side markets in Sapporo are a great place for locals and tourists both, to buy local produce, that too at wholesale prices. You will also find several sushi and sashimi restaurants stationed throughout the market if you want a quick lunch. Be sure to check out the impressive parks and world heritage sites Hokkaido has on offer. With rich biodiversity, pristine lakes and rivers, active volcanoes, and much more, these national parks are peaceful to visit.
Places to Visit
The Blue Pond
Sometimes, accidents result in beautiful creations. The Blue Pond is an example of such a happy accident. Located near the town of Biei, the pond was actually created in order to stop the damage from the mudflows to Biei from the nearby active volcano – Mt. Tokachi. The pond has become a spiritual place for many. The pond's colours range from a vibrant turquoise to emerald and cobalt blue. The Shirogane Onsen is right near the pond and is a great place to sit back and relax after a long day of travel and sightseeing. The waters have earned an odd nickname: "Onsen Without Using a Walking Stick." This is because people bathing here reported not needing their canes after taking a bath there. Its waters are reportedly beneficial for chronic skin diseases, constipation, arteriosclerosis, and neuralgia. You can take a bus from the Sapporo Station or take a sightseeing taxi. Blue Pond is located along the prefectural road number 966. There is also a parking lot next to the road if you're taking your car.
Otaru
A small harbour city, Otaru is situated about half an hour northwest of Sapporo. It has a beautifully preserved canal area and interesting to see herring mansions that make it a pleasant day trip. You can attend the Snow Light Path festival here or visit the breathtakingly beautiful Otaru Canal. It is also home to a fantastic arts scene that also features the glass-blowing industry. You can also feast on some of the most delicious sushi in the region here since the town is located on the harbour. Don't forget to try the delicious ice cream here. Take a stroll along the banks of the waterway. In the evening, the promenade is illuminated with ancient oil lamps that give the place a beautiful, old-world feel. You can also explore the Otaru Museum. For the beer lovers, you can visit Otaru Beer – a famous beer hall in the city where you will get the freshest tipples since they make their own beer here. Otaru is also home to the main music box industries in Japan and if this is something that interest you, you can learn about it at the Otaru Music Box Museum. Another signature attraction here is the Steam Clock that occupies the pride of place in the city and is an iconic sight in the city that shouldn't be missed.