The Year Is Not Ended Yet, As We Are Still Not Over From Our Favourite Looks From The Fashion Shows! So, Dive Right In To Know All About Them.
End of the season, last month of the year and all the joy, creativity, innovation, glamour around the fashion is eagerly lingering for New Year. In this year fashion took many twists and turns and presented many innovative ideas from talented fashion designers around the world. Afterall, Fashion is all about bringing flairs and flavours of life's shades and patterns in a new and ingenious way. December means we are celebrating happiness marking end of the year, we are unveiling the best collections from the runway shows. Gen-Z pay exceptionally close attention to fashion shows for marking their new obsessions. Fashion shows knock off the high fashion looks and are the trendsetters for the season. Time and again designers have proved their mettle as they channelled their inspiration through different dimensions of fashion. This year we were astounded by their renewed focus on each and every element of their creation. From subtle presence to extravagant they have done it all. Audiences of each fashion show were thrilled and elated by the overall sensuousness, meticulous detailing efforts and element of surprise in their designs.
1. DIOR
Paris Fashion Week is always the culmination of four fabulous weeks of style. This year Dior kicked things off. On the fall Christian Dior runway, Maria Grazia Chiuri looked to the future and the ways in which technology will reshape—and is reshaping fashion. The collection had an element of autobiography. Each time the brand shows its new collection, there's guaranteed to be a subtle new play on intellectual messaging from creative director Maria Grazia Chiuri, as well as a star-studded front row. This year, there was also an immersive castle set and striking dancers. This collection also offered up more of a fantasy-fuelled storytelling element than the recent collections.
2. VERSACE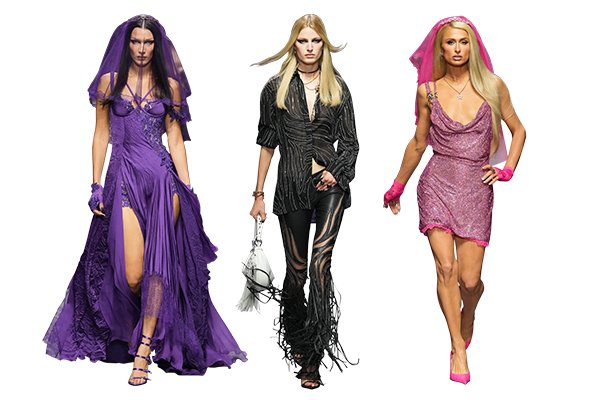 Italian luxury label Versace mixed tiaras and studs for its latest womenswear creations at Milan Fashion Week. Versace married gritty and divine for the Milan Fashion Week 2023. It looked like Donatella Versace was going goth for spring. The first four models, who emerged together, seemed to confirm it. Versace's vision of black was well-executed and kept the darkest hue exciting through embellishment, layering, styling, and playing with proportions—which the label is known to do. It's easy to see how Versace could get a grasp on such a directional purple as they have brought more power in purple and monochromatic dressing.
3. MICHAEL HALPERN
Best known for his sequinned disco aesthetic and love of unabashed glamour, Michael Halpern opened his London Fashion Week 2023 show a little differently this season. The designer has never been one for restriction. In idiosyncratic fashion, his collection embraced escapist volumes and unabashed ostentation. Halpern's new collection could easily be divided into chapters, with each one referring to precise periods in the designer's core memories. Looks featuring sumptuous velvets, bold leopard prints, sequins and XXL puff sleeves were inspired by childhood memories, while the latter part of the collection celebrated the 60th anniversary of the Barbie Dreamhouse with iconic throwback looks reimagined for the modern woman.
4. TOM FORD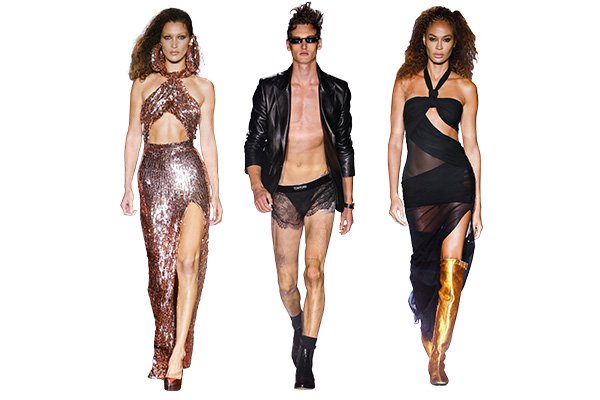 To close out New York Fashion Week 2023, Tom Ford served us a sexy nightcap and a disco bride to boot. There was razor-sharp silk and brocade suiting in pastel metallics, barely-there mesh tops with sequin appliqués, and spectacularly tacky Bermuda shorts with even more sequin patches. If you are looking for a heady dose of glamour, here it is! Tom Ford's continuously evolving vision for the modern-day woman resulted in, without a doubt, the most glamorous show of the season. The standout men's look of the season was a leather blazer paired with a dainty jockstrap replete with a doily-sequel short. Designers can take cues from his oeuvre.
5. LOUIS VUITTON
The lights at Paris Fashion Week 2023 led Louis Vuitton showcase its collection brightly, starry and vibrant. Rounding out the fashion season, LV displayed the surrealist world full of childhood imagination. Dramatic drums echoed in the background of such a playful and contemporary collection. We evidenced that there was method in the madness – the designs' sheer vibrancy giving a coherence to the collection as a whole. For LV, next season's zippers, buckles and pockets will come in XL sizes for womenswear, as sleeveless tops, skirts, pants and jackets have been adorned with some of the largest-ever zipper sizes. The French luxury brand adopts a "more is more" attitude, offering oversized zippers, puffy collars and exaggerated prints that truly steal the show.