Now You Can Buy Goods In Bulk, And Hoard Your Jars Of Preserves, Fermented Foods, And Bottled Vegetables, Because We Have Got The Best Pantry Ideas For You.
Without reference to where to keep the food and stuff, it's impossible to build a functional kitchen. Thus, the pantry is the essence of the kitchen. Having an adequate and ample kitchen pantry is efficient. It is often the most hidden space in the house, but that doesn't mean you should neglect it. In fact, smart storage solutions and savvy design can make life easier and snacking a lot more stylish. In the recent years, pantries have seen a resurgence in popularity and tend to be used in storing tableware and to stock cupboard foods which don't perish. A pantry serves as a place to store food products and appliances, from jars of pasta, and bottled sauces, to an integrated coffee machine, etc. The design usually includes a combination of shelving, drawers, or door racks to offer a variety of storage solutions and can be personalised according to a person's available kitchen space and shape. Let's have a look at the most stylish pantry ideas!
1. RICH WOODEN INTERIOR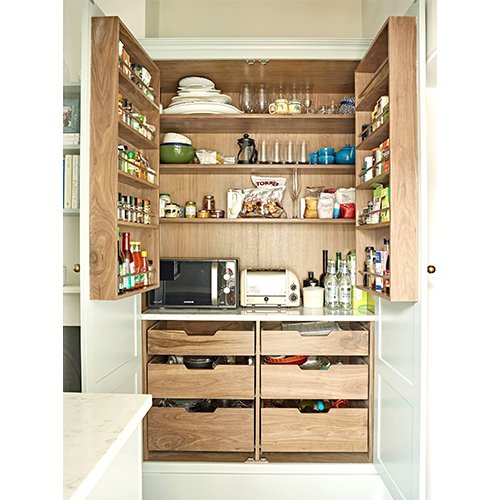 After several years wood is making a comeback in the furniture industry. Undoubtedly, it's versatile, light, carbon-
capturing, and seems chic. A stunning rich wood interior indeed steals the show and ensures the piece looks as good open
as it does when close. Plywood is the go-to material for shelves and edges can be finished with iron-on veneer banding or wood trim. Wood helps you to fulfil your home aesthetic dreams and gives an attractive look to the pantry. At the same time, the smooth surface of wood shelves is easier to clean compared to multiple surfaces. Wooden shelves are adjustable
and can withstand heavy weight, you can feel confident storing glassware, heavier dishware, and small appliances.
2. LATEST PANTRY DOORS WITH GLASS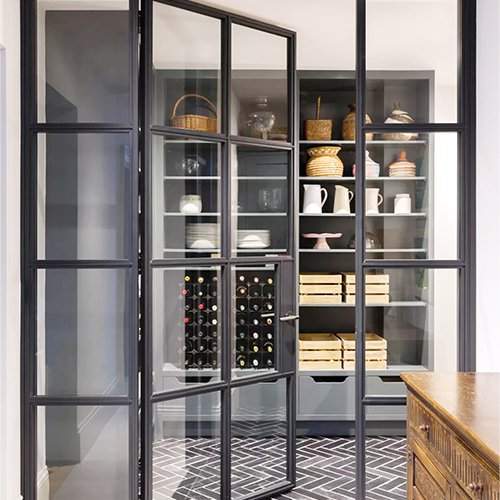 Latest Pantry Doors with Glass
Get ready to give your pantry a classic look with glass doors. Architectural framed glass draws attention to the interior, creating a feature that's as valuable aesthetically as it is practically. It is a modern addition to the pantry and emphasises the look greatly. Thus, glass doors are a great pick for the kitchen, giving it a vibrant look. This idea makes your kitchen look luxurious and elegant. We hope that we inspired you to build a pantry and design it well. The clear glass panes pair well and give perfect brightness and air and prevent dust from coming inside.
3. THREE-SIDED WALK-IN-SPACE WITH A DOUBLE PANTRY
Three-Sided Walk-In-Space With A Double Pantry
The most aesthetic part of a fabulous kitchen is a double pantry – with interesting bottles of infused oils, rustling packets of the finest truffles, artisanal jarred vegetables, and special seasonings. The act of opening a double pantry is truly a moment of awe and gives the process of cooking and entertaining a real sense of occasion. A walk-in pantry isn't possible in every home but, if it fits in with your kitchen layout ideas, a double pantry can give the sensation of a tree-sided walk-in space. A small corridor space leading out to the kitchen houses a built-in pantry with large double doors. And the shelving on both doors makes it more fascinating. Pantry is the ultimate luxury item and is becoming trendy in today's world.
4. MAKE THE MOST OF EVERY INCH
Make The Most Of Every Inch
Most pantry ideas require unique ways to boost storage. Pantry is where space- enhancing can really come in handy, making room to display items, such as spices – best stored in alphabetical order for ease of access – and taller bottles that don't fit conventional shelving heights. Make sure to design a pantry by utilising the space fully that you are working with. Whether there's a distinct lack of shelves in your pantry, or perhaps you'd like to separate your spices from your dried fruits and nuts. Use an organizer to keep this space neat and tidy, to use every inch of space, and to make dinnertime a little less chaotic. It's important to systematically arrange everything rightly.
5. FOCUS ON THE PANTRY DÉCOR
Focus On The Pantry Décor
The design details can transform a simple pantry into something truly extraordinary. If your pantry doesn't yet include colour, now is the time to consider it because this addition can make a purely functional space feel more curated and elevated. Adding colour to the pantry's wall and even to accessories on the shelves can be a great way to define the two spaces and ensure to bring a strong tone to the space. Effective use of pretty rugs, eye-catching artwork, and decorative elements in space will inspire one to well-organize and beautifully present the pantry. It makes the pantry look attractive at the same time. Interior is a game changer and enhancing the décor with one's own taste makes it more impressive.