We understand inspiration can strike out of anywhere, but being inspired by a trash bag to create a designer bag is too much! On that note, we have yet another Balenciaga creation that is best avoided.
One man's trash is another man's treasure – sometimes quite literally, as luxury fashion brand Balenciaga stuns everyone with its latest launch. Yet again making headlines for all the wrong reasons, Balenciaga has managed to cultivate a reputation of releasing the wildest products – and we don't mean this positively. If you think back a little bit, you'd remember the destroyed Paris sneakers or the high-heeled crocs that were just ugly- we don't have another way to describe them. Studying the brand's patterns of releasing the most outrageous products, it seems that the label has cultivated this strategy to just grab as much attention from consumers as possible.
Balenciaga: Trash Bag Large Pouch in Black
Although this creation makes one question the definition of luxury as well as poking fun at what fashion entails, the bag is not actually trash if we talk about the material. It is crafted out of calfskin leather and has a glossy coating. It also comes in a range of four colours – black, white, blue and yellow. Balenciaga has added drawstrings that need to be pulled to close the bag – reminiscent of actual trash bags. We have to give it to the brand though, the bag's likeness to an actual trash bag is astounding, it seems like a carbon copy of the very trash bag you probably yourself use in your own homes to throw out trash; except you cannot use this one for that purpose. But you also cannot exactly pair it with your outfits now, can you? Even though it is technically a luxury bag, you will be seriously laughed at the moment you step out of your house carrying this. We suggest you avoid putting yourself through such an embarrassing experience.
The inside view of the bag.
The idea took birth in creative director Demna Gvasalia's brain as she apparently "Couldn't pass up an opportunity to make the most expensive trash bag in the world, because who doesn't love a fashion scandal?" The bag was spotted in the brand's Winter 2022 show as a show of support from Demna to the Ukrainian refugees which does earn the product some positive points; just not enough for us to be able to justify anyone purchasing this!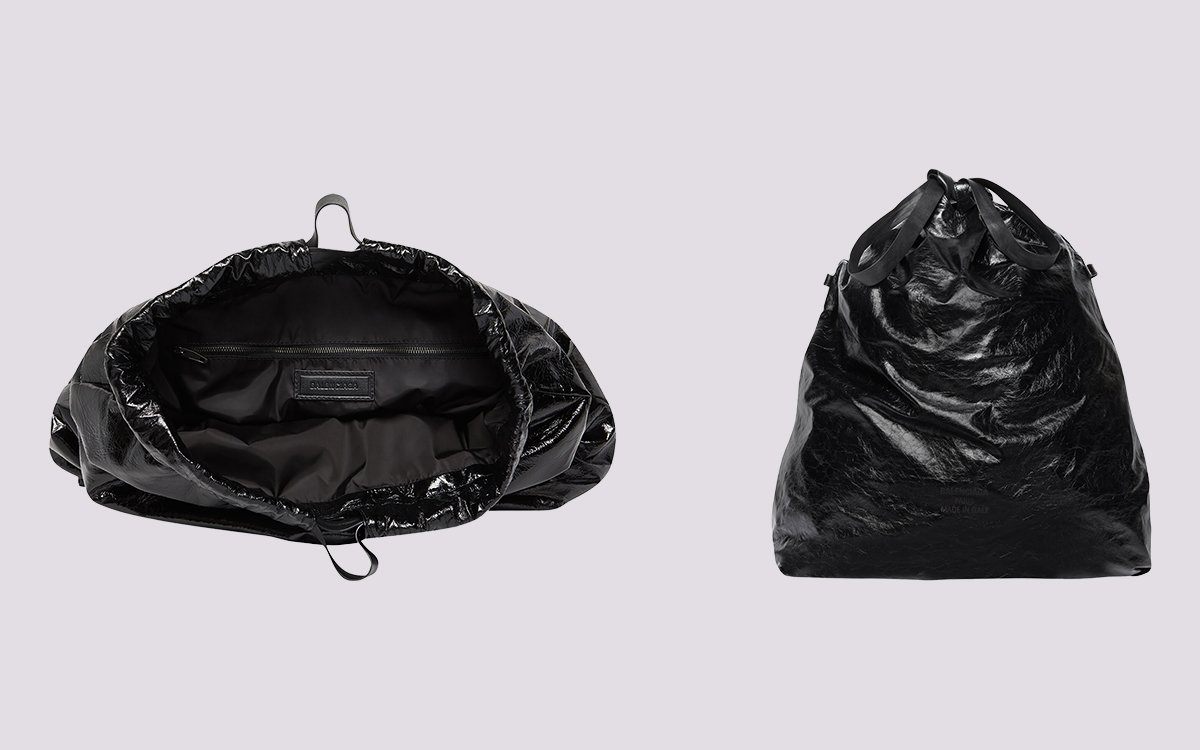 Balenciaga seems to be on a roll when it comes to creating the most senseless products that started with their distressed sneakers and has led to this trash pouch tote.
Balenciaga's penchant for coming up with loftily priced utilitarian products is becoming well-known globally. But hopefully, you know the drill by now, and understand it for what it is – just a way for the brand to generate more audience as well as a free-marketing tactic. Users have been calling the brand a social experiment that brings to light exactly how far humans can be swayed under the "guise of fashion" and we agree. We will sign off by saying that we don't recommend you purchase this trash bag, but if you wish to own something controversial then, by all means, go ahead, we won't stop you!