For lovers of fashion, the New York Fashion Week is the most important event of the year. Read on as we track the latest and greatest looks to hit the runways this year!
This is not a drill guys! The New York Fashion Week is back and we cannot keep calm! The sheer volume of collections that debuted on the runways of the fashion-obsessed city and the happening nightlife with its own dress code make it a not-to-be-missed event. Every year, models and celebrities, and several A-listers are spotted at the event, setting fashion statements and wearing bold and glamorous outfits. This year too, some truly spectacular collections were spotted on the runways and we are excited to share them with you all. For this time, the fashion month marked a return to New York in a huge way and the five-and-a-half days that followed were all about in-person runway shows that included several big names like Gabriela Hearst, LaQuan Smith, Collina Strada, Jason Wu, and many more. 
Gabriela Hearst put on an airy warehouse show at the Brooklyn Navy Yard and showcased a collection inspired by the Ancient Greek poet Sappho. Carolina Herrera's collection consisted of lush florals and was inspired by "The Secret Garden" in the Plaza Hotel in Manhattan. Some more spectacular collections were seen and so were several celebs and A-listers, which set the tone for the week – glitz and glam! Another highlight from the week was Fendi staging a special runway presentation to celebrate 25 years of the fashion house's iconic Baguette bag. Well, that's certainly enough talking for now. Let's take a look at some of the best collections from the runway for Spring 2023.
AREA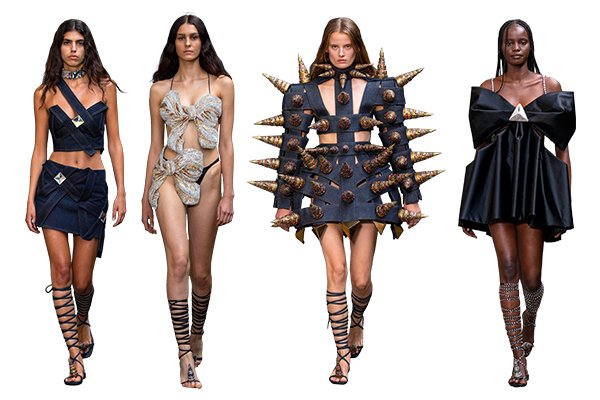 Area's Fall 2022 Ready to Wear collection was unlike anything you would expect to see at the NYFW Runway.
Area showcased its Fall 2022 Ready to Wear collection and let us warn you right now; it was something else entirely! The collection is unlike anything you would expect to see at a New York Fashion Week Runway but once you do see it, you'd be hard-pressed to imagine the runway without it. The collection was edgy, and was born out of the idea of "fetishization of fashion" and also explores concepts of ancient architecture, worship and fetish, demonstrating them through shape, construction and signature embellishment. It is clearly visible in every look from the collection that there was an exploration of the liminal space present between aggression and rebellion while still making wearable and sellable clothes. The opening look certainly set the tone for the rest of the show – a cage dress that was made out of bands of Japanese selvedge denim and had jumbo spikes all around the body, sleeves and the neck. We certainly plan to maintain distance from someone wearing this dress, but it does make one wonder about the practical implications of such a garment and exactly how wearable it is. There was a very wearable sporty denim dress underneath it though. The rest of the looks that followed were equally bold and daring and certainly something we can see becoming a trend in the coming months.
GABRIELA HEARST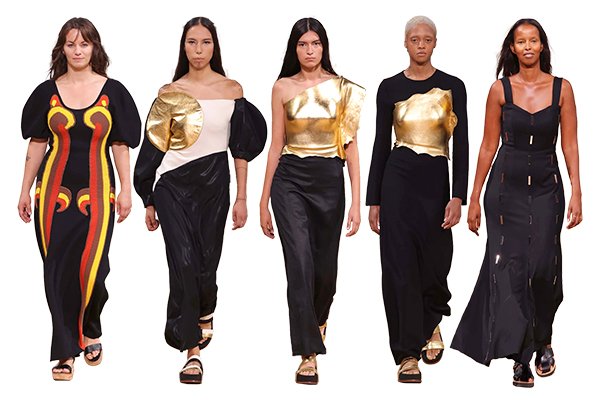 Gabriela Hearst put on an airy warehouse show at the Brooklyn Navy Yard.
Gabriela Hearst's show was more than fashion looks; she booked the Resistance Revival Chorus to sing "This Joy," a gospel song penned by Pastor Shirley Caesar. A feel-great moment was experienced by all, especially due to the diverse group of friends that were cast by Hearst for the same. Hearst's brand has female empowerment woven into it and this season's collection made it even more explicit. Her offerings for the Spring 2023 Ready to Wear collection featured a considerable amount of gold hues. The series of dresses that she opened the show with consisted of black jerseys fixed with moulded gold leather with ruffled edges extending beyond the torso. This addition gave off some serious Athena – goddess of war and wisdom – vibes. The looks that followed featured knit pieces inset with crocheted segments in fiery shades, conjuring up images of warrior women daring to approach the flame. The rest of the collection showcased some similar fine handicrafts that made for some truly striking looks. Soft ruched leather was seen in a pair of looks worn by Kirsty Hume and Carolyn Murphy; ivory dresses and well-tailored suits with three-dimensional gold thread embroideries were spotted. The collection also featured some colourful pieces. All in all, it was a show that was well delivered and we are truly loving the looks for the upcoming season.