If you somehow missed it, Halloween is almost here! Here's a list of places you should visit if you want to experience Halloween in its full glory.
What comes to your mind when we say Halloween? Probably kooky costumes, carved pumpkins, some scary decorations – probably Modern Family style – and a ton of sweets. That is what most picture, but the truth is Halloween actually has a history behind it that is more than such stereotypes. The word Halloween has its origins in the old English word – All Hallow's Eve and the old European celebration for the day. It was the eve of the Christian feast of All Hallow's Day during which the hallows were celebrated – the saints, not magical objects! The origin of today's custom of going trick-or-treating goes back to when people would dress up as saints and go door to door singing songs and asking for "soul cakes."
Halloween is celebrated in October end as it marks the change in seasons and the shortening of days and also because connecting with the dead is an important part of the festival. It is believed that the boundary between this world and the next becomes thin during this day. But over time, it has evolved into a light-hearted celebration and by the 20th century, turned into the costume-wearing, pumpkin-carving holiday we know today. But the spooky season is upon us and there is no better way to experience it than to have a trip to places that celebrate ghosts, goblins, and more with great pomp and circumstance. On that note, here is a list of places you need to have on your bucket list if you wish to experience Halloween in all its glory.
1. DUBLIN, IRELAND
Ireland is also known as the birthplace of Halloween.
Starting off this list, we have Ireland – better known as the birthplace of Halloween. Tracing the roots of Halloween to its origin, we arrive at Ireland's Ancient East where the Celtic festival of Samhain – a great celebration involving fire and feasting marking an end to the season of light and the arrival of the dark winter days. The Celts held the belief that at this moment of transition between the living world and the dead world, spirits could roam between them. The fear that such beings could pull them into the underworld well before it was their time to go, made the Celts start to wear disguises and costumes to confuse and scare off the ghosts, fairies, demons, etc.
If Ireland calls out to you, we have a list of things for you to do while visiting. Visit the Bram Stoker festival that delves into the legacy of Dracula's creator and runs from 30 October to 2 November. This celebration of all things Stoker celebrates Dublin's unique link to the author, the supernatural world, and Ireland's Halloween traditions. Although Dublin is a great starting point, you could also head over to Galway, Ireland's Capital of Culture, and a city known for going all out with its Halloween celebration. Dozens of Halloween-themed events take place all across the city. A Halloween night like no other is guaranteed, especially if you're travelling with kids.
You could also make your way to Belfast, where everything spooky starts from the beginning of October itself. Home to one of the most haunted prisons in Ireland, visitors can head over to the prison to see the 'Jail of Horrors' and 'Paranormal Investigations.' Or, you could head over to Boyne Valley, for a look into the history of the festival in Ireland. Home to the annual Púca Festival – one of the best Halloween events Ireland offers – the Boyne Valley has plenty to do and see when it comes to Irish folklore and tradition. The festival occurs between 23 October and 31 October and includes musical performances, light shows and much more.
2. NEW ORLEANS, LOUISIANA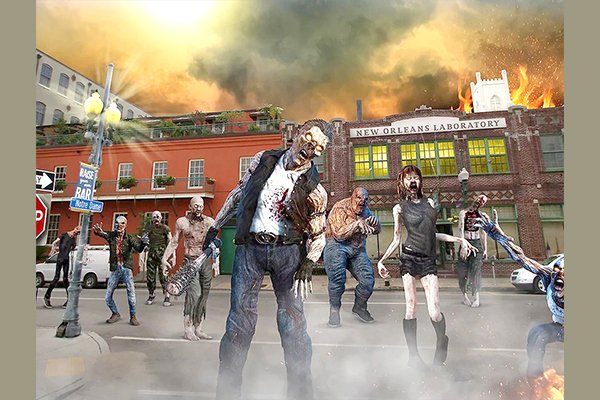 The Crescent City has haunted houses, ghost tours, and many spooky sights on offer.
A blend of cultures characterizes New Orleans which is the reason why it has a myriad of different traditions deep in its psyche. The city has its own traditions centered around Halloween. The Catholic, Voodoo, Irish and French influences converge, resulting in a great celebration of the festival. However, the quieter and older traditions, unknown to outsiders also deserve a mention in this list. The All Saint's Day is a time to pay respects to the dead and involves visiting the family tombs throughout the city. Families then clean and picnic by the tombs. The custom of cleaning up and regularly maintaining the family tombs is an important one and still continues to this day. It is followed by a mass to bless the dead. This is not all, many more traditions like the soul cake and the Dumb Supper also take place and are equally important. New Orleans takes its traditions and festivals seriously. Which means you're guaranteed a great night of festivities.
If you watch supernatural or fantasy shows, you would see that usually whenever something is related to vampires, witches, or any other supernatural creatures, it is usually set in New Orleans. So, if you're still unsure, let us tell you everything you can do here during Halloween. The Crescent City has haunted houses, ghost tours, and many spooky sights on offer. The Krewe of Boo organizes the most petrifying parade in the city and is an annual celebration of the spooky season. Watch the French Quarter turn into the Fright Quarter as extravagant floats roll out with riders and marchers in costumes on October 23. You could also pay a visit to the Museum of Death or head over to the New Orleans Pharmacy Museum. These two outings are guaranteed to send quite a chill down your spine. Another option is to visit the JAMNOLA and ArtMAZING Gallery which has spooky, special programs and exhibits on display for the whole October.
Hear the eerie tales of the ghosts residing in New Orleans as you take a tour of the city. These haunted ghost tours will surely leave a healthy appreciation in your mind for your ghost-less houses. You could even book yourself into a haunted hotel for optimum experience. Attend the VoodooFest on 31 October and learn how to speak Voodoo and shop some practitioner-made potions, oils, voodoo dolls, etc. On Halloween day, the Frenchmen Street in Marigny bears witness to a massive street party that is an amazing way to show off your costumes and have fun. Perhaps the most spectacular event is the Lazarus Ball which is going to take place on 25 and 26 October and is a great way to witness some of the most elaborate and outrageous costumes one could think of.
3. SALEM, MASSACHUSETTS
The first Salem Haunted Happenings Festival was planned during the Halloween weekend in 1982 to draw Halloween
enthusiasts interested in paying a visit to the "Witch City."
We are positive that while reading, you must have wondered why we haven't mentioned Salem yet. It's time for your wonderment to cease because we are now talking about Salem. One inevitably thinks of Salem when it comes to Halloween. Salem is synonymous with Halloween due to the Salem Witch Trials that are so renowned. 19 innocent victims tragically lost their lives in 1692 during these trials and were not even witches, just accused to be so due to the Puritan beliefs of people during that time. The first Salem Haunted Happenings Festival was planned during the Halloween weekend in 1982 to draw Halloween enthusiasts interested in paying a visit to the "Witch City." Today, modern Pagan and Witch communities are found all over Salem and celebrate Samhain each October to symbolize the harvest season's end and winter's coming. You too can witness this event that unfolds over the month of October with family-friendly magic shows, costume balls, psychic readings and a lot more.
Arriving in Salem, you'll notice everyone wearing colourful costumes, wigs, and macabre make-up, so come prepared. Attend the Haunted Happenings Grand Parade that kicks off the Halloween festivities early in October and offers music, pageantry, floats, and performances. You could also enjoy the Haunted Salem Witch City Tours and soak up the history behind the trials. Or you could also head over to the Salem Witch Museum or any of the other museums located in the city to learn about witchcraft and the history of the trials in Salem, Boston, and other surrounding areas.
Another event you must not miss is the Hawthorne Hotel Halloween Costume Ball which takes place on October 29 at the Hawthorne Hotel. Don't forget to attend the Festival of the Dead that has many spooky events for Halloween lovers to enjoy. Apart from these major events, there are also a lot of smaller events that take place in Salem during the month of Halloween. The Poe At The Gedney House event celebrates Edgar Allen Poe and his works at the Gedney House and is another event one must not miss, especially for literature buffs.
4. TRANSYLVANIA, ROMANIA
Visit the Bran Castle, home to the mythical Count Dracula which is open for tours every day.
Ah, Transylvania, or should we say the home of Count Dracula? Well, whatever you decide to call it, Transylvania certainly has a lot to live up to when it comes to the Halloween season. But, let us tell you right off the bat, it certainly delivers on its spooky offerings. Visit the Bran Castle, home to the mythical Count Dracula which is open for tours every day. There is also a yearly bash held by the castle that includes a nighttime tour, party, and has an open bar. Besides this, you can also head over to the capital of Romania, Bucharest, that offers up various spooky castles, and other events to celebrate Halloween with fun and frolic.
Romanians also hold celebrations for the "Day of the Dead" on 1 November as well as the Feast of St. Andrew on 30 November and both of these festivals have many similar customs as the traditional All Hallow's Eve. The gothic architecture offers the perfect backdrop for all your Halloween themed pictures. If you somehow missed the Bran Castle Halloween party, another option for you is the Halloween party that is hosted at the Medieval Citadel in Sighisoara – Dracula's hometown. You're in for a great Halloween treat with this one as it takes place in an actual dungeon!