Imagine Your Day Starting With A-Listers And Gossiping With All Supermodels About The Industry. Ah, Fun! But First, You Need A Glamorous Outfit To Make An Impression!
Fashion shows are startling parties that one should never miss. From setting the runway on fire to mingling with the finest in the industry, fashion weeks are a great opportunity to present yourself in the best way possible and make an impression. To spill secrets, it isn't all glitz and glam like you witness, but the backstage of all fashion shows is an exhilarating chaos. From models and designers to makeup artists, publicists, and photographers, all are energized to put on a thrilling show.
We, fashion connoisseurs, consider these fashion events the best time of the year. The upcoming months are bliss for us with fashion weeks and popular events in the industry. If you have front-row tickets to these shows, pick an outfit from the section below to 'blow minds' when you enter the hall. Regardless of where you're sitting, the attires we have styled would make sure all A-listers notice you in your finest. Nonetheless, we have taken inspiration from some of the style icons in the industry who understand fashion the best. It's time to doll up and hit the fashion week looking spectacular. Thank us later!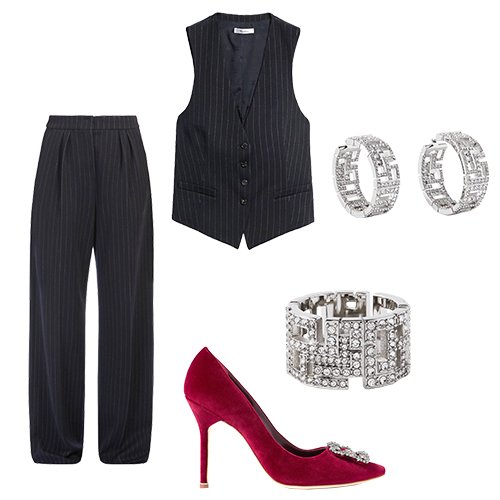 THE BIG STAR

1. MAX MARA, Pinstriped wool gilet, Approx. `Rs. 44,470
2. MAX MARA, Chalk-stripe wool trousers, Approx. `Rs. 64,480
3. MANOLO BLAHNIK, Hangisi 105 embellished velvet pumps, Approx. `Rs. `91,930
4. LEDA MADERA, Goldie silver-tone crystal hoop earrings, Approx. `Rs. 59,210
5. LEDA MADERA, Goldie silver-tone crystal ring, Approx. `Rs. 39,230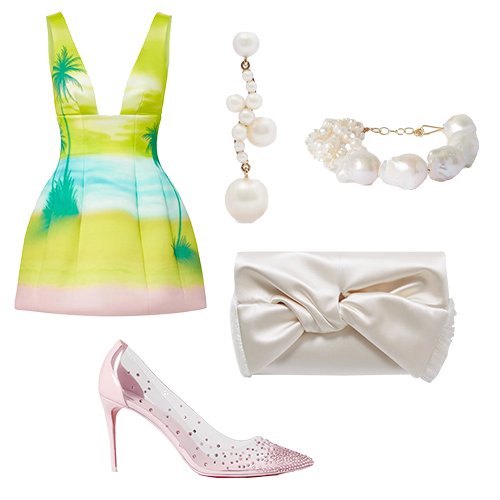 THE WILD CHILD

1. BRANDON MAXWELL, Triangle Cup Bubble Dress, Approx. Rs. `1,97,400

2. CHRISTIAN LOUBOUTIN, Degrastrass 85 crystal embellished PVC and leather pumps, Approx. Rs. `1,44,620
3. COMPLETEDWORKS, Parade of Possibilities gold vermeil freshwater pearl bracelet, Approx. Rs. `72,100

4. SOPHIE BILLE BRAHE, Ocean Perle 14-karat gold pearl single earring, Approx. Rs. "94,360

5. ANYA HINDMARCH, Bow fringed satin clutch, Approx. Rs. `63,000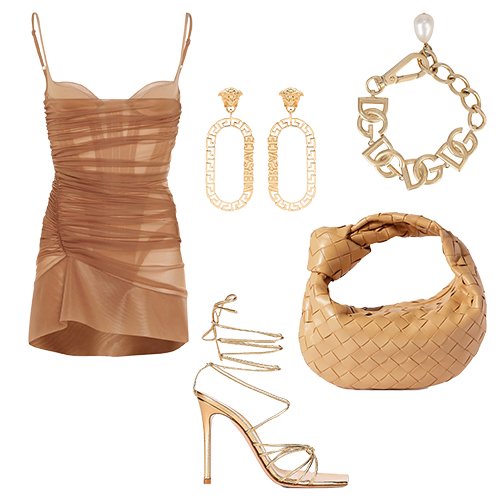 THE BIG FLIRT

1. MUGLER, Draped Corseted Dress, Approx. `Rs. 1,63,400

2. GIANVITO ROSSI, Nappa silk strappy heels, Approx. `Rs. `69,350

3. VERSACE, Medusa drop earrings, Approx. `Rs. 50,450

4. BOTTEGA VENETA, Jodie mini knotted intrecciato leather tote, Approx. `Rs. 2,79,230

5. DOLCE & GABBANA, Logo-lettering bracelet, Approx. `Rs. `66,000
THE WEIRD DAPPER

1. DOLCE & GABBANA, Majolica-print poplin top, Approx `Rs. 48,750

2. DOLCE & GABBANA, Poplin midi skirt with majolica print, Approx. `Rs. 65,150

3. BALENCIAGA, Logo-print leather sandals, Approx. Rs. 76,180

4. L'ALINGI, Pearl Band clutch bag, Approx. `Rs. 82,790

5. VALENTINO GARAVANI, Rockstud chain-link bracelet, Approx. Rs. `49,920